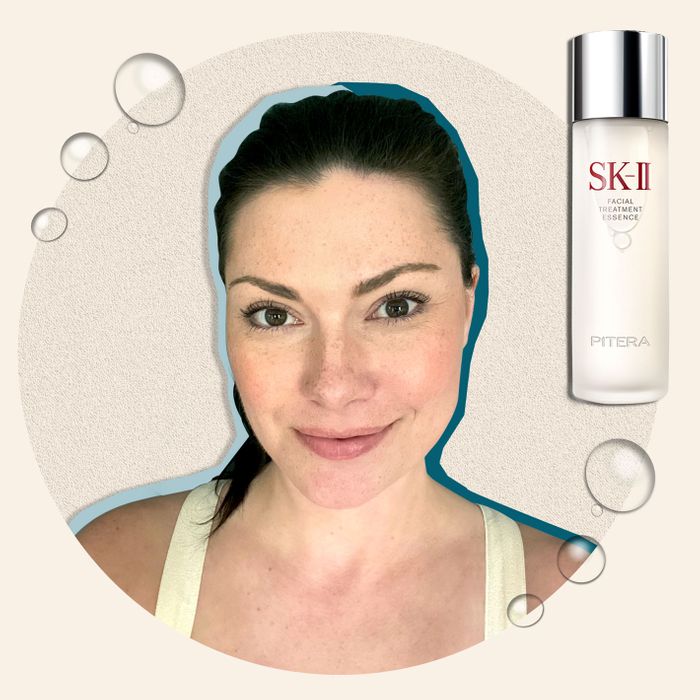 Illustration: Julia D'Orazio/The Cut
Photo: Courtesy of the talent
They say there's no such thing as a shortcut to good skin. But among beauty editors and skincare obsessees, SK-II's Pitera Essence is considered the closest possible thing. The skin treatment, derived from the fermentation of a yeast strain exclusive to SK-II, is said to offer benefits like improved skin tone and texture, less visible pores, and a youthful glow. It's so popular, the brand famously sells a bottle every two seconds. Fans who come back to it year after year say they do so for a reason: it's simple, and it works like nothing else.
To test that theory, we sent SK-II's best-selling First Experience Kit (which includes Pitera Essence plus a complimentary toner and sheet mask) to Ellie Rountree, an engagement editor at Vox Media and mom of two small children, ages 2 and 4. Needless to say, Rountree has a lot going on, and little time for products that don't work. In line with her "keep it simple" beauty philosophy, Rountree is forever on the lookout for easy yet effective skincare — even better if it manages to leave her glowing despite frequent 5 a.m. wakeup calls. Read on for Rountree's take on the skincare phenomenon.
On the 5 a.m. to 12 a.m. life: I'm a mom to two young kids, and I work as an engagement editor at a media organization, which is a fancy way of saying I wear lots of hats. I often wake up by 5:30 a.m. — not always by choice! From there, it's getting breakfast ready, work, dinner and getting the kids to bed, often followed by a little more work. Our lives are hectic, but I love it. One huge thing motherhood has taught me is the need to prioritize. I've learned to say 'no' when I need to, set strong boundaries around work and family time, and just simplify wherever I can.
On making time for self-care: Taking care of myself is one thing I've had to make non-negotiable, and beauty is a part of that. I actually haven't simplified my makeup routine much from before motherhood to now. Makeup is one of the things that makes me feel my best, so I don't mind prioritizing it. That said, anywhere I can steal some time back is welcome — which is why I was excited to try SK-II's Pitera Essence in the First Experience Kit. I know from reading skincare forums that people are obsessed with it, and I wanted to see what the fuss was about!
On using the kit: The first thing I loved is it's incredibly simple to use. After I wash my face as usual, I apply the toner with a cotton pad to get rid of any excess makeup or oil, then I pour a few shakes of the Pitera Essence into my palms, and pat it all over my face. I do it in front of the TV at night, and I enjoy the ritual of it — that all-important me time. My usual skincare routine was more elaborate and multi-step, with serums and moisturizers, so with the kit, you almost think, 'am I doing enough'? But after a few days, I started to notice some really positive changes — my skin had a noticeable glow to it.
On the famous Pitera Essence: My skin has been incredibly red for some reason, and the essence took that away almost immediately. I wasn't expecting that, but I'll gladly take a fix! I also noticed a definite improvement in my skin tone after two weeks — it looked more even and clear, and had a brightness to it that it didn't before, a little glow. When I look in the mirror now, I feel like I look refreshed.
On SK-II's cult-favorite sheet mask: I'd heard great things about the Pitera Essence, but I didn't realize the mask that comes with the kit is a concentrated Pitera treatment, too. I was excited to try it because reviewers say it's super-moisturizing — I'm always looking for more moisture since lack of sleep wreaks havoc on my skin and dries me out. I felt the Pitera Essence had already reduced my need for moisturizers somewhat, but the mask was like a moisture bomb. I kept it on for about 15 minutes, and when I peeled it off, I definitely noticed my skin looking plumper, smoother, and just really dewy and hydrated. It's like a late-night eraser.
On keeping it simple: Pitera Essence is a staple of my routine now. I finally understand why people are obsessed with it! My beauty philosophy is keep it simple, but effective, and this is just a great way to get results without spending tons of time slathering different products onto your skin. It's effective, it gives me that glow, and I also get some time back in my day — yes please!
Try SK-II PITERA™ Essence today in the First Experience Kit.
This advertising content was produced in collaboration between Vox Creative and our sponsor, without involvement from Vox Media editorial staff.