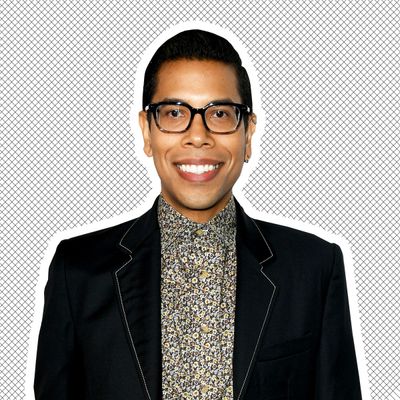 Photo: Kevin Winter/Getty Images
Pride Essentials asks our favorite LGBTQ+ artists to share the influences that have made them who they are today. 
You probably associate Pose, FX's award-winning series about NYC's underground ballroom culture in the 1980s, with its hotshot producer, Ryan Murphy. But Pose would never have happened without Steven Canals, its co-creator and executive producer, who began thinking about it after a college professor screened Paris Is Burning in his junior year. He wrote the script in 2014 and circulated it to studios: "It was too much. Too many Black people. It was too queer …" he told GQ in 2019. "I had met with 150 executives: There was no single person who said they wanted to buy it or develop it."
Of course, Pose has since gone on to win multiple awards, including an Emmy, and was recently renewed for its third season. Canals, who grew up in New York City, a queer, Afro-Latinx person, continues to make projects that highlight underrepresented communities and recently signed a deal with 20th Century Fox TV to do just that. Below, Canals shares the texts, films, and people that shaped his identity growing up.
Get Real 
There were several films about queer people that I can recall loving as a teen in the 1990s (The Birdcage, To Wong Foo, Philadelphia) despite the fact that we were always the punchline, the sidekick, or dying. And then I saw Get Real (1998) a British dramedy about a closeted high schooler named Steven who longs for John, a star athlete. It was the first film I saw myself and my journey reflected back realistically. I owned the VHS tape and would watch it in secret years before I ever came out. Get Real represented the possibility that I could step into my truth and still live a full life.
The Real World: San Francisco
I spent the summer of 1994 like most teens — watching The Real World: San Francisco on MTV. At the time, the LGBTQ community was being eviscerated by HIV/AIDS. The importance of seeing Pedro Zamora — an openly queer Latinx man living with HIV, working as a health educator — was hugely formative for me. At a critical time in my life, Pedro modeled how to live a life of service. He accomplished so much in such a short life. Imagine what we could have achieved had he lived. I cried buckets when he died. I still do.
Will Truman and Jack McFarland on Will & Grace
I don't think I realized until very recently how influential Will Truman and Jack McFarland on Will & Grace were on my queer identity development. If you revisit portrayals of LGBTQ people in cinema and TV of the '80s and '90s, it always lacked diversity and nuance. And while those same critiques have been lobbed at W&G, the importance of seeing two very different gay men represented on the same show was critically important for me, especially at a time when I was just figuring out my own identity.
Redefining Realness, by Janet Mock
After graduating college I spent nearly a decade working as a college administrator, and while I'd met and supported plenty of trans people, I'd never had a trans person walk me through their journey. And then I read Janet Mock's Redefining Realness. With the same precision, wit, and guardianship she gives to her work as a writer, director, and producer on Pose, she gifted us with a text that dares you to not empathize.
Mariah Carey, Toni Braxton, Whitney Houston, and Janet Jackson
Music stirs the soul. It's emotive and passionate and was so important when I was stepping into my queerness. Like most queers, I'm all about a diva — and the '90s gave us classic work from some of the very best: Mariah Carey, Toni Braxton, Whitney Houston, Janet Jackson.
Uncanny X-Men
I've been a collector of comics since 1984. I love all things Marvel, but my favorite title is the Uncanny X-Men. The plight of the mutants, and the intolerance they face, is clearly a parable for homophobia, transphobia, and racism. In many ways, that merry band of mutants has influenced my desire to use my voice and stand up for injustice more than any other creative work.
If you buy something through our links, New York may earn an affiliate commission.