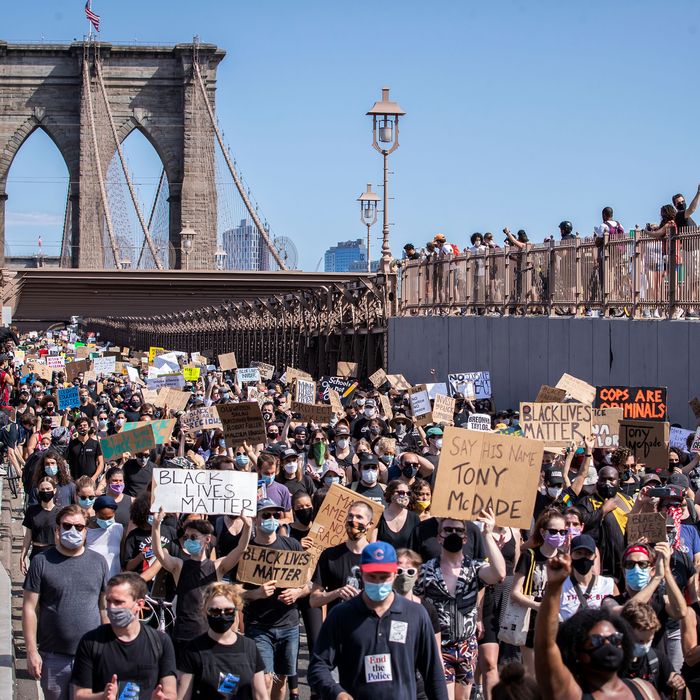 Photo: Ira L. Black - Corbis/Corbis via Getty Images
Heading into the fourth week of nationwide protests sparked by the death of George Floyd, a new study has found "no evidence" that the wave of protests demanding justice for Black Americans have contributed to spikes in new coronavirus cases.
After the initial set of mass demonstrations in the first week of June, some public-health officials and politicians worried that the protests could lead to increased transmission of the virus, and encouraged protesters to wear masks and maintain 6 feet of distance from others when possible. But so far, analysis of the data looks encouraging. The study, conducted by the National Bureau of Economic Research, used anonymous cell phone tracking data and local CDC data on new coronavirus cases across 315 cities. It is the first major collection of data attempting to track coronavirus cases across multiple cities since the protests began, and after the likely incubation period for the virus.
"We find no evidence that urban protests reignited COVID-19 case growth during the more than two and a half weeks following protest onset," the researchers say. "We conclude that predictions of broad negative public health consequences of Black Lives Matter protests were far too narrowly conceived."
There are still fears among researchers that there are risks associated with protests, including the use of tear gas by police, which causes people to cough, increasing the risk of transmission, and arrests of protesters that keep people in close quarters for long periods of time. The protests have also coincided with the reopening of businesses in many states, making it potentially difficult to find out, if a spike has occurred, where it originated. But the paper follows a trend in local studies that have also found no increase in new infections correlated to protests. In Minneapolis, where recent demonstrations began, researchers have been pleasantly surprised by what they've found: As thousands of people have flocked to new testing sites set up for protesters, only 1.8 percent have tested positive.
The data is helping to build a growing consensus that the risk of catching coronavirus outdoors is substantially lower, especially if you're wearing a mask.