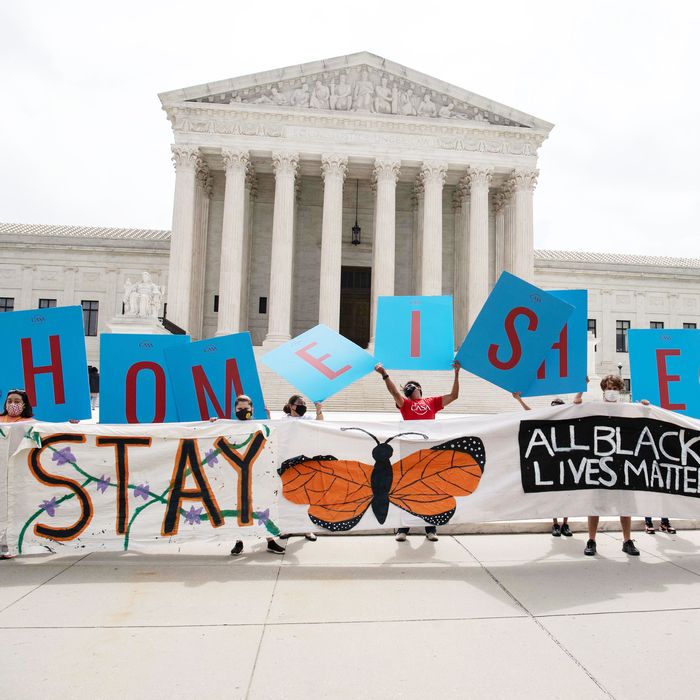 Photo: NICHOLAS KAMM/AFP via Getty Images
Somehow the Supreme Court has dealt its second blow of the week to the Trump administration, and the right-wing agenda of the GOP: On Thursday, the Court blocked the Trump administration's attempt to end DACA, the Deferred Action for Childhood Arrivals program created by Barack Obama in 2012, which prevents hundreds of thousands of immigrants to the U.S. who arrived as children from being deported. Trump announced that DACA would be rescinded in 2017, sparking a legal battle that made its way up to the Supreme Court, leaving 700,000 undocumented "Dreamers" terrified that their temporary status — which allows them to safely live, work, and study — would be suddenly revoked.
The ruling was a close 5-4, with conservative Chief Justice John Roberts siding with liberals (for the second time this week; on Tuesday, he voted to expand federal workplace discrimination protections to LGBTQ Americans). Roberts wrote the majority opinion, and was joined by Justices Ruth Bader Ginsburg, Elena Kagan, Stephen Breyer, and Sonia Sotomayor.
For DACA recipients, most of whom have lived in the United States for the majority of their lives, it means the threat of possible deportation from their homes and families posed by the Trump administration has been deferred. And that years of lobbying Congress and the public has paid off. On Twitter, many shared their relief under the hashtag #HeretoStay. "Every fricken action we have taken to fight for this has mattered," tweeted Erika Andiola, an undocumented activist and chief of advocacy at RAICES Texas. "We pushed Obama and we defeated Trump. This is the power of organizing and movement building."
But even as they celebrated, activists cautioned that the decision doesn't guarantee that DACA will be safe from the Trump administration in the long run; the ruling merely states that the administration failed to provide adequate justification for ending the program. "We do not decide whether DACA or its rescission are sound policies," Roberts wrote in the majority opinion. "We address only whether the agency complied with the procedural requirement that it provide a reasoned explanation for its action." This means that Trump could attempt to rescind DACA again with "better justification," Professor Stephen Yale-Loehr of Cornell Law School told CNN, "but that will take months or years." For now, activists can breathe a sigh of relief — and prepare to keep fighting.
For many Dreamers, DACA itself is merely a compromise. It does not provide a path to citizenship, but allows qualifying immigrants to apply for renewable two-year visas. Activists and advocates are pushing for much more permanent and sweeping solutions to our broken immigration system, asking Congress to pass legislation guaranteeing permanent protection for Dreamers. As one DACA recipient put it, "This is not a long-term solution. Trump could choose to rescind this program tomorrow. He knows how to do it. The Supreme Court is telling him. So we are not safe. So I'm going to celebrate today, but I am going to fight tomorrow."