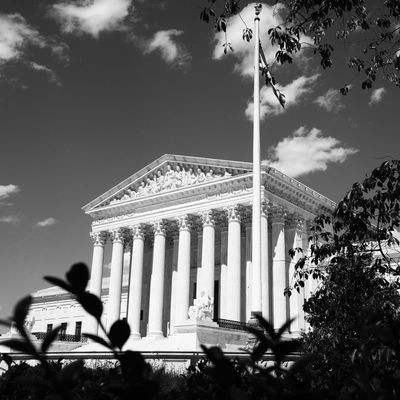 Photo: Stefani Reynolds/Bloomberg via Getty Images
On Monday, the Supreme Court struck down a harshly restrictive Louisiana law that would have left the state with just one abortion clinic — a major win for reproductive rights groups, albeit a tenuous one. The ruling was 5-4, with Chief Justice Roberts voting alongside the liberal justices.
"This ruling allows the state's three clinics to remain open to continue to provide abortion care for the people of Louisiana," said the Center for Reproductive Rights, one of the plaintiffs in the case, in a statement. "However, it does little to stop the relentless attacks on abortion rights."
The case, June Medical Services v. Russo, centered on a bill signed by Louisiana's Republican governor Bobby Jindal in 2014. The law — which was blocked from taking effect while it circulated through the legal system — required any doctor who provides abortion care to secure admitting privileges at a nearby hospital. Conservatives justified the measure by claiming it ensures patients can access urgent care should they need it. In reality, though, it was a blatant attempt to shut clinics down and had nothing to do with protecting women. Abortion is an incredibly safe procedure — of 70,000 abortions performed at Hope Clinic in Louisiana over the past 23 years, only 4 have resulted in hospitalization — and admitting privileges are both medically unnecessary and difficult for abortion providers to obtain. That's especially true in a state like Louisiana, where many hospitals are religiously affiliated or might not want to be associated with the procedure.
The Louisiana law is an example of a targeted regulation of abortion providers (TRAP) law: legislation that imposes costly, draconian, and needless restrictions on abortion providers, using patient safety as a justification, in an attempt to force clinics to permanently shut down. The restriction is nearly identical to a set of Texas laws that the Court struck down in 2016 in Whole Woman's Health v. Hellerstedt. (In addition to an admitting privileges requirement, the Texas law also mandated that abortion providers be equipped with facilities comparable to an ambulatory surgical center.) Even though the law in Texas was eventually overturned, it still managed to shutter over half the clinics in the state in a matter of years — down from 41 to just 19. Had the measures been allowed to stand, it's likely that only six clinics in all of Texas would have been able to remain open.
In Louisiana, only two of the five doctors who provide abortions in the state had been able to obtain admitting privileges, according to the New York Times. But one of them said they would not be able to handle their clinic's workload alone, which would have left the state with a lone provider working out of one clinic.
This was Court's first abortion case under its ascendant conservative majority, established by the recent appointments of Justices Neil Gorsuch and Brett Kavanaugh, and many expected it to serve as a test of whether the Court would be willing to support measures that would decimate abortion access. The outcome is not quite so clear-cut, though: In voting with the majority, Roberts said that he still believes Whole Woman's Health v. Hellerstedt was wrongly decided, but was adhering to it out of respect for precedent.
TRAP laws make it so that women have to travel long distances — often out of state, sometimes hundreds of miles — to access safe and legal abortions. As a result, women who cannot afford the trip are precluded from exercising their constitutional right to choose. In striking down this law, the Supreme Court has slowed one arm of the anti-abortion movement, but the fact remains that abortion is still too expensive and difficult to access for thousands of women, poor women, and women of color in particular. "Many patients seeking abortion in Louisiana can breath a sigh of relief," said Planned Parenthood in a statement. "Your ability to access abortion shouldn't be determined by where you live, how much money you make, and the color of your skin — and we'll keep working to make that a reality for ALL people."