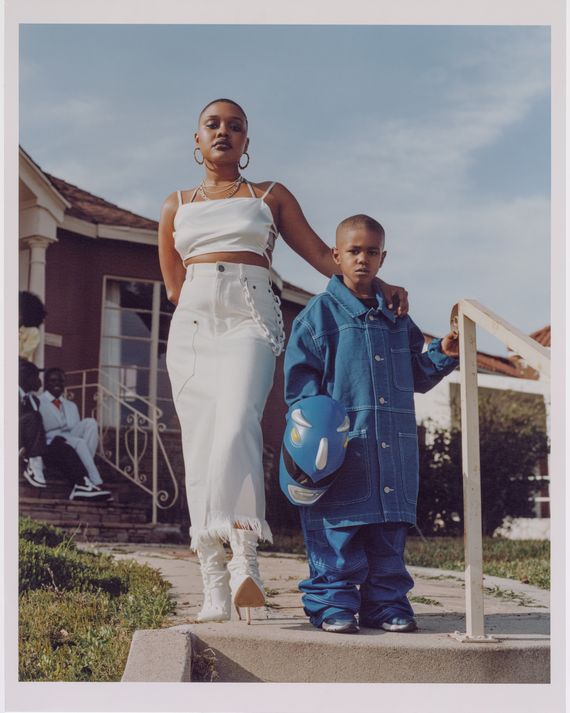 Historically, the white gaze has dominated the photographic lens. Black communities have continuously been seen as subject matter for, and have had their stories told by, non-Black photographers and artists. In response to the recent police murders of George Flyod, Breonna Taylor, David McAtee, and Tony McDade, photographers Joshua Kissi and Micaiah Carter created See in Black, a collective of Black photographers. The mission of the collective focuses not only on uplifting and investing in Black visibility — by raising funds to support the "key pillars of Black advancement" (civil rights, education/arts, intersectionality, community building, and criminal justice reform) — but also taking back the control of their own stories and narrative, how they are seen. Additional members of the team are Danielle Kwateng, Andre Wagner, Florian Koenigsberger, and Anthony Coleman.
See in Black was born, organized, and rolled out in just 14 days. Their first project: an online photography exhibit and sale that launched on Juneteenth and will last through July 3. Ravie B, Rikki Wright, Josef Adamu, Arielle Bobb-Willis, and Bobby Rogers are just a few of the 81 photographers who offered their prints for inclusion. Each photograph is $100, with a maximum of three prints per customer, and 100 percent of the profits will be donated to the Know Your Rights Camp, Youth Empowerment Project, National Black Justice Coalition, The Bail Project, and Black Futures Lab.
The Cut spoke with co-founder Joshua Kissi to discuss the fundraiser, what it was like getting the collective off the ground, and the vision for its future.
What inspired the name 'See in Black'?
The way I think about it is, you know, there's a gravity when we think about images, right? They happen in three tenses: the past, the present, and future. In one of our team meetings, Florian Koenigsberger brought this up: "The past — they document and assert what for a moment once was, an instant archive. The present — they are affirmations of what we behold now, in this time. The future — they live on, asserting the permanence of their subjects. This project, then, is a simultaneous investment in Black history (past), Black visibility (present), and Black prosperity [future]," he said. So there are all of these different dynamics when you look at the site and look at everyone's work. This is how we're shifting narratives. Even though it's a sale and benefits nonprofits, which is great, I think for the most part there's nothing like feeling hypervisible in a society and still not being seen fully. I know I'm a Black man when I walk outside, but people aren't necessarily seeing you fully. As far as being a Black man, I can't change that, I can't mold that, you see me and it is what it is. But, you're not seeing me fully. And I think that's where [the name] came from. It's like "Hey, actually see in Black. See from our perspectives. [See] without the narratives that you usually see or the stereotypes that you usually account to my experience.'" Visibility matters right now.
How did the idea of See in Black come about and how did everyone become involved? 
It started out very touch-to-touch, like "Hey, how are you doing?" [to fellow photographers] and then, from there, because I'm an empath and was probably suffering from my own depressive episode through all of this, hearing people's stories was really inspiring. It's definitely very difficult to just speak through some of the trials and experiences that people are going through. Because they're out of work [from COVID-19], but also because they're Black in America. It's a personal network of photographers, right? We're all aware of each other in these spaces. We usually come together during celebratory moments, or commenting online, but there hasn't really been an intentional purpose for everyone to come together [until now]. So, on top of what people are probably going through personally, it just felt like the right time to be like "Hey, let's have a soft touch and tap people individually to see how they're doing, but [also] what we can be doing together, collectively, to put out a statement or make a move that's going to benefit the greater community." This is not about anybody's individual work, per se, but the collective. And, of course, art and creativity is very much an ego-centric thing, but I think because of the pandemic, because of the recent BLM [actions], it had people's hearts in a different place. [Everyone was] like "Yes, I would love to give my work if that means that it enables a better society, collectively, for a greater good. Let's do it. If my work is gonna play a part in something good for the community, I want to be involved."
There's a ton of fundraisers out there that are doing amazing jobs, but I think for the most part, the fact that this one is founded by Black photographers themselves makes a major difference because, although this is a peak trauma moment, we're looking at actually making things long-term and not just a response to headlines. More so what can we do, sustainability-wise, a photographer-to-industry connection or relationship that actually encourages these types of messages to be seen when we talk about visibility or Black advancement. Supporting nonprofits is great. We're just [also] trying to think long term. What does it even look like for us to be in the same room and empathize and understand each other's individual journeys and our similarities when it comes to the collective journey? What can we do together?
So, are there plans to expand this into the future, keep it going once the sale is over? 
Oh, yes, absolutely. In a myriad of ways. We're thinking about community events and workshops, as well as assets and information for Black photographers that are aspiring, or already in the industry, to have the [understanding] of how to turn their hobby into an actual business. For example, how to look for licensing agreements and understand rates, having the right set of equipment, etc. It's the little simple things that a lot of people just haven't been able to have information on that we're trying to fulfill, but also show the collective voice. The main purpose will always be Black visibility from a photographic perspective, but how that's expressed may change [with each] season. We know it's for us, by us, for the community, and we are very much open to allyship, partnerships with brands, and different things like that in the future, but as of right now, the first volume was just the first volume. And it resulted in a sale, but we want to open up the gates to involve way more photographers, involving other elements that would benefit just from having the information being reached.
Do you hope that this exhibit, and the future work of the collective, will have an impact on the photography community moving forward? Shedding light on the limited opportunities that photographers, and Black artists in general, are often given? 
Absolutely. When it comes to art in general, there's this scarcity mindset. Almost a survival-of-the-fittest type of thing and that hasn't exactly been healthy for all people, but especially Black people who are already on the margins, in the minority groups, and aren't being seen. So, what we're trying to do is undo some of those systems that are present within our industry and open up more opportunities for people to succeed and not be shifted, or kind of squeezed, into the normal art narrative of how we know it today. Because, even when that's the case, there's only a certain type of Black vision, right? So what we're trying to show is "Our work results in permanence, not just through a filter of the white gaze." What our work looks like when [the white gaze] isn't at the center of it, but when we're at the center of it? More truth telling, more storytelling, and to have us not only be the people within the frame in the photo, but also be the ones photographing and telling our stories. For a long time, we weren't granted the opportunity to do that, and even when we were, there was only a certain type of acceptable Black person within the industry. So, what we're trying to do is just open that up and be like "Hey, our work deserves permanence when you think about what an image means and how that's taken in" and See in Black is one of the first ways that we're trying to do the work on accomplishing that.
Scroll below to see some of the images for sale. The full gallery of available prints can be found here.
Reporting by Julia Gomez Kramer.