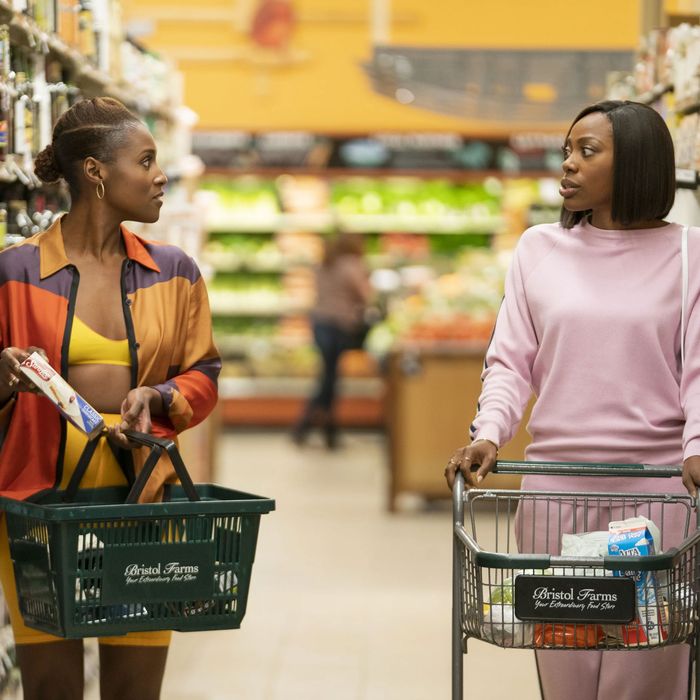 For the last few months, watching Insecure has been my form of escape. It was the 30 minutes a week when I allowed myself to tune out the news and my Instagram feed without worrying about missing out or not being visible. It was the only time when my iMessage group chats transitioned from "Fuck the system!" to "Girl, Lawrence is so messy!"
It was also time for me to enjoy fashion and style without feeling bad about it. I usually enjoy looking at runway collections and shopping online, but since the pandemic began, those things started to feel more like a sin than a pleasurable experience. How could I enjoy clothes when the earth and humans were suffering? But on Insecure, the clothes aren't just about consumerism. Costume designer Shiona Turini uses them to show how the characters develop and change. As a committed Insecure fan, I've been watching their style evolve alongside my own, as I've learned how to be an adult and become a professional in my field.
This season, the ladies look empowered; they're growing and it shows. Shiona and Issa Rae also make a point of supporting creatives of color. From dressing the cast in Black designers like Pyer Moss or Telfar to paying homage to Black film characters like Nisi from B.A.P.S., the representation of Black businesses and brands is reflected throughout the whole season.
The Cut had a chance to talk to Shiona about the characters' style evolution, her favorite looks from season four, and key items the audience may have overlooked. Read on for her breakdown of each character's style.
Issa
Personally, I relate to Issa (played by Issa Rae) the most — she's finding herself professionally the same way I am. This season we see her grow so much in her career as she plans the block party of the year. We also see a huge leap in her personal style. "Since season one, she's evolved and matured quite significantly," says Shiona. "We stuck to an aesthetic that feels authentic to her character, but elevated it. This season, as a reflection of her professional goal, she purchases — and then returns to Opening Ceremony — clothing that she thinks fits her ideal self. She's not yet where she wants to be, but she's making more conscious choices into the woman she's becoming."
Signature looks: Telfar shopping bag (aka the Bushwick Birkin), graphic tees from BLK MKT VINTAGE, and tailored suiting.
Molly
Played by Yvonne Orji, Molly is the corporate professional member of the group — an attorney at an all-Black law firm. We all have that friend who's super successful when it comes to career goals, but messy when it comes to romance and relationships, and that's Molly (no shade to my friend if she's reading this).
"In the first two seasons, she was a fit-in Molly, attempting to ride the conservative wave of her demanding corporate job and assimilate into the office environment," explains Shiona. "We've since evolved her color palette, getting rid of most prints and injecting bold power colors to make her stand out, especially at work."
"Most importantly," she adds, "Molly's wardrobe is reflective of the spending power of Black professionals. I am consciously including designer labels for her because it's important to recognize that young black professionals drop coins, and therefore have a lot of power, in the luxury market. And now that she's in a budding relationship, we're getting to see a much more sensual side of her. "
Signature looks: Monochrome suiting, designer labels, and bold power colors.
Kelli
Played by Natasha Rothwell, Kelli is the "I'm grown" friend. She still makes you laugh and is always down for a good time, but will always show up for her girls through every difficult point in their lives. Rothwell has said in the past that she appreciates the level of attention and care that Shiona puts into dressing her as a plus-size actor. "We've had tons of conversations about having Kelli really be as self-possessed in her wardrobe choices as she is in personality, and allowing her to be sexual and have cleavage and show her shape."
This season, Kelli's style is more confident than ever. "In previous seasons she wore a lot of dark colors," says Shiona, "but I'm especially excited about her visual evolution because we get to see new facets of her vibrant personality reflected in the clothes."
Signature look: Coordinating sets, sexy lower-cut tops, and rich colors.
Tiffany
Played by Amanda Seales, Tiffany is the ultra-feminine friend of the group. "She's still the pristine, pink and green-toting, HBCU-repping girl we've come to know, but we also see her embracing the beauty of motherhood, which is sometimes accompanied by a not-so-beautiful oversize T-shirt." says Shiona. This season, we see Tiffany's personality, relationship with her husband, and aesthetic become less perfect and more human once she gives birth to her first child.
Signature looks: Flouncy silhouettes, soft color tones, and her "MILF" statement necklace.
Condola
Played by Christina Elmore, Condola is a new main character this season and an aspirational figure for Issa. Not only does Condola have balance in her life and work; she also dates her new friend and Issa's ex-boyfriend, Lawerence. She is "a young, enviably composed professional woman with directional taste," says Shiona. Condola wears this chic-but-effortless polka-dot Orseund Iris Le Club set in a scene where she's trying to gain sponsors for Issa's block party, while also attempting to manage her friendship and work partnership with Issa and her romantic interest in Lawrence.
Signature look: A color palette of blacks, whites, and neutrals.