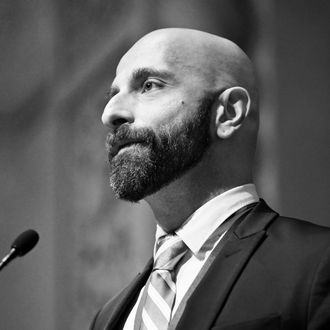 Dr. Demetre Daskalakis.
Photo: Gary Gershoff/Getty Images for Housing Works
It is not every city bureaucracy that can discombobulate a horny, housebound city. But the NYC Department of Health and Mental Hygiene, and especially its deputy commissioner for Division of Disease Control, Dr. Demetre Daskalakis, isn't shy about getting your attention. When the latest guidance from the city on safer sex practices and COVID-19 were released this week, the advice was unblushingly, refreshingly, realistic. "If two's company, then three (or more) is definitely a crowd," the city's official position on group sex ran. "Limit the size of your guest list. Keep it intimate." "Make it a little kinky," another suggestion ran. "Be creative with sexual positions and physical barriers, like walls, that allow sexual contact while preventing close face to face contact."
Is it hot in here, or is it just the DOH? Daskalakis, an HIV specialist with a focus on the LGBTQIA+ community, is an infectious-disease expert as Tom of Finland would've imagined one — muscled, tattooed, leather-favoring — perhaps the rare city-employed physician who is also a Nasty Pig hero. (If you're wondering how he stays in such great shape, he also co-owns a boutique spinning studio, separate from his municipal activities.) As the city has grappled with COVID and its discontents, Daskalakis has stood up to the mayor, convened webinars of sex workers, and issued guidance on everything from anilingus to proper testing protocols. He spoke with the Cut at the end of a big week.
You've made a lot of news this week with the updated guidelines — you even made the cover of the Post. I have to imagine it's the first time that glory holes have been recommended, however implicitly, by a city health agency. I'm curious what the response has been like from your perspective. Have you found yourself explaining the sexual possibilities of walls to a confused population?
New Yorkers are pretty darn smart, and they figured out what those strategies could mean. Folks have done some explaining to us about what they think it means. So I think it's good. There's a history here in New York City, going back to the HIV epidemic when Richard Berkowitz and Michael Callen — the "Callen" in Callen-Lorde — put together a document in 1983, called How to Have Sex in an Epidemic: One Approach. I come from the HIV, sexually transmitted infection, sexual health space in my thinking. That document was like a really important inspiration for us. And then, you know, actually getting real community feedback on version one resulted in becoming even more precise in our language. So from my perspective, the responses have been really great. I love when public health gets to prove that it learned its lesson. Public health should be at the vanguard, to help the community. I'm really pleased that at least for this pandemic, New York City Department of Health got to address the history and say, "Look, we've learned our lesson from the past and we're going to go to the front of this rather than wait to hear about it from other folks."
When you say you shared an earlier version with the community for feedback — was there a gentler version?
We released that sometime in March or early April, really early on. And that version was very appropriate for where we were at the pandemic at that time. A lot of the language hasn't changed — the stuff about you being your best safe-sex partner, that really comes from there, a lot of the sort of references to using video and other internet-based chats — but we added a lot based on feedback from a lot of folks in the community, based on some webinars and some other interactions, that really focused more on ideas of harm reduction. It is expected that people are going to have sex, and they should have sex, but they just need to sort of have some strategies on how to keep themselves and their communities safe.
So are  these updated guidelines a concession to reality — that perpetual isolation isn't realistic?
In the last five or six years, we shifted the entire dialogue around sexual health to making sure we support a pleasurable life, rather than create an impossible standard of abstinence. So it's not really a departure. But, yeah, I think that there's been a lot of ink spilled already about the need for guidance that is more realistic; isolation is not possible forever. So I think we're pretty good in the document about saying the best advice is to try to keep to yourself as much as possible, but with the giant caveat that says, but if you choose to do this, here's some ways that you can make this lower risk. For gay men and other men who have sex with men, the idea of using test results to figure out something about your sex partner is not foreign. And so rather than wait for people to have to guess what they're doing, we wanted to get up front and get people detailed about what these tests mean.
Do you see other lessons from the AIDS crisis that can be extrapolated onto this current pandemic?
Unfortunately, all infectious diseases in New York City tend to have the same story, which is that each is overrepresented in certain communities. The HIV epidemic when it started was overrepresented among men who have sex with men, and people of color. Disparities that are baked into the city — and in this scenario of mainly focusing on race, ethnicity, and economic status — tend to be really a significant prognosticator of who has worse outcomes in infectious diseases. Things have been enacted over time to try to address this. But it just heightens the observation that a lot more effort needs to go into the social determinants of health that end up resulting in these infections doing what they do so well, which is to find the most vulnerable people to hurt the most.
Your stance has long been very sex positive, and these new guidelines are quite frank about advocating for kink. Do you think this pandemic might make some people more openly interested in experimentation?
I'll tell you a story. When we released these guidelines, I had a great webinar that included a whole bunch of sex workers. There's a Harvard letter that came out that advised wearing masks or face coverings during sex. But the genesis of the use-of-face-masks section our guidance comes from sex workers who are more in the fetish space. They said, "We always use face coverings in our sex work." And many of them say, "We keep a really healthy distance from our clients, because that's what the client wants." So I guess the best survey is real life.
New York City didn't shut down as early as other cities, and was hit much harder by the virus. The New Yorker reported that you and another colleague early on threatened to resign if the mayor didn't act more promptly to instruct people to social distance and to stay home, as he eventually did. I'm curious how you think the city's response has been since then.
I think we're all on the same team and are doing great work. We are really leaders in terms of how a response of this size has been undertaken. There's really clear advice coming out and really clear observation of indicators that are important to tell us if there's success in our efforts to both prevent transmission and also reopen the city. We're moving great, as long as we know that we also potentially need to be quick at moving back.
So there's a possibility we might need to slow down on the reopening if the data gets dire?
Depending on what we see, there may have to be some decision made around re-constricting parts of the city. With that said, I think it is always exciting when public-health data comes front and center in terms of how people are making policy decisions. So I think that we're really in the right place.
I imagine that a lot of that data is going to start to come from the contact-tracing programs that are now underway. I know there was some controversy when the mayor put the public hospital system, Health and Hospitals, which oversees the city's 11 public hospitals, in charge of that program, and not the Department of Health. The Times editorial page even came out against HHC being in charge.
We have a lot of DOH staff, including myself who are working on the tracing and the testing parts of this program. This is a very, very robust city response. I can't even name an agency that is not somehow involved. Ultimately, public health is really working hand in hand with the folks over at H&H and City Hall to make sure that this program goes off really well. We're all kind one big agency right now. And it's the COVID agency.
Do you worry about more infections happening because of the mass protests? 
We can't really answer the question of what we will expect to see — when we ask mathematical modelers, not surprisingly, they say, "Either you'll see nothing or you'll see a lot." But we're definitely keeping an eye out in terms of people who've had exposures in large gatherings. But it is always very heartening when you see protesters and other folks who gather who are trying their best to comply with face coverings, even in a scenario where they may not be able to maintain physical distance. We're not seeing anything new happening, but that could change tomorrow.