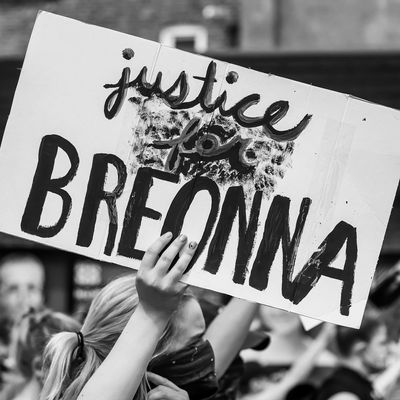 Photo: Tannen Maury/EPA-EFE/Shutterstock
For weeks now, protesters demanding justice for black lives lost to police violence have gathered in city streets across the nation and chanted Breonna Taylor's name. She was 26 years old on March 13, when plainclothes Louisville police officers broke through her front door with a battering ram and shot her to death. The three cops who shot Taylor eight times and fired 20 rounds into her home claim that they knocked on her door first and announced themselves as police, but multiple witnesses have contradicted this. Still, the Louisville police officers who broke into Taylor's home and shot her to death have yet to face any repercussions. Brett Hankison, Jonathan Mattingly, and Myles Cosgrove have not been arrested or charged. They have not even lost their jobs.
Instead, only Taylor's boyfriend was arrested in association with her case. Kenneth Walker, who was at home with Taylor when she died, was charged with attempted murder and assault for firing a single shot that wounded Mattingly. Walker's attorney has said that he fired the shot in self-defense after the officers barged in to execute a "no-knock" warrant associated with a drug case (no drugs were found at the residence). Walker said that when he and Taylor heard banging at the door as they watched a movie in bed they were "scared to death," fearing it could be an ex-boyfriend of Taylor's. "I didn't want to kill anyone," Walker said. "I just wanted to get them out of there." In May the charges against Walker were dropped.
The Louisville Metro Police Department continued to insult Taylor's memory this week by publishing an incident report on the highly publicized case that was largely blank. According to the Courier-Journal, the four-page report lists Taylor's injuries as "none" and omits her street number, apartment number, and date of birth, all of which have been widely reported. The "charges" mentioned in the report are only "death investigation — LMPD involved," and the case is listed as one in which there was no forced entry, which contradicts the Taylor family's wrongful-death lawsuit against the three officers involved, as well as multiple accounts from Taylor's neighbors. Under the report's "narrative" section, only two words are written "PIU investigation."
Nor has the LMPD released its investigative file on Taylor's case, claiming it can't while the investigation is still ongoing. That file includes 911 calls made during the course of the incident and Taylor's autopsy report.
The police department claimed that it is taking "immediate steps" to correct the incident report, which already took nearly three months to produce.
Taylor's family has called for the officers who shot at Taylor to be fired and charged. These demands are supported by thousands of protesters and the many public figures who have called for justice. However, the local television station WLKY reported that last week, while addressing protesters in Jefferson Square Park, Louisville mayor Greg Fischer said that due to the terms of a contract between the city and the Fraternal Order of Police, he cannot fire the officers before the investigation into Taylor's killing is complete. Good thing the pressure is still very much on for them to do so.