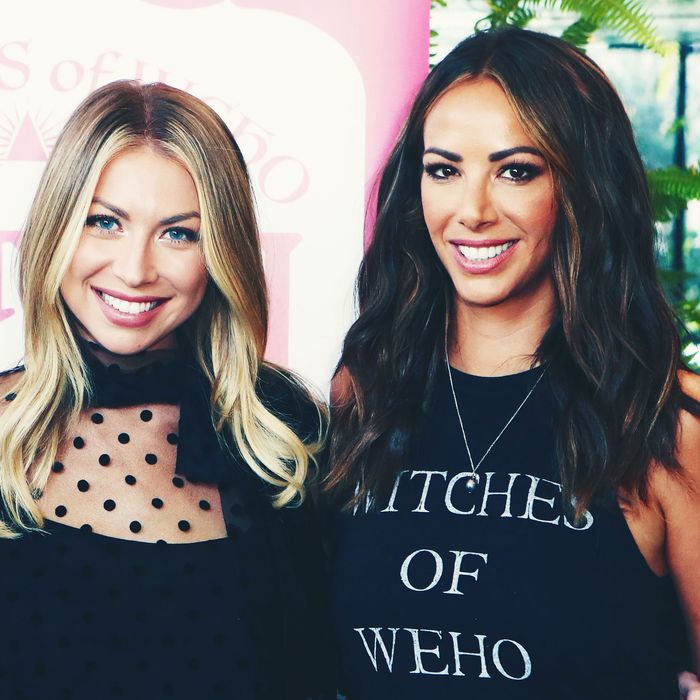 Photo: Ari Perilstein/Getty Images for Nocking Points
One week after it was reported that Vanderpump Rules stars Stassi Schroeder and Kristen Doute once called the police on Faith Stowers, a black cast member, for a crime she had nothing to do with, they have been fired from the show. A Bravo spokesperson has confirmed that both Doute and Schroeder will not be returning for the next Vanderpump season, along with Max Boyens and Brett Caprioni, two other cast members who were recently forced to address past racist tweets unearthed by fans.
Stowers spoke about her Vanderpump experience on a podcast last week, during which she described how most of the all-white cast treated her after she slept with star Jax Taylor while he was engaged. "They wanted to attack, attack, attack, attack, attack," she said. "I was wrong, I was this, I was that, calling me names, saying my hair was nappy, which is weird coming out of their mouths." She also recounted a 2018 incident with Doute and Schroeder, who called the police after the Daily Mail ran a story about a black woman allegedly drugging and robbing men she met in Hollywood nightclubs. "They called the cops and said it was me," Stowers said. Doute and Schroeder had actually both admitted to the smear publicly in the past, on Twitter and on a podcast, respectively.
Schroeder and Doute both posted apologies on their Instagram feeds after Stowers's interview went viral, but reportedly did not contact her privately first. Since then, Schroeder has been dropped by agency UTA and by public-relations firm Metro Public Relations. Fuse Literary, Doute's book agency, has also cut ties with her.
The show was facing a strange time anyway, after its ninth season; the restaurants where its cast nominally work have all been shut down due to the coronavirus and producers were already in hot water for bullying cast member Scheana Shay. Perhaps it is time, as we have been saying, to let Vanderpump go.