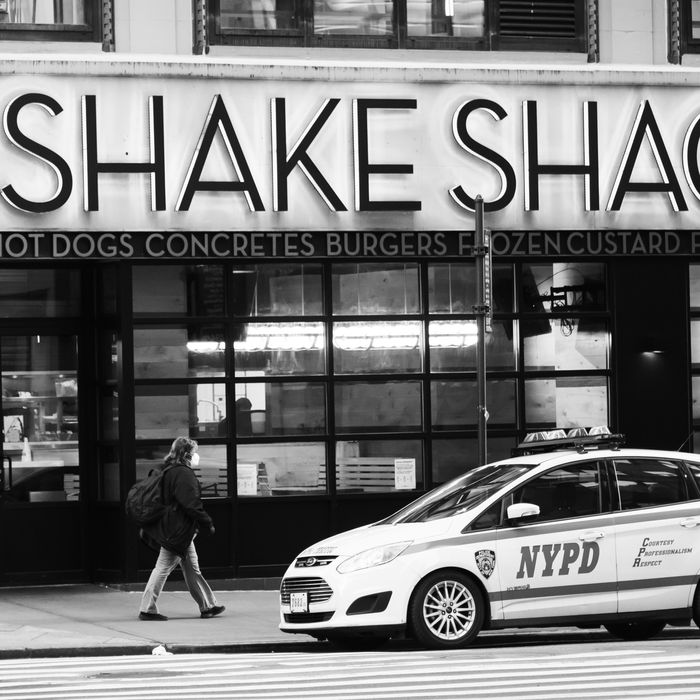 Photo: Noam Galai/Getty Images
Contrary to an unsubstantiated claim in a since-deleted tweet by the Detectives' Endowment Association last week, three NYPD officers were not poisoned by Shake Shack employees in Manhattan. In fact, according to a new report from the New York Post this week, the officers never even got sick.
In a statement tweeted last Monday night — and later deleted — the Police Benevolent Association of the City of New York claimed, "At some point during their meal period, the MOS [Member of Service] discovered that a toxic substance, believed to be bleach, had been placed in their beverages."
The union went on to urge its members to carefully inspect any prepared food they ordered, to dine in groups of two or more whenever possible, and to "remain vigilant" during their meals.
"It is clear that [the] environment in which we work has deteriorated to a critical level," the PBA wrote in its tweet, seemingly conflating the current nationwide protests against racism and police brutality with a poisoning that didn't happen.
In the hours after the officers went to the hospital, the news of their supposed poisoning was shared widely on social media by police unions and right-wing figures like Fox News' Sean Hannity, continuing even as law enforcement officials slowly retracted their initial claims. New York Police Department Chief of Detectives Rodney Harrison tweeted the next day that an investigation found "no criminality by Shake Shack's employees," and CBS News reported that the incident was accidental and "possibly the result of cleaning solution that wasn't properly removed from the shake machine."
According to a new report from the Post, the incident was merely a cleaning mishap that quickly got blown out of proportion by police leadership. The three officers ordered their milkshakes on a mobile app, sources told the Post, and when they arrived at the Shake Shack a few minutes after 7:30 p.m. on Monday, the drinks were already prepared for them — meaning that workers couldn't have known the beverages were for cops. When the officers tasted their milkshakes, they found they didn't taste or smell right, and told a manager, who apologized and gave them vouchers for free food or drinks, which the officers accepted. (The milkshake machines had been cleaned right before their order, and likely contained some residual cleaning solution.)
The situation escalated after the officers mentioned the incident to their sergeant, who called in the Emergency Service Unit to investigate the fast food restaurant later that night, and rushed the officers to Bellevue hospital, though they showed no signs of illness. At the same time, according to the Post, a lieutenant from the Bronx sent out an email to the police unions, saying that six cops "started throwing up after drinking beverages they got from shake shack on 200 Broadway" — misstating both the number of officers involved, and the basic facts of the incident.
As the real details began to emerge, the unions walked back their initial, frantic tweets. Per the Post, "privately, they blamed the lieutenant who first raised the false alarm."
As Vice writer Katie Way noted back in March, there is a long history of police officers' falsely claiming to have had their food tampered with. In July 2019, for example, Indiana corrections officer Phillip Powell claimed a McDonald's employee had taken a bite of his McChicken before serving it to him, only to later recall that he had been the one to take a bite of the sandwich. In December of that year, NYPD Commissioner Dermot Shea claimed that a plainclothes police officer was served a razor blade in his deli sandwich, before later dismissing the incident as an accident. And that same month, a police officer in Kansas resigned after saying that McDonald's employees had written "fucking pig" on his cup, and then admitting that he had written the words himself.
In an interview with Rolling Stone last week, folklorist Benjamin Radford explained that "there's a long history of food contamination legends," and that given the current political climate, the milkshake story should have immediately raised red flags in people's minds. "Instead of thinking it may have been a mistake, or machines weren't fully cleaned — which happens all the time — the first thing people went to is this was a targeted, intentional assault on police officers, and you can see why given the current climate they would jump to that."
This post has been updated with new findings from the Post's reporting.