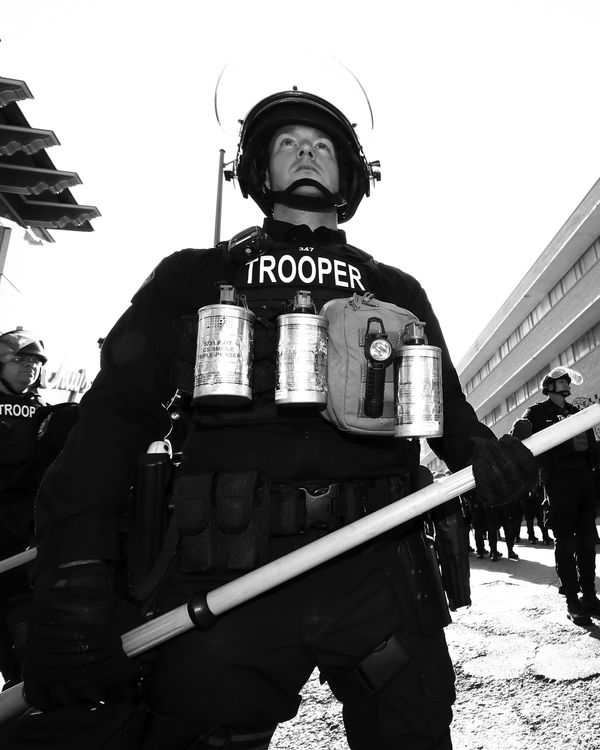 Photo: Jamie Squire/Getty Images
As thousands of protesters across the country have gathered to demand justice for George Floyd, Breonna Taylor, and other black people killed by the police, a related rallying cry has gained momentum: defund the police. It's an idea that's been popular among activists and critics of the criminal-justice system for decades. In the past two weeks, though, it's gained unprecedented support — and national media attention. Proponents of defunding argue that incremental police reform has failed. A better solution, they argue, would be to more effectively address underlying factors that contribute to crime, like poverty and homelessness; this would be achieved by cutting police forces' often-astronomical budgets on a city level and reallocating those funds toward social services, such as housing and youth services.
Some critics have dismissed defunding the police as a left-wing fantasy, but the concept is quickly gaining mainstream recognition. Perhaps most notably: On June 7, the City Council of Minneapolis announced its intent to disband the city's police department with a vetoproof majority and replace it with "a holistic model of public safety that actually keeps us safe."
So what now? How, exactly, does a city defund the police? Has it ever been done before? Can it be done? Below, here's everything to know about the demand.
What does it mean to defund the police?
Defunding the police does not necessarily mean getting rid of the police altogether. Rather, it would mean reducing police budgets and reallocating those funds to crucial and oft-neglected areas like education, public health, housing, and youth services. (Some activists want to abolish the police altogether; defunding is a separate but connected cause.) It's predicated on the belief that investing in communities would act as a better deterrent to crime by directly addressing societal problems like poverty, mental illness, and homelessness — issues that advocates say police are poorly equipped to handle, and yet are often tasked with. According to some estimates, law enforcement spends 21 percent of its time responding to and transporting people with mental illnesses. Police are also frequently dispatched to deal with people experiencing homelessness, causing them to be incarcerated at a disproportionate rate.
Even some cops resent society's overreliance on them. "We're just asking us to do too much," said former Dallas police chief David Brown in a 2016 interview. "Every societal failure, we put it off for the cops to solve. That's too much to ask. Policing was never meant to solve all those problems." And the outcome can be deadly: In 2015, the Washington Post found that one in four people killed by a police officer suffered from a serious mental illness at the time of their death.
Advocates argue this could be avoided by replacing some police officers with trained social workers or specialized response teams. "Municipalities can begin by changing policies or statutes so police officers never respond to certain kinds of emergencies, including ones that involve substance abuse, domestic violence, homelessness or mental health," Philip V. McHarris and Thenjiwe McHarris argue in an op-ed for the New York Times. "So if someone calls 911 to report a drug overdose, health care teams rush to the scene; the police wouldn't get involved. If a person calls 911 to complain about people who are homeless, rapid response social workers would provide them with housing support and other resources. Conflict interrupters and restorative justice teams could mediate situations where no one's safety is being threatened."
The amount of money the United States spends on policing is staggering: According to a recent analysis, the sum is $115 billion, which is bigger than nearly every other country's military budget. In most cities, the police budget dwarves those for education, housing, and other crucial services. For example, Los Angeles's proposed police budget for 2021 is $1.8 billion — more than half of the city's total spending for the year. New York City's annual police budget is a whopping $6 billion, which is more than the city spends on health, homeless services, youth development, and workforce development combined. Defunding proposals would reallocate a fraction of that — for instance, activists and City Council candidates in New York City have proposed cutting the NYPD budget by $1 billion over the next four years.
But wouldn't crime increase without police?
One of the main arguments raised by those who oppose defunding: "What will we do about crime if police forces are made to scale back?" Advocates counter that investing in communities and providing them with resources will reduce crime on its own — for example, a 2016 report from the Obama White House's Council of Economic Advisers found that "a 10 percent increase in wages for non-college educated men results in approximately a 10 to 20 percent reduction in crime rates."
But on top of that, those in favor of defunding also point out that police departments across the country consistently have low rates of solving crimes, even as their budgets have increased threefold in the past 40 years. In 2019, for instance, Minneapolis police only cleared 56 percent of cases in which a person was killed. That same year, Baltimore recorded at least 347 homicides, a record-breaking level of violence, but ended the year with a 32 percent clearance rate for homicides; in 2015, the rate was 56 percent. Across the country, rape cases result in a notoriously low number of charges: In 2017, police closed just 32 percent of rape cases, and hundreds of thousands of rape kits have sat untested in police storage for years. According to an FBI database, about 30 percent of robberies and less than 15 percent of burglaries and motor-vehicle thefts result in arrests.
When police investigate a crime involving a black victim, evidence shows that the clearance rate drops significantly: A 2014 New York Daily News investigation found that police solved about 86 percent of homicides when the victim was white. When the victim was black, the clearance rate dropped to 45 percent.
Meanwhile, police in the U.S. are killing far more people than law enforcement in other developed countries like the U.K., Japan, and Germany. In the first 24 days of 2015, U.S. police shot and killed more people than police in England and Wales had in the past 24 years. According to the Washington Post, since 2015, police have fatally shot approximately 1,000 people a year, and the rate that police kill black people is more than twice the rate of white people. (Each year, about 50 police officers are shot and killed on the job.)
Why not just reform police departments?
Though many politicians argue for reforming police departments using commonsense solutions like installing civilian review boards and banning "warrior style" training, which instructs officers to view all encounters as dangerous and to prioritize their own safety, advocates argue that incremental reform has failed to combat police violence in any meaningful way. After a white officer shot and killed Michael Brown in Ferguson in 2014, for instance, there was a nationwide push for officers to wear body cameras, which advocates predicted would improve police accountability. It has not been successful. An extensive study of more than 2,000 police officers, published in 2017, found that the body cameras had almost zero effect on deterring officers from acting with unnecessary force; and, as evidenced by the recent police shooting of David McAtee, officers can simply turn off their cameras. Another example: The NYPD banned choke holds more than two decades ago, which didn't stop Officer Daniel Pantaleo from holding Eric Garner in one until he stopped breathing.
Another reason reforms haven't been tenable, advocates say, is police unions. The purpose of police unions is "to win members better salaries and benefits and to protect their job security — specifically by pushing for safeguards against investigation, discipline, and dismissal," Daniel DiSalvo, a political-science professor at the City College of New York, writes in the Washington Post. "These protections can make it difficult for police chiefs to manage their forces effectively and can allow a few bad officers to act with impunity, poisoning an entire organizational culture in the process." As BuzzFeed News notes, police collective-bargaining agreements protect even the most violent officers from oversight groups like civilian review boards and police internal-affairs departments, making it nearly impossible to punish officers for serious wrongdoing. While Minneapolis mayor Jacob Frey banned warrior training, the Minneapolis police union has openly defied the ban, and now offers the "fear-based" training — valued at $55,000 — to any officer who wants it, for free.
Police unions, which wield great political power, also push back against criminal-justice reform that would promote transparency and accountability. Amid the protests, pressure has mounted within unions that represent police officers — notably, the AFL-CIO — to expel all police affiliates; many of those putting pressure on the unions also support defunding.
Is defunding actually possible?
Another issue advocates of defunding face: Police forces wield an immense amount of power and influence, and, historically, the data shows that many Americans find them trustworthy. As Eric Levitz notes on Intelligencer, "There are only three institutions that perennially command a 'great deal' or 'quite a lot' of confidence from Americans in Gallup's polling: the military, small business, and the police." In a Gallup poll from 2018, 54 percent of Americans expressed a "great deal" or "quite a lot" of confidence in the police. (However, a recent Data for Progress report with a similar sample size found that public trust in the institution has fallen amid the ongoing protests against police brutality: Of the 1,352 people surveyed, 37 percent said they are less likely to trust cops.) By supporting the effort to defund police, a prevailing argument goes, elected officials could risk alienating a significant portion of their constituents.
While the call to defund the police has certainly gained momentum, a new ABC News–Ipsos poll indicates that many aren't convinced: Out of a random national sample of 686 adults, 64 percent said they oppose the movement, while 34 percent said they support such a move. Among black Americans, support nearly doubled: Fifty-seven percent said they support defunding.
And although a handful of elected officials around the country have vocalized their support of defunding the police — including representative Alexandria Ocasio-Cortez, who said she's actively advocating for a "reduction of our NYPD budget" — most politicians are loath to support the measure. Joe Biden's spokesperson recently said the presidential candidate "supports the urgent need for reform … so that officers can focus on the job of policing," but not defunding. Even Bernie Sanders does not believe defunding is the answer; instead, he thinks departments should better educate, train, and pay officers.
But this is a change that would take place on a citywide level, not a national one, and some mayors are already heeding their constituents' demands to reconsider how much money they spend on policing. In total, CityLab reports, lawmakers in at least 17 U.S. cities — including Minneapolis, Los Angeles, and New York City — have put forward proposals or pledges to divest from the police. Meanwhile, school boards in Minneapolis and Denver have voted to terminate their contracts with local police departments, and a growing list of other cities are similarly considering removing police from their schools.
As of now, the Minneapolis City Council has not released any specifics regarding its approach to defunding the city's $193.3 million police budget, though some members have offered general ideas. "We can invest in cultural competency and mental health training, de-escalation and conflict resolution … We can resolve confusion over a $20 grocery transaction without drawing a weapon or pulling out handcuffs," wrote Councilman Steve Fletcher in an op-ed for Time. "The whole world is watching. We can declare policing as we know it a thing of the past, and create a compassionate, non-violent future."
This post has been updated.