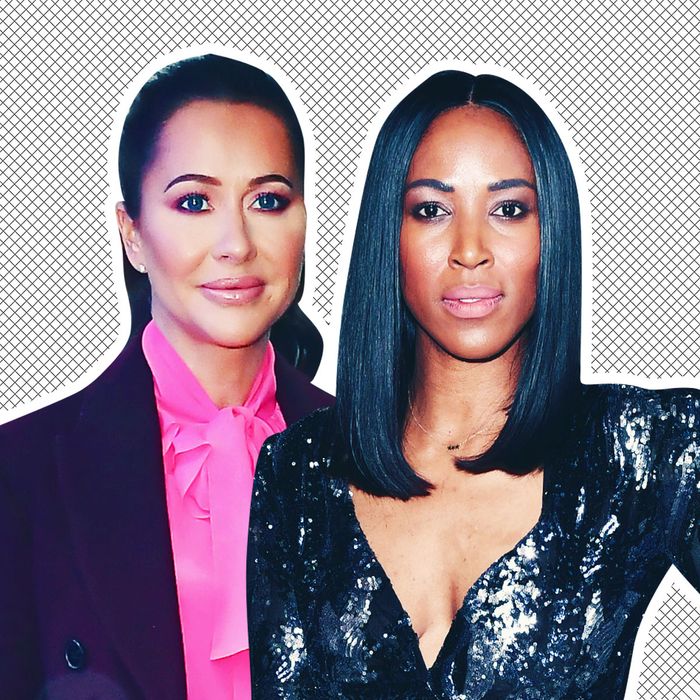 Jessica Mulroney is best known as Meghan Markle's best friend and former stylist, but has gained prominence in recent years as a TV personality and influencer.
However, over the past week, her career has taken a nosedive after Sasha Exeter, a Black Toronto-based influencer and blogger posted an Instagram video explaining that Mulroney had attempted to threaten her livelihood and silence her.
Since then, Mulroney's upcoming reality show and guest appearances have been canceled, and she's gone dark on social media.
Here's what we know about what happened.
Who is Jessica Mulroney?
Jessica Mulroney is a Toronto-based stylist and TV personality best known for her longtime friendship with Meghan Markle. She's married to Ben Mulroney, a television host and son of Canada's former Prime Minister (they are frequently dubbed  Toronto's chief "power couple.")
After Meghan's marriage, Mulroney got a ton of press attention: she was made a contributor on Good Morning America, profiled in Harper's Bazaar, and was set to host an upcoming reality show, I Do Redo, on the Canadian network CTV.
What happened?
On June 10, Exeter shared a 12-minute video post on Instagram. In it, she explained that one week earlier, Mulroney (a former "acquaintance" of hers) had privately responded to a call-to-action Exeter had posted on her Instagram Stories about Black Lives Matter, in which she urged people with large followings to post about it too.
Exeter said that Mulroney "took offense" at the call-to-action, believing it was aimed at her even though Exeter didn't name anyone in the post. Over the course of a week, Exeter says she was sent "a trail of offensive messages" from Mulroney, in which Mulroney tried to explain why she hadn't posted about BLM, including that she was busy doing promo for her show.
In the video, Exeter explained that the conversation escalated further, ending with a threat from Mulroney in which she claimed she had spoken with the companies and sponsors that work with Exeter. Exeter called Mulroney's behavior both "a threat to [her] livelihood" and an "attempt to silence a Black woman during this movement behind closed doors."
According to Exeter, Mulroney said: "I have also spoken to companies and people about the way you've treated me unfairly. You think your voice matters, well it only matters if you express it with kindness and without shaming people who are simply trying to learn. Good luck."
After Exeter posted the video on Instagram, Mulroney commented on it, publicly apologizing and referencing her relationship with Meghan. The comment, which has since been deleted, read:
@sashaexeterr, you are right when you say "this shit needs to stop". As leaders, we need to join hands and call out wrongs. I know we have different experiences. And that is something that, even in the course of a heated argument, I need to acknowledge and understand. I am unequivocally sorry for not doing that with you, and for any hurt I caused. As I told you privately, I have lived a very public and personal experience with my closest friend where race was front and centre. It was deeply educational. I learned a lot from that. I promise to continue to learn and listen on how I can use my privilege to elevate and support black voices.
Soon after, Exeter revealed via Instagram Stories that Mulroney had followed the public apology with a private DM, in which she threatened to sue her.
What was the fallout?
On June 11, CTV released a statement on Twitter and Instagram, saying it would be pulling Mulroney's upcoming bridal show from all properties. It wrote that her conduct "conflicts with [its] commitment to diversity and equality."
The same day, Mulroney apologized again. In a Twitter statement, she wrote that she respects CTV's decision, would not be pursuing legal action against Exeter, and would be stepping away from social media:
In a separate apology on Instagram, Mulroney offered to have her account taken over by Sasha Exeter and "other Black voices":
A day later, Mulroney was dropped from her guest fashion-expert appearances on Cityline and ABC's Good Morning America.
On Instagram, Exeter shared that she had been receiving "disturbing emails" as a result of the events. "The comments on my post are getting quite vicious, and a lot of the comments have now left Instagram and gone over to my email," she said, adding that she has been responding to the emails, and "threats to [her] personal safety will not be tolerated."
What's the status of Mulroney's friendship with Meghan?
Page Six cited an anonymous source who says that Mulroney and Meghan's friendship was on the rocks before this all happened. Meghan's rep declined to comment on the story.
Page Six also cited sources that said Meghan felt Mulroney was "benefiting" career-wise from their friendship: "I don't know what the tipping point was, but Jess has been on the outs for some time. Their friendship is definitely not what it was. And really, how can you have such a close friendship when one person is basically making a career out of the friendship?" said one source. Entertainment Tonight, meanwhile, cited a source saying it was "painful" for Meghan to learn of Mulroney's "misguided and insensitive comments."