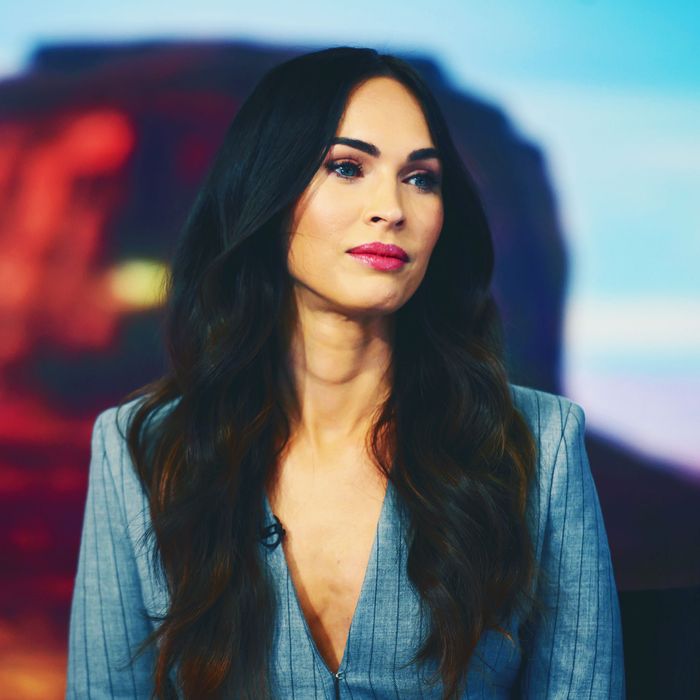 Megan Fox
Photo: NBC/Getty Images
After nearly a decade of relative quiet, Megan Fox has reentered the news cycle. At first, it was because she split with her husband of ten years. Then, she was spotted — and starred in a very sexy music video — with actor and musician Machine Gun Kelly, sparking speculation that they are dating.
Now, Fox is back in the news again after a clip of an interview she did in 2009 with Jimmy Kimmel recently resurfaced. In the interview,  Fox explains to Kimmel how she'd been sexualized in Hollywood as a teen. In response, Kimmel laughs and makes a sexual joke.
The clip has revived conversations about how the actress was treated by Hollywood and the media as a teenager. Here's what to know about what happened, and how Fox has responded.
Where has Megan Fox been for the past ten years?
Megan Fox rose to prominence after her leading role in 2007's Transformers film opposite Shia LaBeouf. The performance kicked off nearly two years of relentless media coverage of Fox as a sex symbol.
In 2009, when she was 22, she starred in Diablo Cody's comedy-horror Jennifer's Body. The film has since become a feminist cult classic, but flopped in theaters, mostly due to its sexist marketing, and the ensuing sexist backlash, which misinterpreted it as a smutty horror film for men. As Constance Grady wrote in her reevaluation of the film for Vox:
"It was viewed as a sex romp for straight teen boys, and as such, it was a failure … right at the height of simultaneous cultural backlash to Diablo Cody, who wrote the smart, sad, hyperstylized screenplay, and Megan Fox, who stars as the titular Jennifer … In 2009, Cody was considered a gimmicky one-hit wonder who was way too precious with her made-up slang, and Fox was considered a vapid Maxim cover girl best qualified to wash a car in a bikini in the Transformers movies. So when Jennifer's Body came out, there was a ready-made narrative waiting for it: The script was trying too hard; it was too sexualized, or maybe not sexy enough; it was a trashy, empty B-movie with delusions of grandeur."
The same year, while doing press for Jennifer's Body, Fox told Wonderland that Transformers director Michael Bay was "a nightmare to work with," comparing him to Hitler. After that, the sexist press around Fox intensified: "Michael Bay's Crew Bitchslaps Megan Fox," wrote Deadline's Nikki Finke, who republished a horrific, violent letter written by three anonymous male members of Bay's crew that defended the director and called Fox a string of cruel names — including "an unfriendly bitch" and "trailer trash."
She was then fired from the cast of Transformers 3, and basically disappeared from the public eye, only appearing in a few movies throughout the 2010s.
"I think I had a genuine psychological breakdown where I wanted just nothing to do," Fox told ET in 2019. "I didn't want to be seen. I didn't want to have to take a photo, do a magazine, walk a carpet. I didn't want to be seen in public at all because the fear, and the belief, and the absolute certainty that I was going to be mocked, or spat at, or someone was going to yell at me, or people would stone me or savage me for just being out … so I went through a very dark moment after that."
Why are people talking about her now?
In addition to the rumors that she's dating Machine Gun Kelly, Fox is back in the news again due to the resurfaced Jimmy Kimmel Live! clip, which was recently shared by Twitter user @reservoird0gs.
In the interview, Fox tries to explain how, during an audition to be an extra in Bad Boys II when she was a teenager, Michael Bay had put her in heels and a bikini, and made her dance under a waterfall for a club scene. "I'm 15; I was in 10th grade," she says to Kimmel, who laughs and makes a gross joke suggesting that all men think the way that Bay does about Fox and her body.
Has Fox responded?
As the interview clip made the rounds, #CancelKimmel trended on Twitter, calling for an end to Kimmel's show and sharing other examples of his bad behavior, including a resurfaced blackface sketch, which he has since apologized for.
Fox also responded to the resurfaced clip in an Instagram post. In it, she clarified that she was never "assaulted or preyed upon in what I felt was a sexual manner" by Bay, noting that "these specific instances were inconsequential in a long and arduous journey along which I have endured some genuinely harrowing experiences in a ruthlessly misogynistic industry."
Fox didn't elaborate on those experiences, except to say, "There are many names that deserve to be going viral in cancel culture right now, but they are safely stored in the fragmented recesses of my heart."
She added: "I'm thankful to all of you who are brave enough to speak out and I'm grateful to all of you who are taking it upon yourselves to support, uplift, and bring comfort to those who have been harmed by a violent and toxic societal paradigm."