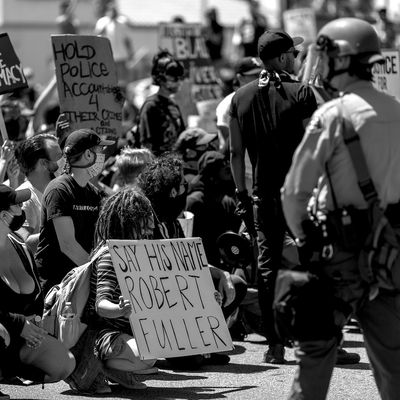 Robert Fuller's body was found hanging from a tree near Palmdale City Hall last week.
Photo: David McNew/Getty Images
Protesters gathered in Palmdale, California, over the weekend, calling for renewed investigation into the death of Robert Fuller, a 24-year-old black man whose body was found hanging from a tree outside City Hall last week. Officials initially suggested Fuller died by suicide, but the circumstances bear an eerie resemblance to a recent death in nearby Victorville, about 45 miles away: Days earlier, the body of Malcolm Harsch, a 38-year-old black man, was found in a tree outside the city's library. The San Bernardino County Sheriff's Department first said it did not suspect foul play, but amid pushback from activists who felt both men may have been murdered, pledged a full investigation into the incident. Harsch's family now believes he died by suicide.
Here, everything we know so far about Fuller and Harsch's deaths.
Malcolm Harsch's body was found on May 31.
According to the Victor Valley News, firefighters found Harsch's body hanging from a tree outside the Victorville City Library, near the homeless encampment where Harsch had been living, around 7 a.m. on May 31. "There were no indications at the scene that suggested foul play; however, the cause and manner of death are still pending," San Bernardino County Sheriff's spokeswoman Jodi Miller told the outlet, adding that the investigation remains open.
Still, Harsch's family members — most of whom live in Ohio — told the VVN in a statement that they were "concerned that his death will be labeled as a suicide, as this is what was communicated to us upon confirmation of his death." They say the sheriff's deputy who called to inform them of Harsch's death on June 1 said Harsch hanged himself with a USB cable, which they found implausible, considering his "six-foot-three-inches-long body wasn't even dangling from the tree." The deputy asked about Harsch's drug and alcohol use, the family said, and also "made a statement about how the coronavirus has 'hit people really hard.'"
Further, the family's statement said, Harsch was found with blood on his shirt, although investigators reported no signs of a struggle and no open wounds.
"Malcolm had very recent conversations with his children about seeing them soon," his family said. "He didn't seem to be depressed to anyone who truly knew him. EVERYONE who knew our brother was shocked to hear that he allegedly hung himself and don't believe it to be true as well as the people who were there when his body was discovered … There are many ways to die but considering the current racial tension, a black man hanging himself from a tree definitely doesn't sit well with us right now. We want justice not comfortable excuses."
Last week, however, Harsch's family said they accepted the suicide ruling after viewing security-camera footage from the area where Harsch's body was found. Najee Ali, a family spokesperson and a Los Angeles–based activist, told the New York Times: "Due to the fact that he was an African-American homeless man with no family, initially his life and investigation were devalued and put on the back burner."
"The stress from being homeless, the lack of hope and the despair led him to choose to, unfortunately, end his life," Ali added. "It did honestly strike real fear into black Americans' hearts nationwide because of the thousands of blacks who were lynched in the early 1900s to early 1960s."
The San Bernardino County Sheriff's Department is reportedly awaiting the results of a toxicology report before disclosing Harsch's official cause of death.
Robert Fuller's body was found on June 10.
Around 3:39 a.m. on June 10, a passerby saw Fuller's body in a tree at the edge of Poncitlán Square, a courtyard outside Palmdale City Hall. According to the Daily Beast, homicide investigators reported that his body showed "no signs of a struggle," and both the city and the Los Angeles County medical examiner's office initially pointed to suicide. "Sadly, it is not the first such incident since the COVID-19 pandemic began," read an early statement from city officials, according to the Daily Beast.
But Fuller's family and loved ones do not believe he killed himself. One of his friends from high school, Tommie Anderson, told the Los Angeles Times that the tree where Fuller was found was too thin to have supported his weight for very long, and he was too tall for his body to have dangled from its lower branches. Anderson, who also expressed skepticism that Fuller would've been out that late, said, "For people to say he did this, this wasn't Robert. For him to tie himself to that tree, it's not possible."
Fuller's sister, Diamond Alexander, said she did not believe that Fuller — who had attended a Black Lives Matter protest a few days before he died — hanged himself. "My brother was a survivor," she told the Times. "We want to find out the truth of what really happened. Everything that they've been telling us has not been right."
Officials say there are no security cameras in the park where Fuller was found that could provide more information on what happened. For some, that claim strains credulity, given the tree's proximity to City Hall.
Protesters and activists suspect Fuller was lynched.
According to the Anti-Defamation League, Southern California — and San Bernardino County in particular — has seen a large spike in white-supremacist activity in recent years. Neo-Nazi groups have been active in Antelope Valley for decades, and in 2007, KKK flyers depicting Jesse Jackson and Al Sharpton hanging from trees were distributed in Palmdale, according to the Southern Poverty Law Center. According to the U.S. Department of Justice, elected officials in Palmdale conspired for years with the L.A. Housing Authority to push out low-income black families using harassment and bullying tactics, pointing to a pattern of race-based discrimination in the area.
That Fuller and Harsch's deaths came amid weeks of national protests in support of the Black Lives Matter movement, combined with the location of the bodies — both in front of municipal buildings — led many to believe that both men were lynched. On June 13, thousands gathered in Palmdale to demand a full investigation into Fuller's death.
The incidents caught the attention of various celebrities over the weekend, with actor Viola Davis labeling Fuller's death "murder" and singer Becky G questioning the suicide designation. Kim Kardashian West also circulated a change.org petition demanding a "thorough and proper investigation" and justice for Fuller.
Palmdale officials now say they support an independent investigation and autopsy.
On June 13, Los Angeles County supervisor Kathryn Barger formally requested that California attorney general Xavier Becerra "lend additional expertise and oversight into this important investigation and provide the community with the answers they deserve" by opening an independent investigation into Fuller's death. The City of Palmdale also released a statement saying it "is officially supporting the call for an independent investigation and an independent autopsy of Mr. Fuller," and that officials are "joining the family and the community's call for justice."
"We do support a full investigation into his death," it continues. "We will settle for nothing less than a thorough accounting of this matter."
On June 15, Los Angeles County coroner Jonathan Lucas changed course on the suicide theory, saying of Fuller's death: "We felt it prudent to roll that back and continue to look deeper," according to the L.A. Times. Becerra also said that he would dispatch independent investigators to monitor the Palmdale sheriff's approach and, potentially, to launch a separate inquiry. Meanwhile, the sheriff's office reportedly plans to expand its investigation, pulling any available footage from security cameras, and analyzing both Fuller's cell phone and the rope found at the scene. They will also review his medical history, interview family, friends, and the witnesses who found his body, according to the Times.
And now the FBI is looking into both cases.
Also on June 15, the Department of Justice announced that the Federal Bureau of Investigation would be looking into both Fuller's and Harsch's deaths. San Bernardino County Sheriff's Department public information officer Jodi Miller confirmed to CNN: "Our department has been in contact with the California Department of Justice and the FBI and our intent is to be able to share information and details so they can compare also to the Palmdale incident."
This article has been updated.