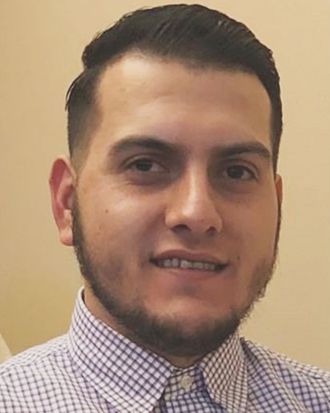 Carlos Ingram-Lopez.
Photo: Family photo
In April, Carlos Ingram-Lopez, a 27-year-old cooking school graduate, died in Tuscon, Arizona, after three police officers held him facedown on the ground and covered him in plastic blankets. Video of the gruesome incident was released this week and shows officers pinning Ingram-Lopez down for about 12 minutes while he yells "I can't breathe" and calls out for his grandmother. He then went into cardiac arrest and died at the scene.
The incident has roiled Tuscon and a police department that considers itself one of the more progressive ones in the country. During a press conference on Wednesday, Police Chief Chris Magnus offered his resignation, acknowledging that his department had failed to disclose the death in time and that the three officers involved had violated department policy. Though the three officers involved — Samuel Routledge, Ryan Starbuck, and Jonathan Jackson — have already resigned, Tuscon Mayor Regina Romero expressed outrage at the incident and said the three would have been terminated had they not done so. Romero later issued a statement saying she did not believe Magnus should step down.
Ingram-Lopez's death comes as more stories emerge of police killings in Latino communities across the country, like that of Erik Salgado, 23, who was shot to death while driving in Oakland, California, with his pregnant girlfriend, and Andres Guardado, 18, who was shot by police in Gardena, California, while working as a security guard for an auto body shop.
The incident involving Ingram-Lopez also raises questions about a supposedly forward-thinking police department. "The idea that Tucson police are progressive is something I've only heard from white folks," Alba Jaramillo, 40, a lawyer in Tuscon, told the New York Times.
Below, everything we know about Ingram-Lopez's killing.
Ingram-Lopez was experiencing a mental-health crisis when his grandmother called the police.
Ingram-Lopez's grandmother called the police at 1 a.m. on the night of April 21, saying her grandson was drunk and behaving erratically. When the officers arrived, Ingram-Lopez appeared to be naked. The police took him into a garage and pinned him to the ground, face-down, handcuffed him, and placed a yellow plastic blanket over him. According to NPR, the autopsy report says officers also placed a "spit hood" over Ingram-Lopez, but it's not clear if that refers to the second plastic blanket they then placed over his upper body.
While held down, Ingram-Lopez pleaded in both English and Spanish for water, yelled that he couldn't breathe, and called out for his nana. At one point, an officer threatened to use a Taser on him if he refused to cooperate. After about 12 minutes on the ground, Ingram-Lopez stopped moving. Officers initially gave him Narcan, a medication used to block the effects of opioids, believing he had overdosed, and then administered CPR. Emergency medical personnel later arrived, but Ingram-Lopez was soon declared dead at the scene.
At the news conference on Wednesday, Chief Magnus said that the officers involved had not met the training standards for dealing with a person experiencing a mental-health crisis involving "excited delirium."
As the Times notes, police departments across the country have for years instructed officers that people held facedown in what is known as a "prone restraint" are "more likely to die suddenly of positional asphyxia because they have difficulty expanding their chest to bring in air." This is especially true for people showing signs of mental distress or intoxication from stimulant drugs, and guidelines state that in these situations, officers should move people onto their sides or sit them up as quickly as possible.
The medical examiner's office ruled that Ingram-Lopez's cause of death was undetermined.
An autopsy report by the Pima Country medical examiner's office found that Ingram-Lopez died of sudden cardiac arrest, with physical restraint by officers and cocaine intoxication as contributing factors. Still, officials concluded that his cause of death was "undetermined" even though around the country, numerous people have died in similar circumstances, after being handcuffed and being forced into a facedown position by police, and their deaths have been ruled homicides.
They mayor said there had been a "breakdown" in the police department.
Although Ingram-Lopez died in April, it took two months for police body-camera footage to be made public, and Tuscon's mayor said she was not made aware of his death until last week, when Chief Magnus called her.
During the press conference on Wednesday, Mayor Romero said she was deeply distressed by the incident, adding: "Events like this remind us that even some of the most progressive police departments, with some of the most forward-thinking policies and rigorous training, are not immune to failure."
Chief Magnus said he's asked the F.B.I. to examine the circumstances surrounding Ingram-Lopez's death. The criminal investigation into the incident has also been sent to the county attorney's office, which, per the Guardian, has yet to determine whether it will file criminal charges against the officers.