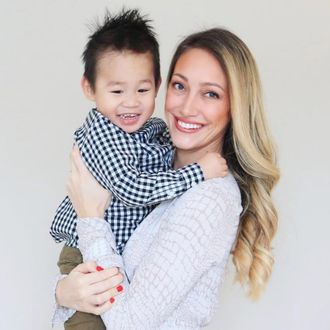 YouTuber Myka Stauffer and her adopted son, Huxley.
Photo: mykastauffer/Instagram
Over the past few months, fans of YouTube influencer Myka Stauffer started to suspect something was afoot with the popular mommy vlogger. For years, Myka's channels had included regular posts about Huxley, the 2-and-a-half-year-old child she and her husband adopted from China, in which she shared intimate details about his autism diagnosis — often in sponsored posts. But this past February, the toddler, now 4 years old, disappeared from her channel. On Mother's Day, Myka wrote that the holiday had been the "hardest" she's ever had; in response, fans grew increasingly worried about Huxley's absence. Last week, in a vlog titled "an update on our family," a tearful Myka and her husband James revealed that they recently "rehomed" Huxley out of concern for his well-being.
The family's announcement — which BuzzFeed News has extensively reported out — has ignited widespread fury, and revived the fraught conversation around the ethics of posting and monetizing a child's life on social media. There's a lot going on here. Let us unpack.
Myka Stauffer is a YouTube influencer.
Myka lives in Columbus, Ohio, with her husband James, where the couple has posted wholesome content about parenting on their YouTube channel, The Stauffer Life, since 2014. Myka also has her own YouTube channel, which has 717,000 subscribers and features the playlists, "Why I Homeschool and How I Do It," "Mommy Lifestyle Videos," and "How to Clean (& Organize) Like a Boss!" Per BuzzFeed News, Myka has partnered with Glossier, Good American, and Fabletics, among other brands.
In addition to Huxley, the Stauffers have four other children. The oldest daughter is from an earlier relationship of Myka's, and she and James have had three children together, all of whom feature prominently in their photos and videos.
In 2017, the couple adopted a son from China.
In November 2016, Myka and James came across Huxley's adoption posting online and decided they wanted to adopt him. In an article published in 2019 on Parade, Myka said the couple was originally apprehensive about adopting a child with special needs, as the adoption agency had told them that Huxley had a "brain tumor" and "brain damage." But then, she writes, "God softened our hearts," and they decided they "were open to almost every special needs in the book."
Over the next year, the couple extensively documented their "adoption journey" in a series of 20-some videos, featuring regular updates as well as a "photo reveal." Per BuzzFeed, one video in the playlist — "5 Things I Didn't EXPECT About Our China ADOPTION! International ADOPTION" — was sponsored by laundry-detergent company Dreft. In October 2017, the couple finally took home Huxley, which they announced in a video dedicated to "all of the orphans around the world."
As Myka's "adoption series" continued to grow, it increasingly focused on Huxley's special needs. In a 2017 post for The Bump, she wrote about learning that Huxley was "profoundly developmentally delayed," and that he had been diagnosed with autism spectrum disorder level 3. According to BuzzFeed, Myka later claimed that when the family adopted Huxley, they didn't realize the full extent of his special needs.
In her last adoption-series video, posted in September 2019, Myka said that Huxley had been in applied behavior analysis (ABA), and was "doing so well." But after that, Huxley started appearing on Myka's Instagram much less frequently. In February of this year, she posted a photo of the two of them, admitting, "last couple days have been hard."
The caption continued: "We have had a lot of melt downs, and lots of behaviors that have had us on our knees begging god for guidance! On social media and Youtube we rarely show the behaviors or the hard stuff, because we try our best to respect our sons privacy and dignity. We have hard days, lots of them. I wish autism and adoption trauma had a manual to direct you through it all.💙🧩#autism #momstruggles #everydayisanewday." It was the last time Huxley appeared on her feed.
Last week, the couple admitted that they "rehomed" Huxley.
On May 26, the Stauffers posted a tearful video to their YouTube channel in which they revealed that they have "rehomed" Huxley with a family that can better care for his needs.
"After multiple assessments, after multiple evaluations, numerous medical professionals have felt that he needed a different fit in his medical needs," Myka says. "He needed more." In the video, which has amassed more than 500,000 views, the couple then assures their viewers that Huxley is "thriving," and asks for "grace, support, and privacy."
It is legal to rehome an adopted child — or a biological child, for that matter — though the process of doing so is complicated. According to estimates from the U.S. Department of Health and Human Services, of the approximately 135,000 adoptions finalized every year in the U.S., one to five percent of those adoptions are later legally dissolved.
Predictably, the family is facing backlash.
Though many of the Stauffers' fans posted sympathetic comments on their video announcement, some have been more critical. "It kills me to know that Huxley is gonna have to start all over. My heart is shattered," one person commented. Another wrote, "I have respect for you both, but I think a lot of people are going to have a hard time wrapping their minds around this situation and viewing your channel in the same way."
Some fans are accusing the Stauffers of subjecting their toddler to additional trauma, and demanding that Myka remove all monetized posts of Huxley. "Hope this little boy gets a real family filled with love he deserves not just for Instagram," one person commented on her last Instagram of Huxley.
Authorities are investigating the case.
Prompted by widespread concern over Huxley's well-being and unclear whereabouts, local authorities are now looking into the case. Tracy Whited, the community and media-relations manager for the Delaware County Sheriff's Office, told BuzzFeed News that authorities have confirmed that Huxley is not missing and that they're "confident that the appropriate process is occurring." However, with the help of "several other agencies," the office says it is continuing to investigate and plans to contact the Stauffers' other children "to ensure their safety."
Meanwhile, the Stauffers are laying low.
Since they posted about rehoming Huxley, Myka and her husband have gone silent on social media. In a statement to People, the family's lawyers stressed that the Stauffers decided to rehome Huxley on the advice of "multiple professionals in the health-care and educational arenas," and that they never considered placing him in the foster system. "They were forced to make a difficult decision, but it is in fact, the right and loving thing to do for this child," the lawyers said. According to the statement, the Stauffers "will share more when the time is appropriate for them and all involved."
This post has been updated.