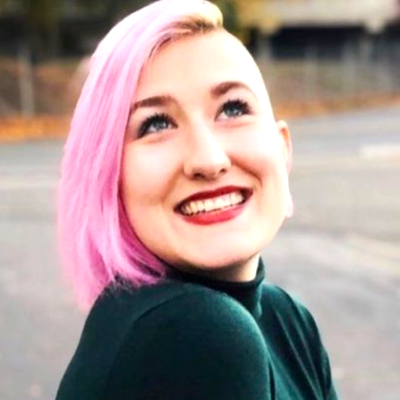 Summer Taylor
Photo: GoFundMe
Summer Taylor, a 24-year-old activist, has died after being hit by a car while peacefully protesting in Seattle. They were reportedly participating in the Black Femme March on Friday night, for which Washington State troopers had blocked off on-ramps onto Interstate 5.
The Seattle Times reports that the group was on its way back to Capitol Hill after marching to the police department's west precinct, and as one protester told the Times, "it was a festive environment." Demonstrators stopped to do the Cupid Shuffle on the highway, minutes before a white Jaguar sedan barreled toward the crowd. The driver, who has since been identified as 27-year-old Dawit Kelete, rammed into two of the protesters — Taylor and Diaz Love, a 32-year-old from Portland, Oregon — jettisoning them into the air.
Graphic video [warning: The linked content contains disturbing and violent footage] of the crash has circulated online: In it, people can be heard screaming "car, car!" as the vehicle approaches, its tires squealing while it maneuvers around cars meant to form a barricade.
"I don't know what happened, but it didn't seem like an accident at all. He didn't hit his brakes, he didn't stop," the protester told the Times. Journalist Mark Taylor-Canfield, who witnessed the incident, agreed. The car "sped up and went right into the middle of the crowd," Taylor-Canfield told The Guardian. "Most of us assumed it was a purposeful attempt at vehicular homicide."
Taylor and Love were taken to Harborview Medical Center, where Taylor died on Saturday night. Love was hospitalized for fractured limbs and internal injuries. A Facebook status Love — who was livestreaming the demonstration — wrote on Friday, before the Black Femme March, has circulated widely in the aftermath. "If you've been following the Revolution and protests you know the death threats from various hate groups is real, real this weekend," it reads. "I'll be shocked if some major tragedy doesn't take place in one of our protests in the States this weekend. To say I'm scared af to be going out and protesting … is an understatement."
Taylor's friend, Becky Gilliam, described them on a GoFundMe page as "an incredibly strong and independent spirit," and "a bright and caring person [whose] presence elicits joy and laughter in others." Taylor worked at a veterinary clinic in Portland, and their co-worker — Katelyn Hoberecht — told the Times: "Summer has been there since Day One standing up for Black lives. Staying out all day and night, while still working full time taking care of animals. Summer talked to me about the protests, and how incredible it was to be a part of something so huge. A part of history." Saturday night saw vigils for Taylor and Love, whose friends have also set up a GoFundMe to help cover medical bills.
On Wednesday, the King County Prosecuting Attorney's Office charged Kelete with reckless driving, vehicular assault, and vehicular homicide. The FBI and the Washington State Patrol are investigating the case. Legal documents filed against Kelete allege that just following the attack he did not appear impaired, and he passed a Breathalyzer test. Kelete is in custody with his bail set at $1.2 million and is scheduled to be arraigned on July 22.
Since widespread protests for racial justice began in the days following George Floyd's death on May 25, similar incidents of drivers careening into demonstrators have been reported in Bloomington, Indiana; in Portland, Oregon; in Florida; in Virginia; and in Seattle. The Washington State Patrol previously said that "with no effective way of stopping large crowds from entering its lengthy borders, temporarily shutting the roadway is our best measure to avoid the dangerous mixture of freeway speed, vehicles, and pedestrians and to end the disruptions as quickly as possible." Now, however, the WSP has decided to stop closing I-5 for protests, and tweeted a statement saying, "For the safety of all citizens including protesters and motorists, pedestrians walking on the freeway will be arrested."