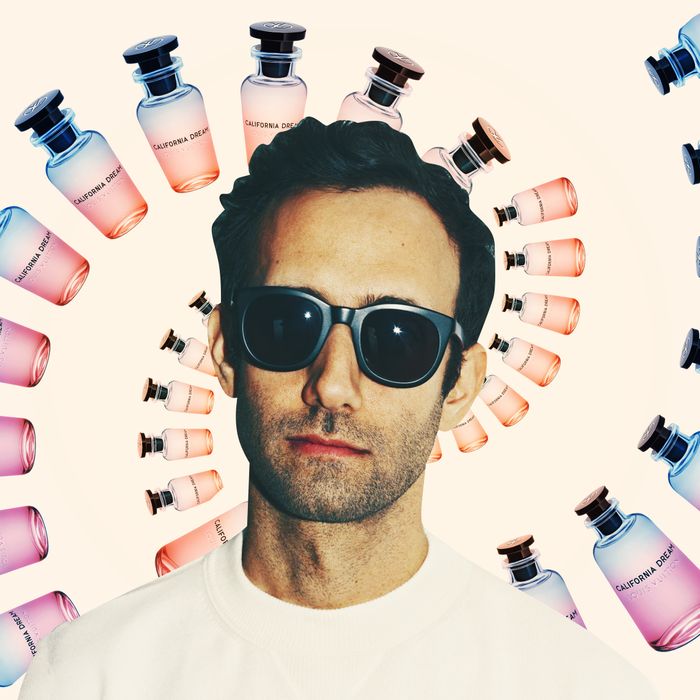 Photo: Courtesy of Louis Vuitton
Scientific studies confirm that, of all the senses, smell offers the best recall. In Scent Memories, the Cut asks people about the scents they associate with different times in their lives.
Next is artist Alex Israel, whose work often examines the Los Angeles mythos and the American Dream. His multimedia pieces are featured in LACMA, the Guggenheim N.Y., the Whitney, MoMA and the Centre Pompidou. Louis Vuitton asked him to partner with its master perfumer Jacques Cavallier-Belletrud to create a new series of West-inspired scents. The latest is California Dreams, meant to bottle the scent of a perfect California sunset, with notes of mandarin and musk.
My first scent memory: Finger paint. It's probably my first memory ever — mixing red and yellow finger paint and discovering that together they make orange.
Happiness smells like: Avocados. A perfect avocado is a simple pleasure that always makes me happy.
Love smells like: Twilight in Los Angeles. It's the most romantic time of day.
Friendship smells like: Popcorn. In the lobby of the theater when you meet up with friends for a movie.
Heartbreak or loss smells like: Tequila, to help you through it.
Success smells like: Sweat, because you work hard for it.
Regret smells like: Gasoline. My next car will be fully electric.
The worst smell is: Cauliflower rice that's gone bad. I'm not sure it's the worst, but it was definitely an unfortunate lockdown discovery.
Vacation smells like: Paper. Because I love reading books on vacation, and because reading a great book is a vacation!
Sunday morning smells like: Pancakes. It's a ritual.
Monday morning smells like: Matcha, at Cha Cha Matcha where I stop for a tea on my way to the studio.
My home smells like: My dog, Mr. Brown. Well, I guess it actually smells like his shampoo?!
My favorite food smells like: Melted cheese, tomato sauce, and freshly baked crust. Yep, pizza.
If I could have one smell on my hands forever, it would be: Eucalyptus, because it's both calming and refreshing.
I smell like: Me.
If you buy something through our links, New York may earn an affiliate commission.