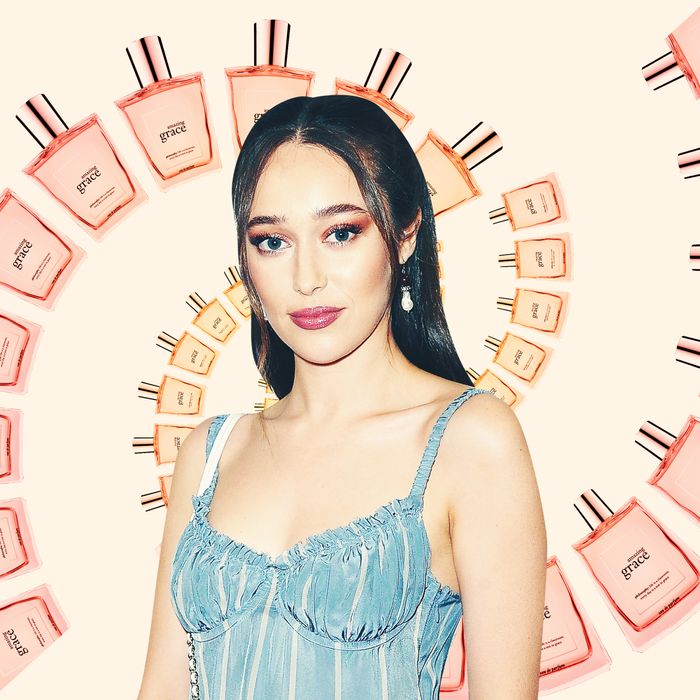 Photo: Getty Images, Philosophy
Scientific studies confirm that, of all the senses, smell offers the best recall. In Scent Memories, the Cut asks people about the scents they associate with different times in their lives.
Next up is Australian actress Alycia Debnam-Carey, who balances her role on AMC's gritty postapocalyptic horror drama Fear the Walking Dead by serving as the face of something a little lighter: Philosophy Amazing Grace eau de parfum, a longer-lasting version of the brand's best-selling, beloved floral eau de toilette featuring bergamot and blossoms. The Cut recently caught up with Debnam-Carey to talk sweet peas, laundry, and fresh paint.
My first scent memory is: My mother's perfume, which is the more obvious one, but I also have a really strong memory of my grandma's cigarettes and sweet peas. She would sit with me outside and walk with me down the sidewalk, and I can remember the smell of these sweet peas overflowing on the neighbor's fence as we passed by.
Happiness smells like: When you can smell summer coming. Back in Australia, right at the very, very end of winter, there's a pink jasmine that starts to bloom. We had it all over our house, and that smell indicates the first inkling that summer is about to begin. It's the scent of possibilities, that it's about to get a bit warmer, that summer is coming — that smell truly is happiness. It's a classic, old-school scent; everyone knew that scent as a kid.
Love smells like: Faded perfume or faded cologne on someone else's clothes.
Heartbreak or loss smells like: Sensory deprivation. I feel I lose smell a lot during heartbreak, along with other sensory experiences; it's devoid of smell and taste. But maybe a less abstract idea is the smell of stale air in an airport.
Friendship smells like: French fries and rosé.
Regret smells like: Cold wind and even colder coffee.
Success smells like: You know when you go to the theater to see a play or you go see a movie, and that excitement that's in the air? And everyone's dressed up and wearing their nicest stuff to watch something special? It's a mix of everyone's nicest perfumes and colognes and the smell of popcorn and Champagne. That smell, all collected in one. For me, that's success. The excitement, the ambition, the joy. More personally, it's probably grit, and the smell of literal blood, sweat, and tears. But the joyous part is whatever that first smell is.
The worst smell is: Blue cheese or any stinky cheese. Even if it tastes good.
My ideal vacation smells like: Sunscreen, ocean salt, mangoes, a paperback book, and coconut body balm. That is very ideal, probably because it reminds me of Australian summers. That's usually when I get my vacation.
My home smells like: Nag champa incense, coffee, and fresh flowers.
The first thing I smell in the morning: Honestly, it's probably coffee because I don't register anything before coffee in the morning. I'm not good at mornings; the only thing that registers is: Where's the coffee? Let's find it. 
The last thing I smell before I go to bed: A light spritz of rosewater spray. It lets you settle in for the night.
A smell I love that others don't: The smell of fresh paint … do other people like that?
I smell like: A little warm, a little sweet. I always want to smell like summer, so I hope I do. I mix a lot of perfumes, but my intention is to always leave people with a light, lingering scent. So I like to put it in my hair a little, and sometimes I'll put it on my bed right after I've done laundry, while it's still warm. The scent will soak in a little bit, and you get that really light waft of a scent.