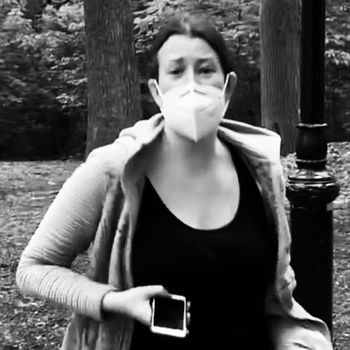 Amy Cooper
Photo: @melodyMcooper/Twitter
More than a month after a white woman called the police on a Black man who politely asked her to follow Central Park's strict dog-leash rules — an incident that drew national headlines and ensuing outrage after a video of the encounter went viral — she is now facing legal repercussions. On Monday, the Manhattan District Attorney's Office announced that it is charging the woman, Amy Cooper, with filing a false police report.
"Today our office initiated a prosecution of Amy Cooper for falsely reporting an incident in the third degree," Cyrus R. Vance, the Manhattan district attorney, said in a statement. "We are strongly committed to holding perpetrators of this conduct accountable."
The incident occurred over Memorial Day weekend, when Christian Cooper, a Black man who bears no relation to Amy Cooper, was bird-watching in the Ramble, a lush woodland area in Central Park — where, notably, dogs are required to be leashed. It was there he encountered Amy and her cocker spaniel, which she had let off leash. Christian asked the woman to leash her dog; she refused, and then gave what Cut senior editor Adrienne Greene described as "one of the most malicious and deliberate performances of victimization I have ever seen."
"I'm going to tell [the police] there's an African-American man threatening my life," Amy Cooper says in the video, before following through on her threat by calling 911. "I'm in the Ramble, and there's a man — African-American, he has a bike helmet — he is recording me and threatening me," she shrieks into her phone while yanking her dog's collar. Eventually, Amy Cooper leashed her dog, and Christian thanked her for doing so.
In the days after Christian Cooper's sister, Melody, posted the video to Twitter, where it has since been shared nearly 225,000 times, Amy Cooper's dog was surrendered to the rescue from which she adopted him, and the investment firm where she served as the head of insurance investment solutions put her on suspension. (The shelter has since returned the dog to Amy Cooper; the status of her employment is unclear.) New York City's Commission on Human Rights announced it was launching an investigation into the incident. Amy Cooper also went on CNN to "publicly apologize to everyone," saying, "I'm not a racist. I did not mean to harm that man in any way." She added that "her entire life is being destroyed right now."
In an NPR interview, Christian Cooper said, "I can tell you what she did in that moment, and it was a moment of stress and of confrontation and of, probably, spectacularly poor judgment. But in that moment, what she did was definitely racist. Now, should she be defined by that, you know, couple-of-seconds moment? I can't answer that. I think that's really up to her and what she does going forward."
While many celebrated the DA's decision to bring charges against Amy Cooper, others pointed out the limits of prosecuting the case, particularly in light of ongoing reckoning with the role of the criminal-justice system in America. Among those voices is Christian Cooper, who has said that he will not be cooperating with the prosecution's investigation, which the New York Times notes could present challenges to prosecutors. "On the one hand, she's already paid a steep price," Cooper said Tuesday in a statement. "That's not enough of a deterrent to others? Bringing her more misery just seems like piling on." However, he acknowledged that the decision was ultimately the defense attorney's, adding: "If the DA feels the need to pursue charges, he should pursue charges."
Per the Times, Cooper is scheduled to be arraigned in October. If convicted, she could spend up to a year in jail, or she could instead be sentenced to community service or counseling.
This post has been updated.