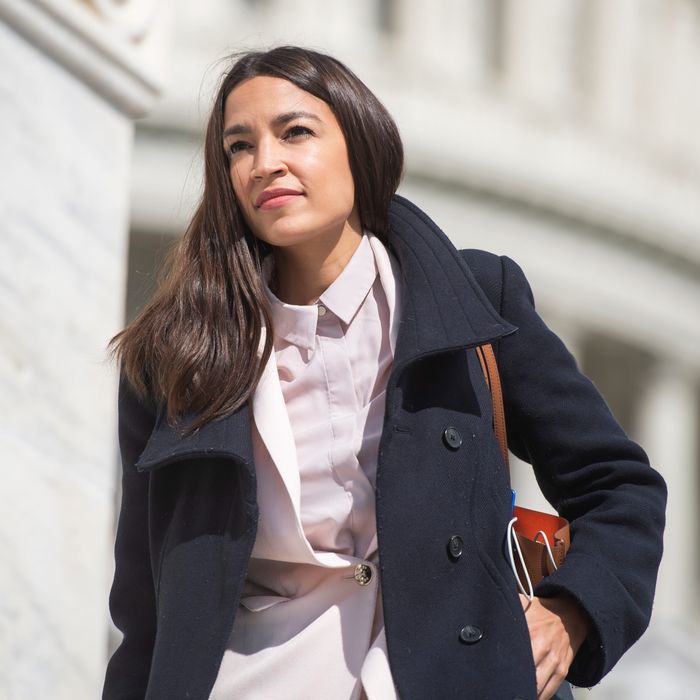 Photo: Tom Williams/CQ-Roll Call, Inc via Getty Imag
Representative Alexandria Ocasio-Cortez was ascending the steps of the Capitol for a vote on Monday afternoon when she was personally accosted by a Republican colleague. Representative Ted Yoho of Florida approached Ocasio-Cortez on the steps with aggressive, insulting comments about some remarks she made earlier this month connecting poverty and crime, according to the Hill.
Yoho allegedly said Ocasio-Cortez, "You are out of your freaking mind," and that she was "disgusting." Ocasio-Cortez responded that Yoho was being "rude" before continuing up the steps. As Yoho was making his way down, he allegedly said "fucking bitch" as they parted ways. The exchange was overheard by a reporter. Yoho has since apologized for his comments, but denies calling Ocasio-Cortez a "bitch" — he insists he muttered the word "bullshit."
The following day, Ocasio-Cortez told Yahoo News that, as she made her way up the Capitol steps, "Yoho comes up to me and puts his finger in my face and flies off in a rage. He started going off about shootings and bread and nonsense, calling me crazy, shameful, out of my mind, etc. At first I tried to talk to him, but that just made him yell over me more … I said he was being rude and that this was unbelievable, and started to walk away. He said, 'I'M RUDE? You're calling ME rude?!' And I just kept walking to my vote."
Yoho was apparently incensed about statements Ocasio-Cortez recently made during a virtual town hall with the mothers of Ramarley Graham and Eric Garner about a recent spike in crime in New York City amid the coronavirus, in which she argued that unemployment and poverty were partly to blame, and more policing was not the answer. Fox News and other conservative outlets have seized upon the remarks, claiming that Ocasio-Cortez was making excuses for violent crime.
Ocasio-Cortez also told Yahoo News that she had a second altercation with Yoho later in the day. "I actually confronted him later that day about what he did," she said, "and he doubled down, yelling at me again for a second time later in the afternoon."
Another of Ocasio-Cortez's colleagues was present for the first altercation: Representative Roger Williams of Texas. He told the Hill that he had not overheard the exchange. "I was actually thinking, as I was walking down the stairs, I was thinking about some issues I've got in my district that need to get done." He claimed ignorance of what Yoho and Ocasio-Cortez had said. "I don't know what their topic was," he claimed. "There's always a topic, isn't there?"
But in a tweet on Tuesday morning, Ocasio-Cortez accused Williams of having "blatantly lied." "You were yelling at me too," she wrote, "about 'throwing urine.'" Through a spokesman, Williams denied having heard the exchange or saying anything himself during it.
Ocasio-Cortez is used to confrontation on the floor of the House, in the form of heated exchanges over legislation, and in hearings, where she is known for intense, pointed questioning. But "that kind of confrontation hasn't ever happened to me — ever," she told the Hill. "I've never had that kind of abrupt, disgusting kind of disrespect levied at me … In all these intense news cycles, I have never, ever been treated that way by another member before. I'm frankly quite taken aback." A number of Ocasio-Cortez's colleagues have since called for Yoho to be sanctioned over the incident.
Yoho has served in Congress since 2013 and is not seeking reelection in 2020. He is a member of the Tea Party Caucus, voted against making lynching a federal hate crime, and is anti-choice. Yoho told News4Jax that he had used the word "bullshit" rather than "bitch." "It was the word B.S. I said it's a bunch of B.S. about her policies," he said. "And there was two reporters, like I said, at the base of the steps, and I was 25 to 30 feet away. My back was to them. And so they said 'Well, can you tell us what your conversation was?' I said, 'No comment.'"
Asked about whether he would be apologizing, he responded, "I can't apologize because I didn't say that. Nevertheless, he made a gesture at an apology on the House floor on Wednesday. He said he apologized for the "abrupt manner of the conversation I had" with Ocasio-Cortez, but added "the offensive name-calling words attributed to me by the press were never spoken to my colleagues and if they were construed that way, I apologize for their misunderstanding." He concluded, however, "I cannot apologize for my passion or for loving my God, my family, and my country."
In a tweet about Yoho, Ocasio-Cortez wrote, "I never spoke to Rep. Yoho before he decided to accost me on the steps of the nation's Capitol yesterday. Believe it or not, I usually get along fine w/ my GOP colleagues. We know how to check our legislative sparring at the committee door."
"But hey," she added, "'b*tches' get stuff done." To underscore the point, she then posted a video of herself in front of the dome of the Capitol building set to Doja Cat's "Boss Bitch."
As for his "apology," Ocasio-Cortez quickly tweeted after Yoho's floor speech that it wasn't. "Republican responds to calling a colleague 'disgusting' & a 'f—ing b*tch' w/ 'I cannot apologize for my passion' and blaming others," she wrote. "I will not teach my nieces and young people watching that this an apology, and what they should learn to accept. Yoho is refusing responsibility."
This post has been updated with additional information.