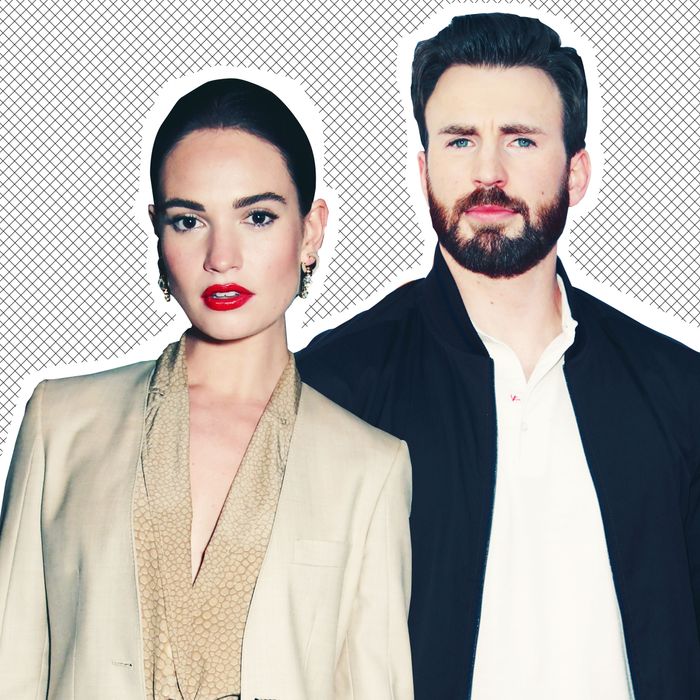 These days, celebrity couples have been somewhat limited in their approach to romance. Faced with social distancing, they've largely been taking performative strolls through their Beverley Hills communities hand-in-hand, or inserting their domestic bliss into their friends' music videos, or breaking up. But not Chris Evans! The 39-year-old Captain America star is thought to be dating 31-year-old actress Lily James — of Downton Abbey and Mamma Mia fame (she is also starring in the forthcoming Rebecca adaptation opposite Armie Hammer, for which I am anxiously excited) — after the two were spotted out together in London over the weekend.
On Monday, the Daily Mail published images of the two partying at the Mark's Club until 1 a.m., after which they reportedly shared a cab back to Evans's hotel. People reports that James lives in North London, while Evans, who'd been isolating in the United States, recently traveled to the U.K. to resume filming on several movies and TV shows. Neither of the actors, nor their reps, have commented on this apparent rendezvous.
The actors were still going strong on Tuesday with an ice-cream date in a Central London park. Page Six reports that Evans wore a New England Patriots cloth mask, James a bandana, and that the two "appeared to be in good spirits."
It had previously been rumored that James was working on her long-term relationship with The Crown actor Matt Smith. The two began dating in 2014 and reportedly broke up in December. Does everyone in this story need to have two first names? Why yes! Yes they do.
Evans has most recently been in the tabloid spotlight for his intermittent romance with actress Jenny Slate, although the two haven't been romantically linked in the press since 2018.