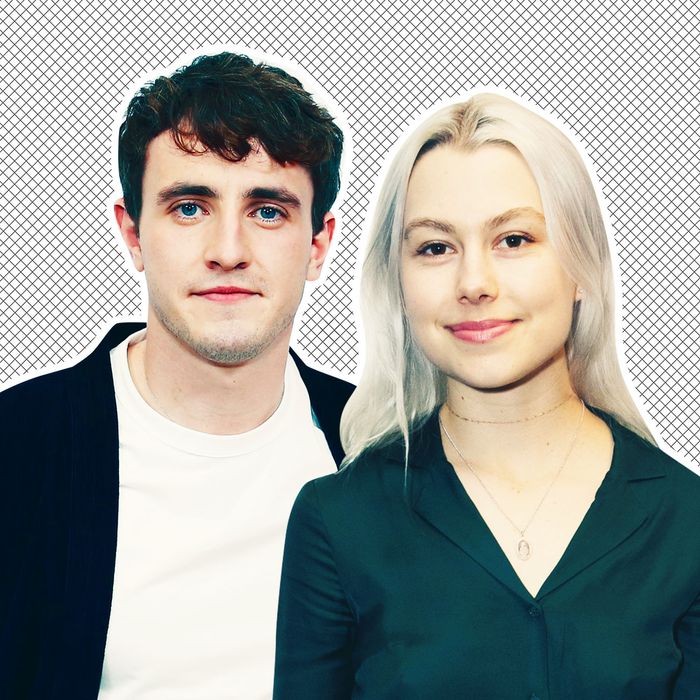 Paul Mescal and Phoebe Bridgers.
Photo: Getty Images
Well well well, if we don't have a rumored celebrity couple that seems to have been designed in a lab to appeal to the neat subset of people who count themselves among the Sally Rooney Hive and hit repeat on Boygenius's self-titled EP whenever they're sad. Of course, I'm referring to actor Paul Mescal, whose performance in Normal People singlehandedly awakened the masses to the seductive nature of chain necklaces, and singer-songwriter Phoebe Bridgers, a beloved member of the "sad girl rock" scene.
Speculation that Mescal, 24, and Bridgers, 25, are A Thing picked up late last week, when the tabloids reported that the Los Angeles-based musician had jetted across the pond to have brunch with Mescal at a café in Kinsale, Ireland. Sadly, it appears that no photos of the encounter exist — just a tweet from the café that mentioned Bridgers and Mescal stopped by, calling them "amazing talented young people."
While neither has explicitly confirmed that the relationship is more than platonic, they also haven't been particularly subtle. Back in December, Mescal shared his Spotify Wrapped results, revealing that Bridgers was his top-played artist of 2019. He also included her song "Funeral" on the Spotify playlist he created when trying to get in character for Connell, his role in Normal People. Then, a few months ago, the two started to flirt publicly. "Finished normal people and now I'm sad and horny oh wait," Bridgers tweeted in May, to which Mescal responded, "I'm officially dead." That same month, they did an Instagram livestream together that certainly felt like a first date. In interviews, Bridgers referred to Mescal as a "cute boy" and her "internet crush." (She also divulged that she got "a little pitter-patter in my heart" after he followed her on Instagram.) Over the weekend, Bridgers tweeted the pleading-face emoji alongside a Spotify link to "Don't Matter" by Akon, which one might classify as a love song — and Mescal boldly liked it.
Now I can only speak for myself, but I imagine I'd have to be crushing extremely hard to post a link to a song to which I used to sway dejectedly and alone at middle-school dances. And to like someone's tweet of that song? An indisputable flirt.