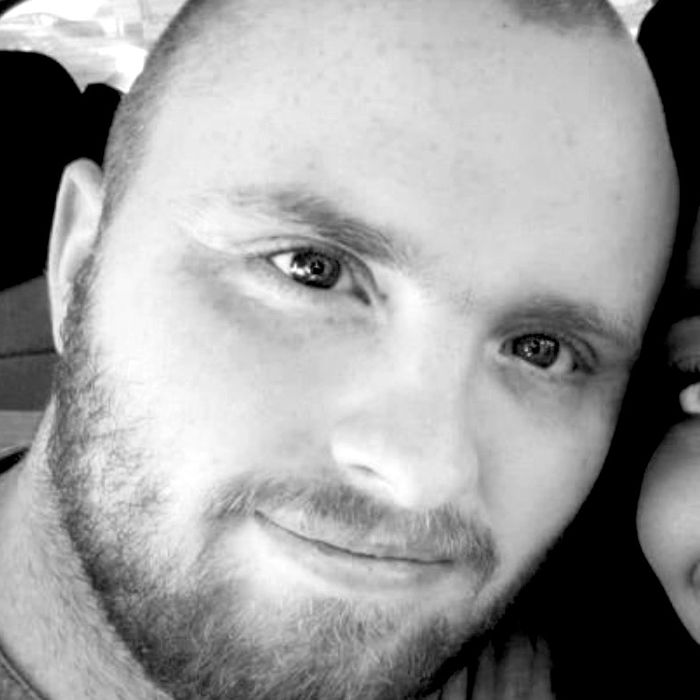 Garrett Foster with his fiancée, Whitney Mitchell.
Photo: GoFundMe
Across the country, the weekend saw renewed waves of protests in solidarity with Portland activists, as they clash with aggressive, battle-ready officers dispatched by the federal government. In Austin, Texas, a peaceful demonstration for Black lives turned deadly on Saturday night. A driver reportedly barreled toward a crowd crossing an intersection downtown and opened fire, killing a man whose mother has identified him as Garrett Foster.
Sheila Foster confirmed to Good Morning America on Sunday that her son died while attending Saturday's protest. She said he had been pushing his fiancée's wheelchair when "this gentleman got out of his car and started firing shots, and my son was shot three times," according to ABC 7.
Journalist Hiram Gilberto was livestreaming the event on Facebook at the time of the incident. Just before 10 p.m., protesters were moving along Congress Avenue when a car horn sounded. Per the video — which can be viewed here, although the footage is graphic and disturbing — people scattered and someone shouted, "Everybody back up!" Five shots then rang out in rapid succession.
Witnesses told the Statesman that a driver started honking before turning onto Congress Avenue, making a beeline for the crowd. Protester Michael Capochiano said the car only stopped when it hit an orange barrier. "There were people around the car, yelling, and people sounding like they were frightened," he said. That's reportedly when a man, carrying a rifle, approached the vehicle. The driver fired from inside the car, hitting the armed man, who "dropped to the ground," Capochiano recalled.
The suspect reportedly fled the scene, but has since been taken into custody, senior police officer Katrina Ratliff said early Sunday morning. Meanwhile, medics performed CPR on the victim, who died at Dell Seton Medical Center shortly thereafter. Austin police have not publicly identified the victim.
Following the shooting, a protester who knew Foster and his partner, Whitney Mitchell, said the couple have been active participants in Austin's demonstrations against police brutality and systemic racism. "They've been out here for like all 50 days so far," the protester sobbed in an interview with Gilberto.
Foster's mother told GMA that he and Mitchell had been together since they were 17. She also noted that her son had a license to carry his gun, which is legal in Texas.
On Sunday morning, a group of protesters — reportedly including Mitchell — gathered outside the Austin Police Department headquarters. "A good man stripped from this Earth, stripped from his fiancée literally hours ago," one attendee told the Statesman. "This is fresh. I'm numb, to be honest. The fact that you can go from being five feet away from this man at the beginning of the march, him marching, him yelling, him chanting to being lifeless. It's a messed-up reality."