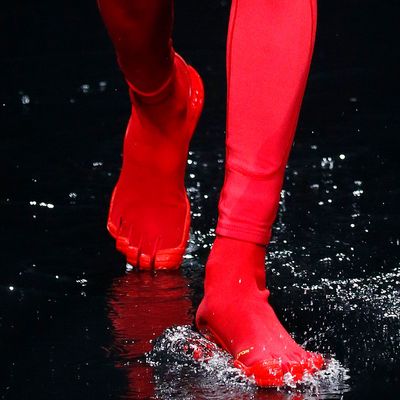 Toe sneakers from Balenciaga's fall 2020 runway show.
Photo: Estrop/Getty Images
If you're a nonessential worker who's spent much of the last few months isolating at home, that probably means you've also spent a lot more time walking around barefoot, looking down at your naked, un-manicured toes. Based on Balenciaga's latest resort 2021 collection, which was revealed today and includes flip-flops with toe socks and freaky "toe sneakers," it seems fashion designer Demna Gvasalia has been spending a lot of time looking and thinking about his bare feet, too.
Like many people, Gvasalia spent the early days of the pandemic working from home wearing boxer shorts and pajama pants. "Very lazy," he told Vogue Runway in an interview this week. "I thought, I don't have to make an effort to make my look every morning." But then he started to feel "depressed." He realized that people like himself who love clothes need to dress up every day, even if that just means wearing designer hotel slippers and pajamas. As a result, the theme of his new Balenciaga collection is an ode to comfortable personal style, or dressing to entertain and delight yourself — from your head to your toes.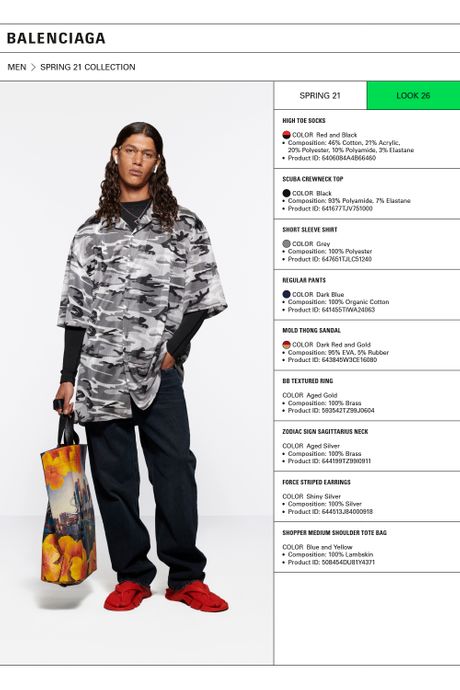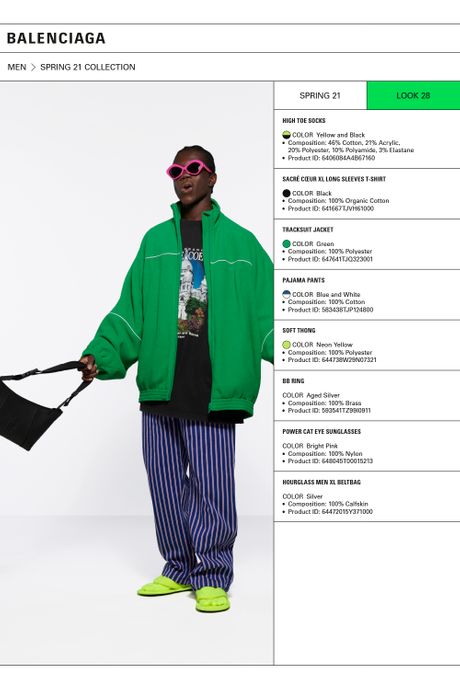 And what better shoes to wear in the house and after lockdown than those that make you feel barefoot? The timing is ideal, but Gvasalia has had feet on his mind for while. In March, just before the pandemic forced everyone inside, Gvasalia sent a similar pair of Vibram "toe shoes" down his fall 2020 runway. The man loves a freaky shoe! Remember those platform Crocs from three years ago? As Vogue reported in 2018, toe sneakers by Balenciaga seemed inevitable in the future, and here they are.
We may not have been ready for "toe sneakers" in 2019, (despite Maison Margiela Tabi shoes and the recent naked sandals trend preparing us for this moment), but 2021 might finally be their year.