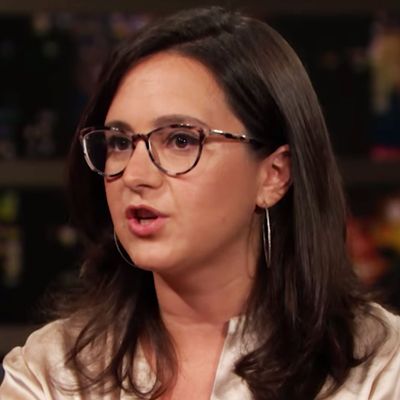 Photo: Real Time With Bill Maher/Youtube
Bari Weiss, a writer and editor at the New York Times' "Opinion" section, has resigned from the paper.
Weiss's resignation comes in the wake of debate following the Times' publishing of an op-ed in which Senator Tom Cotton called for the use of military force against citizens participating in protests for racial justice. Weiss argued in support of the op-ed, despite widespread consensus among her colleagues that its publication endangered the lives of Black people and journalists. The Times subsequently said the article did not meet its standards, and "Opinion" section editor James Bennet resigned after admitting he had not read the article prior to publication.
In her three years at the paper, Weiss spent much of her time taking aim at marginalized and liberal groups. She wrote a reductive condemnation of the woman who accused Aziz Ansari of sexual assault and another of Women's March organizers Linda Sarsour and Tamika Mallory, accusing them of supporting terrorist groups. She mocked critics of cultural appropriation and once tweeted a video of U.S. born and raised Olympic figure skater Mirai Nagasu's historic triple axel with the caption: "Immigrants: they get the job done."
More recently, she was among a list of writers and thinkers who co-signed an ambiguous open letter on Harper's arguing that facing strong public criticism was a threat to free speech.
In a lengthy resignation letter, which she posted to her website, Weiss described her reasons for leaving the Times, writing, "My own forays into Wrongthink have made me the subject of constant bullying." Weiss also said that she faced "a hostile work environment" that subjected her to "constant bullying by colleagues who disagree with my views," a statement which seemed to refer to those colleagues who have publicly and internally disagreed with her.
"We appreciate the many contributions that Bari made to Times Opinion. I'm personally committed to ensuring that The Times continues to publish voices, experiences and viewpoints from across the political spectrum in the Opinion report," said Kathleen Kingsbury, the acting editorial-page editor at the Times, in a statement. "We see every day how impactful and important that approach is, especially through the outsized influence The Times's opinion journalism has on the national conversation."