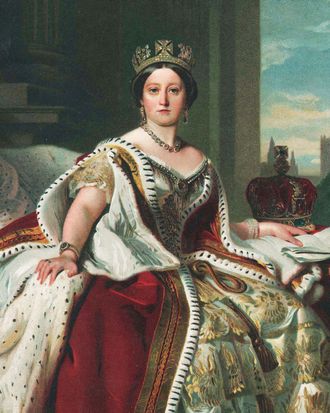 Queen Victoria, who probably smelled pretty good.
Photo: Transcendental Graphics/Getty Images
When historic artifacts get modern-day makeovers, the reviews are often …. mixed. But not all restorations end up botched, like Potato Jesus' mom, who recently got work done. Some turn out great, like the old perfume recently profiled by Atlas Obscura. After living at the bottom of the ocean for 150 years (not unlike Appa and Aang), it's been refurbished and rebottled to enjoy life as a well-received, contemporary fragrance.
The Very Old Perfume was discovered by marine archaeologists in 2011 on the shipwrecked Mary Celestia, a Civil War blockade runner that sank off the south coast of Bermuda in 1864. The bottle was etched with the words "Piesse and Lubin London," and amazingly, found completely intact, hanging out with a pair of shoes and a bottle of wine. Philippe Max Rouja, Bermuda's custodian of historic wrecks and owner of the best LinkedIn header of all time, wanted to get the 411, so he sent the bottle to perfumer Isabelle Ramsay-Brackstone, owner of boutique perfume store Lili Bermuda. Ramsay-Brackstone instantly recognized the name of the perfume house on the bottle and knew this stuff was fancy, telling the publication it was something Queen Victoria would have worn back in the day.
Inquiring noses like Ramsay-Brackstone's want to know: What did Queen Victoria smell like? With the help of her friend and fellow perfumer Jean Claude Delville of Drom Fragrances, the two conducted a DNA test of sorts on the fragrance using a process called gas chromatography (and some of their professional sniffing). They detected notes of orange, bergamot, grapefruit, orris, rose, sandalwood, and musky animal notes, like civet (glandular secretions of furry nocturnal mammals) and ambergris (sperm whale spit-up).
After 110 iterations and some adjustments, like substituting synthetic musk molecules for the animal excretions and skin-safe solvents for the irritating stuff 19th-century people splashed on their capes instead of skin to mask stinky streets, the 21st-century version of the fragrance (which Ramsay-Brackstone named Mary Celestia), was (re)born.
Someone back in 1864 never got to wear their fancy, odor-masking, possibly smuggled gift, but now with a click, you can smell just as nice —even if you're just chilling in a pair of Baggies, instead of ruling an empire in corsets and capes.