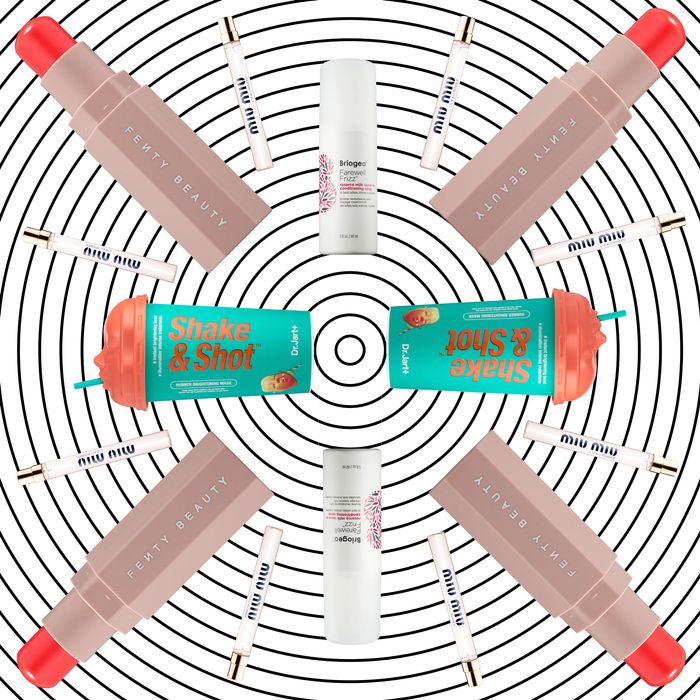 Sephora's secret Fourth of July sale is upon us. Starting July 3, lots of beauty products will be on sale from brands like Fenty Beauty, Briogeo, Clinique, Anastasia Beverly Hills, Pat McGrath, Estée Lauder, MILK Makeup, Too Faced, and more. Everything from serums to moisturizers to face masks to lipsticks to concealers (lots of it) will be included.
A promotion code is not necessary and only a selection of items will be on sale. But shop quickly, because you only have four days: the sale ends July 6. We got an advance look at the list of products included in the sale, and here are the best skin care and makeup deals, from brightening serums to glowy skin kits and more.
A Creepy, Yet Useful Face Mask
These masks are sort of creepy, but also entertaining. Directly mix up each "shot" with water in the container, shake it up, and apply it directly to your face. Somehow the rubber mask feels cooling and hydrating, rather than suffocating, and you'll have lots of fun peeling it off (bonus points if you can do it smoothly in one go) to reveal soft, bouncy skin underneath.
Rihanna's Foundation
Rihanna's fantastic touch-up sticks work as foundation or concealer. These are great for when you're on the go, and have a smooth, light, but not greasy feel.
Rihanna's Highlighter
Rihanna's creamy highlighters are also on-sale. The shade names like Yacht Lyfe and Ridiiic are so good that you'll want to buy them based on that alone.
A Conditioning Spray
If the ends of your hair currently feel like straw, this spray can help. Sephora reviewers rave over how this spray is both lightweight and moisturizing, transforming straggly hair ends quickly into a smooth, silky feel. This is also the only Briogeo product on sale.
A Very Extra Highlighter
This highlighter is so bright that it could probably be seen by astronauts. It's radiant, dewy, brilliant, and it's 50 percent off, which is exceptionally rare for any of Pat McGrath's excellent products.
A Glowy Set
The star of this set is Clinique's Moisture Surge, a cooling hydrating gel which Sephora reviewers praise as being an "instant moisturizer." Even better, it includes a mist, which is great for calming down irritated skin. If you still aren't glowy enough, there's a highlighter too.
A Moisturizer With SPF
If you know you're supposed to wear sunscreen every day, but often forget, this is a nice moisturizer with SPF 50. It's hard to find a good one with SPF over 30, but this one also feels moisturizing, and doesn't leave a film of oil. According to Sephora reviewers, it also won't give your face a gray cast.
A Whole K-Beauty Skin-Care Routine
Skin-care obsessives love this brand for its farm-to-skin philosophy and its reasonable prices. This kit is a great introduction to the brand, with four of its most popular products, including its balm cleanser (their current best-seller), a day and night moisturizer, and mask.
A Brightening Serum
Lots of Perricone products are on sale, but this is the only Vitamin C serum on sale. Like most Vitamin C products, this one also smells orange-y, but lacks the sticky, cloying feel, and feels comfortable on the skin. Reviewers say that it helps with everything from brightening acne scars to melasma.
If You Know Someone Who Loves Cats
Give this very pretty perfume gift set to someone who loves fancy perfume commercials featuring kittens and ballet. The scent is a very pleasant, slightly sweet floral that smells like hair bows and gardens. If you're lucky, your recipient will share and give you the very cute mini.
If you buy something through our links, New York may earn an affiliate commission.