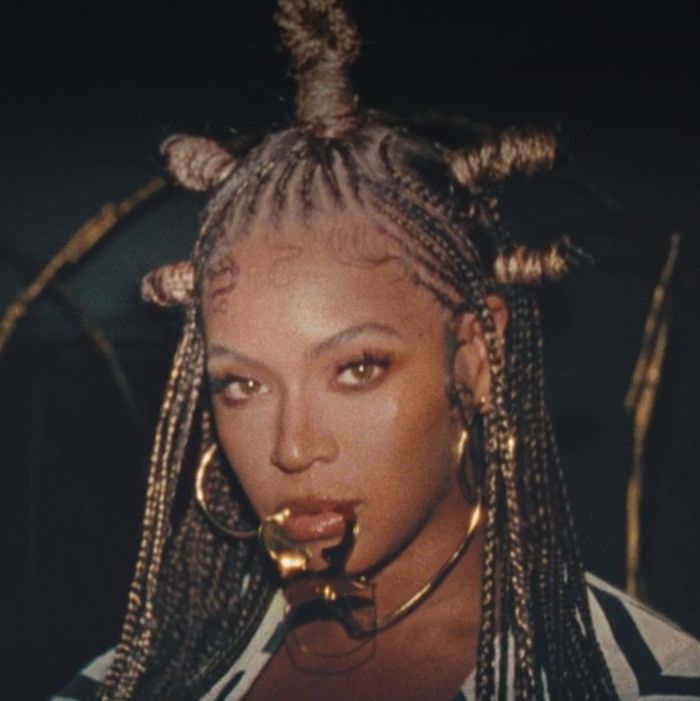 Beyoncé's short film Black Is King finally dropped on Disney+ in the wee hours of the morning. It's an undeniable celebration of Black beauty; Beyoncé packed the entire one hour and 25 minutes with stunning beauty inspiration that will definitely take up permanent residence in your mind palace. If we could drop every scene in here, we would, but to save you from endless scrolling, here are just 17 memorable beauty looks to come back to in between your repeated viewings.
1. A perfectly applied dark lip to go with some immaculately smudged dark eyeliner.
2. Proof that Beyoncé doesn't have regular highlights, she has crystal highlights.
3. Blue Ivy is only 8, but she's obviously already into Euphoria makeup.
4. Speaking of blue, the color represents femininity in African culture, making it a fitting shade for Bey's lips.
5. Mama Tina Knowles looking beautiful in a feathery fascinator.
6. Beyoncé's Esther Williams–inspired bathing beauty moment, complete with a pearlized coral lipstick.
7. Just one of the film's many African tribal looks, here in a bright teal shade.
8. Braids, Bantu knots, and jewelry loosely inspired by African lip plates.
9. A dreamy tower of curls nodding to the sculptural hairstyles in traditional African culture.
10. A reminder that while the rest of us measure hair in paltry inches, Beyoncé probably measures hers in yards.
11. Glossy lips, glowy skin, and a refreshing take on the flower crown.
12. A wealth of Black hairstyles to admire, from cornrows to a baby Afro.
13. The finger wave braids and loose wisps on this updo.
14. The best bangs we've seen all year.
15. An ode to a regal Congolese hairstyle, accented with swirled baby hairs and feathery lashes.
17. And a classic red lip with tribal markings to match.