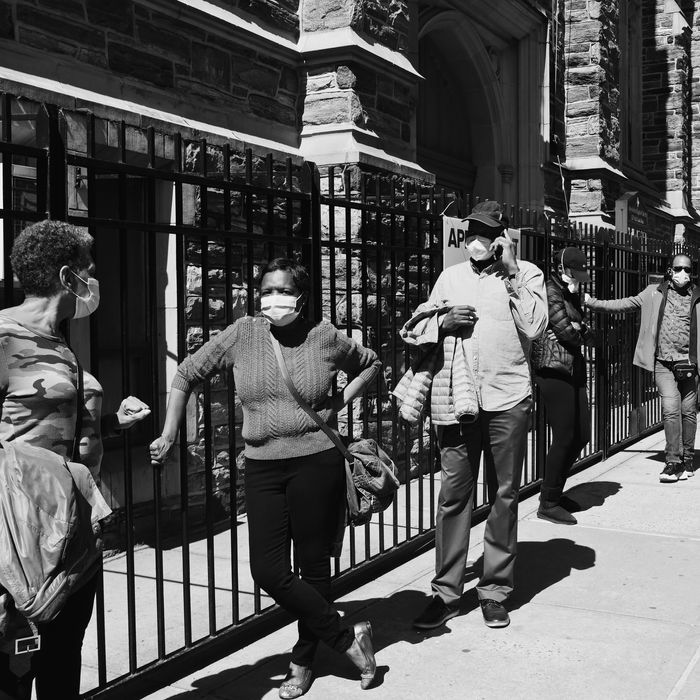 Photo: ANGELA WEISS/AFP via Getty Images
We're committed to keeping our readers informed. 
We've removed our paywall from essential coronavirus news stories. Become a subscriber to support our journalists. Subscribe now.
In the four months since the coronavirus outbreak began in the U.S., the virus's disproportionate impact on people of color has been apparent. In May, officials said that data from New York City, where more than 23,000 people have died from COVID-19, revealed that Black and Latino residents were dying of the coronavirus at "around twice the rate of their white counterparts." Now, new federal data from the Centers for Disease Control and Prevention shows that the disparities of the pandemic have been far more widespread.
The new data, which was made available only after the New York Times sued the CDC, details 64,000 infections in nearly 1,000 U.S. counties and reveals that across the country, Black and Latino people have been nearly three times as likely to become infected with COVID-19 than white people and have been twice as likely to die from the virus. The data also shows that Native American populations in Arizona and handful of counties in other states were "far more likely" to become infected than white people. And the rates are not proportionate to local demographics. In Kent County in Michigan, Black and Latino residents make up just 20 percent of the population but have suffered 63 percent of infections. In Fairfax County, which is located just outside of Washington, D.C., Latino residents have tested positive for coronavirus at four times the rate of white residents, despite the fact that three times as many white people live there.
Public-health experts believe that Black and Latino residents are becoming infected at disproportionate rates because, in many cases, they are not afforded the privilege of protecting themselves from the virus. According to 2018 census data, 43 percent of Black and Latino workers hold jobs that cannot be done remotely, in comparison to about 25 percent of white workers. Additionally, per the American Housing Survey, Latino people in the U.S. are twice as likely as white people to reside in cramped living situations (defined as less than 500 square feet per person), making social distancing all but impossible. "This is really about who still has to leave their home to work, who has to leave a crowded apartment, get on crowded transport, and go to a crowded workplace, and we just haven't acknowledged that those of us who have the privilege of continuing to work from our homes aren't facing those risks," Mary Bassett, a former New York City health commissioner, told the Times. And, as the outlet notes, Black and Latino people also suffer at higher rates from underlying health problems — many of which are exacerbated by inadequate access to medical care — which put them at greater risk for COVID-19 complications.
Though the new data has revealed a clearer picture of coronavirus's devastating impact on Black and Latino communities across the country, the picture is not yet complete: In more than half of cases, the CDC's data is missing information regarding race and ethnicity. Additionally, the data only documents cases reported through the end of May. In the past month, many states in the South and Southwest have consistently reported record highs for cases and hospitalizations; last week, the U.S. recorded an all-time daily high of more than 55,000 new coronavirus infections. Still, it has become glaringly apparent that the virus was never a "great equalizer."