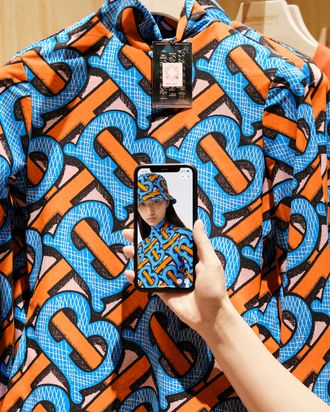 Photo: Courtesy of Burberry
Fashion, like most businesses, is feeling the economic blow of the pandemic. Every week, it seems, a new store closes or another business files for bankruptcy. But the world keeps turning, and in spite of everything, new and innovative retail locations are also opening up.
On Friday, Burberry unveiled a shiny new store in Mainland China — its 63rd in the region. Located in the booming tech hub of Shenzhen, this is luxury fashion's first-ever "social retail" store, according to the brand.
In partnership with Tencent, which owns the Chinese messaging app WeChat and the popular video game Fortnite, the space will integrate social media and gaming with the shopping experience in ways that go far beyond your average dressing-room selfie. Using Burberry's new WeChat mini platform, customers can not only book appointments, reserve fitting rooms, or make a reservation at the store's café with the app but also accrue "social currency." Think of it like a credit card rewards program, only on social media: The more you use it, and share content, the more rewards you unlock.
Each customer is given a cute little Bambi-like avatar that evolves as you use the platform. All products are labeled with QR codes that, when scanned, reveal additional content. And customers also have the opportunity to unlock special Thomas Café menu items (like the dinosaur fries at In-N-Out), plus an exclusive, velvet rope space in the store called the Trench Experience.
"When it came to innovating around social and retail, China was the obvious place to go as home to some of the most digitally savvy luxury customers," Burberry CEO Marco Gobbetti said in a statement. It's also where people, specifically young people, are spending money right now. In Shenzhen, a city of 12 million people, the average age is under 30.
Burberry creative director Riccardi Tisci is particularly skilled at communicating with young, tech-savvy customers, but he also felt strongly about preserving the organic nature of shopping with this store as well, especially when it came to the interior design. "I am fascinated by the balance between nature and technology, and the energy that connects the two," he said. "This store explores this relationship, blending the digital and the physical realms in an exciting new concept."