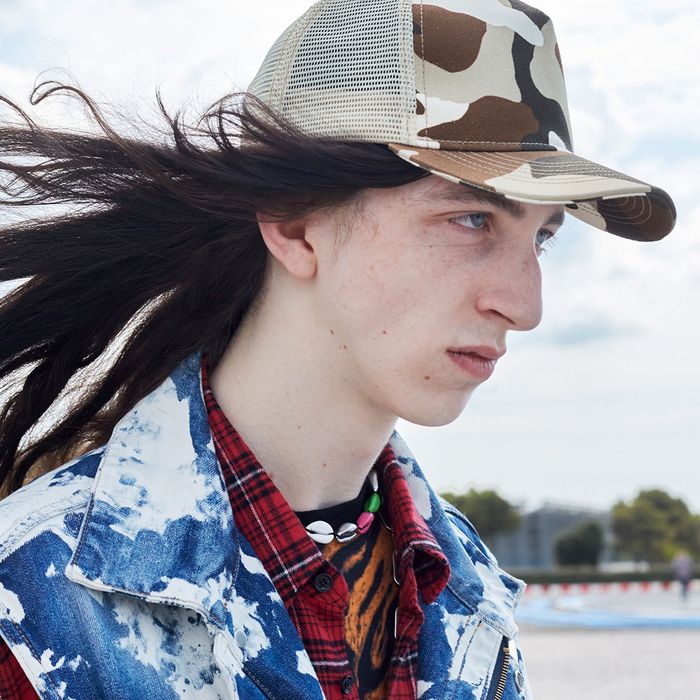 Photo: Courtesy of Celine
On Wednesday morning, Celine designer Hedi Slimane met fashion where it's at, which is online. Inspired by youth culture, specifically the world of TikTok, the designer's latest menswear collection, titled "The Dancing Kid" and shown via livestream, was exactly the sort of thing your average angsty e-boy would wear while doing the Renegade: ripped jeans, loose flannels, choker necklaces, and even shiny studs meant to look like bedroom string lights. Instead of a runway, seemingly sunlight-deprived models walked a racetrack near Saint-Tropez, its circuitous route a subtle reflection of TikTok's infinite loop.
Although the collection was conceptualized and designed in a pre-pandemic world — Slimane photographed TikTok star Noen Eubanks as part of his "Portrait of a Teen Idol" campaign back in December — it was made all the more relevant the fact that that many of us, whether we're on TikTok or Zoom, only get dressed up for virtual encounters these days. If your reaction to the collection's emoji earrings, chaotic prints, and DGAF styling was: No one would wear this in real life, then it succeeded. Real life sucks!
In addition to being inspired by the way the youths dress, Slimane is also interested in what they're listening to and doing for fun. Now that clubs and concerts (two of Slimane's favorite things) are off the table, he seems even more enchanted by the enduring spirit of TikTok. "Confined youth staved off boredom by dancing, affirming their creative flair, convictions and culture, notably musical," read the show notes. Pieces like shiny bedazzled sweatsuits were "a metaphor for reclaiming the night."
Slimane is also smart. He knows that if he's going to strengthen Celine's online engagement and younger consumer base, he has to communicate in their language. To help promote the collection, the brand tapped major TikTok stars like Noen Eubanks, Lil Huddy, and LuvAnthony to show it off. It was also, of course, the subject of organic TikTok content. The app's self-described "fashion fairy godmother," FashionBoyy, shared his review of the collection today. And I personally enjoyed the energy in this video, even though I don't speak Spanish.
As someone very-online might say, You love to see it.