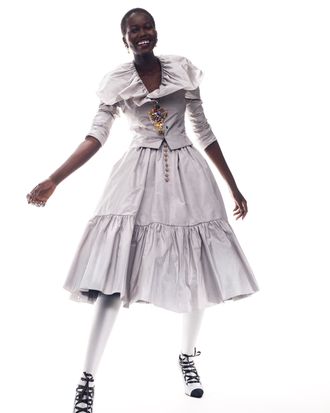 Chanel debuted its 2020–21 fall/winter couture collection today as part of the Fédération de la Haute Couture et de la Mode's digital fashion week. Emerging from months under lockdown, creative director Virginie Viard went unapologetically big, bold, and opulent.
The collection is a 180-degree turn from last season's asceticism, inspired by Gabrielle "Coco" Chanel's early days at the Aubazine Abbey. This time around, Viard tapped into the delightfully sinful side of the brand, using digital shows to try things she otherwise wouldn't have in a live runway. "I was thinking about a punk princess coming out of 'Le Palace' at dawn with a taffeta dress, big hair, feathers and lots of jewelry," said Viard in a statement, referring to the Parisian nightclub. "Karl would go to 'Le Palace,' he would accompany these very sophisticated and very dressed up women, who were very eccentric too."
As lavish as the collection is, it still has the brand's DNA. Colorful tweed sets are gussied up with rhinestone embellishments, retro cocktail dresses are playfully accented with layered tulle and sequins, and subtly 18th-century gowns with dramatic sleeves plunge to the floor. Plus, there's corset-like cinched waists, pannier skirts, and heels appropriate for the French court. It's all liberally accessorized with the brand's jewelry collection. If an 18th-century vampire went to the club in the 1980s, they'd be sure to find a look here. Watch the video below to see what I mean.