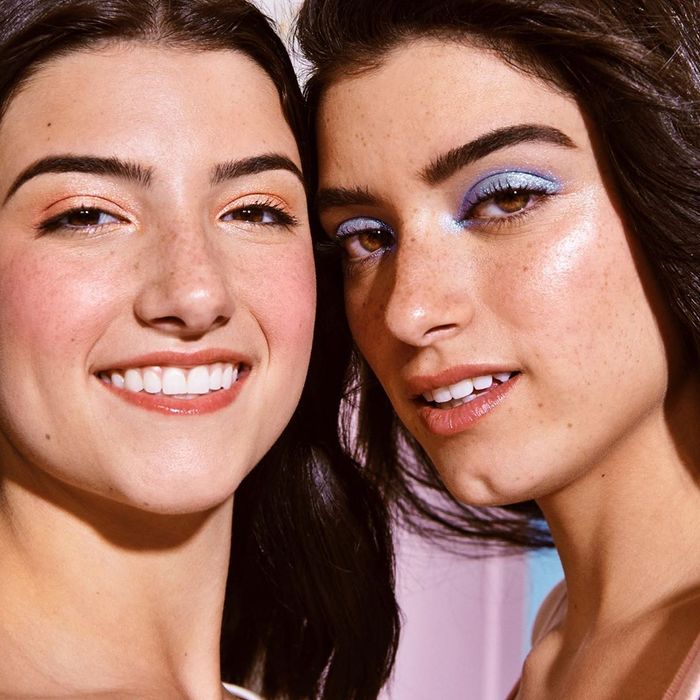 Charli and Dixie D'Amelio.
Photo: @dixiedamelio/Instagram
What's the best breakup revenge? Probably launching your own makeup brand and becoming the default face of it in the process. Allure reports that 16-year-old Charli D'Amelio of TikTok fame and her 18-year-old sister, Dixie D'Amelio, also of TikTok fame, are teaming up with influencer-favorite Morphe Cosmetics to launch their very own Gen-Z sub-brand called Morphe 2.
Just as Limited Too was to the the Limited, Morphe 2 is meant to target a younger generation of makeup-wearers, specifically ones who may not even really wear makeup because they look awake and full of life whether they have it on or not. "With Morphe, we're working together to show that you are beautiful with or without makeup," Charli told Allure. "I want people to wear as little or as much as they want and feel confident."
To that end, the brand includes six types of "simple yet stunning" products that don't cover up too much: a natural foundation tint that comes in 20 shades, sparkly jelly eye shimmers, cheek and lip mousses, face and eye gloss, lip oils, and a set of beloved Morphe brushes, if fingers aren't your thing. Everything has a sizable number "2" on it, which is also fun.
Morphe 2 will launch on Morphe.com on July 30, Ulta.com on August 2, and TikTok (if it still exists by then) will probably be flooded with a new related dance to learn sometime soon. If you need more teen-approved makeup in the mean time, check out Morphe's recent collaboration with Maddie Ziegler, another famous Gen-Z dancer with a Gen-Z sister you may know.