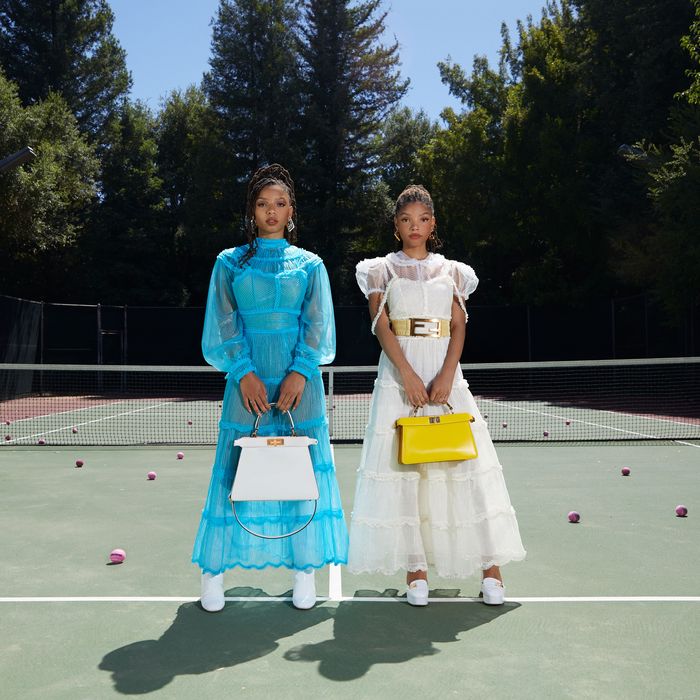 On the heels of their critically acclaimed album Ungodly Hour, sister duo Chloe x Halle is thriving. After charting on the Billboard 200, their latest creative achievement was creating a Fendi campaign, titled #MeAndMyPeekaboo, shot entirely in their backyard.
For the first time ever, the Italian brand let the talent take complete creative control. And it's appropriate since these girls have quite the résumé — whether it's casually being mentored by Beyoncé, releasing hit albums at a young age, getting cast for the silver screen (Halle will play Ariel in the live-action remake of The Little Mermaid), or using their platform to uplift the Black community. Plus, they've got the dream team behind them to execute all their creative visions.
The team includes art director Andrew Makadsi, who was nominated for an Emmy for Outstanding Production Design on Beyoncé's music documentary Homecoming; videographer Derek Milton, who's a frequent collaborator of both Chloe x Halle and Beyoncé; photographer Julian Dakdouk; and stylist Zerina Akers, who also personally styles the siblings and Beyoncé. In the video, Chloe x Halle wear Fendi pre-fall 2020 looks as they pose at their tennis court and swim in a pool with their Peekaboo bags. But what really sticks out is the chill confidence of the sisters, who love creating together.
"Working side by side as sisters is truly a blessing. Constantly having someone by your side, who is going through the same journey as you, is comforting and so very important," the sisters said in a statement. "With everything going on in the world, it's so easy to get down and give in to the uncertainty of the future. But this year 2020 is not over yet, and through the darkest times, come the most beautiful sunrises. Don't be afraid to continue speaking up for justice, and for what's right. Let's make the future generations proud of us."
The new Peekaboo bags seen in the campaign video will hit stores in August. Watch it below.