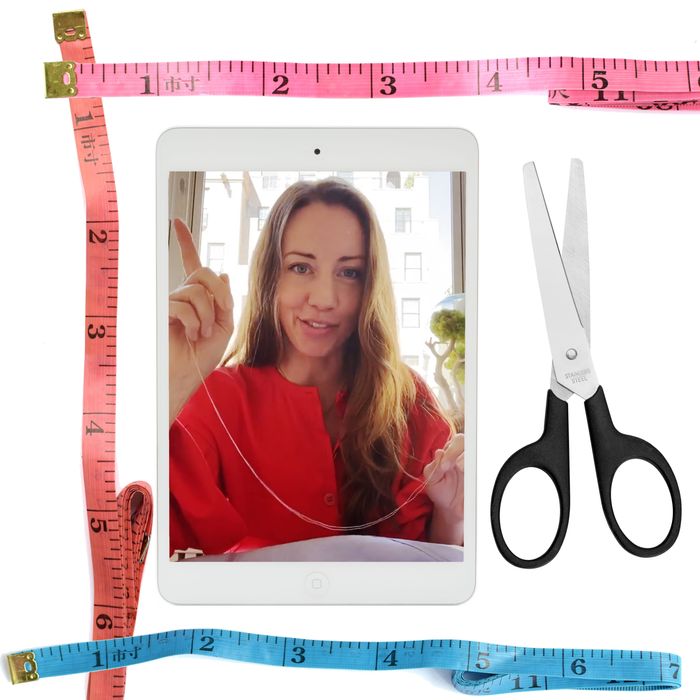 Photo-Illustration: by The Cut; Photos: @christyrillingstudio/Instagram, Getty Images,
A good experience with a tailor often means getting up close and personal, which is one reason why getting your pants hemmed (or your wedding dress fitted) might be difficult — maybe even impossible — during a pandemic.
That's why Christy Rilling, a New York–based couturier and tailor to the stars, has been facilitating "virtual fittings" with her clients over the last few months. Rilling offers her own styles that she tailors to your body, or you can bring her something else by another designer. "It's actually been working really well," she says. If you order a piece from her most recent midsummer capsule collection, for example, her studio will ship it to you with a small bag of safety pins and a color-coded measuring tape, which allows her and her team to see through the screen just how many inches, say, your new jumpsuit needs taking in. They'll also send you a selfie stick to help get all your angles.
"It's hard for me during this process not to be like, 'We could take it in … one centimeter,'" she told me over Zoom earlier this summer. She'd sent me a pair of silk lounge pants — her own design — and was helping me determine the proper inseam length remotely. "I have to stop doing that."
Rilling, whose clients include everyone from Michelle Obama to Mary-Kate and Ashley Olsen, is used to altering and making bespoke garments for awards-season red carpets and Vogue cover photo shoots, where every centimeter of the wearer's outfit is scrutinized. She worked on Beyoncé's sheer Givenchy Met Gala gown, for example, and co-designed Emily Ratajkowski's "naked dress" for the Vanity Fair Oscar's party in February. In 2010, she became the former First Lady's personal tailor, and continued to work with her on the many outfits she wore for her Becoming book tour.
"I've always appreciated the incredible artistry in all of Christy's work," Mrs. Obama once said. "Her attention to detail and master tailoring has always left me feeling confident and beautiful, no matter what I'm wearing."
Many tailors and dry cleaners have been hard hit by the pandemic, but Rilling's clients are keeping her pretty busy, even with no red carpet events to go to anymore. In addition to producing her own collection, plus a line of one-of-a-kind house robes made from leftover fabric (including the silk lining from the dress that Obama wore to the 2016 State of the Union Address), she's also been offering virtual sewing lessons on Instagram, and doing virtual fittings for pants, jackets, and dresses — altering ones that were dramatically too small to make them bigger, or adding sleeves. Her clients seem to have more time to go through their closets now, and the desire to refresh their wardrobes.
"When I originally started the business, it wasn't a pandemic, obviously, but it was the last recession, and people really wanted to spend their money on one or two pieces that were really great, or use tailoring to reinvent something that they already had in their closet," she said. "Of course, people were allowed to go out to parties then, but I do think that whenever people start to resocialize, they are going to want to feel special. I think that care might come back, instead of buying so much."
After my Zoom session with Rilling, I brought four pairs of pants to my local dry cleaner to have them tailored, and it was a game changer. While I doubt I'll be able to retain the services of my own personal couturier any time soon, I can see people maybe valuing the fit and feel of their clothes more in the future. After months of wearing comfortable sweatpants, I want the rest of my clothes to feel just as good.
As of phase two, Rilling is now also "carefully and safely" seeing clients in person at her New York studio, if they want. But since she's become a pro at virtual fittings, she wonders if they will become more common practice post-pandemic as well. Her success is due in part to the fact that celebrities and everyone else feels comfortable getting up close and personal with her, and that translates over Zoom, too.