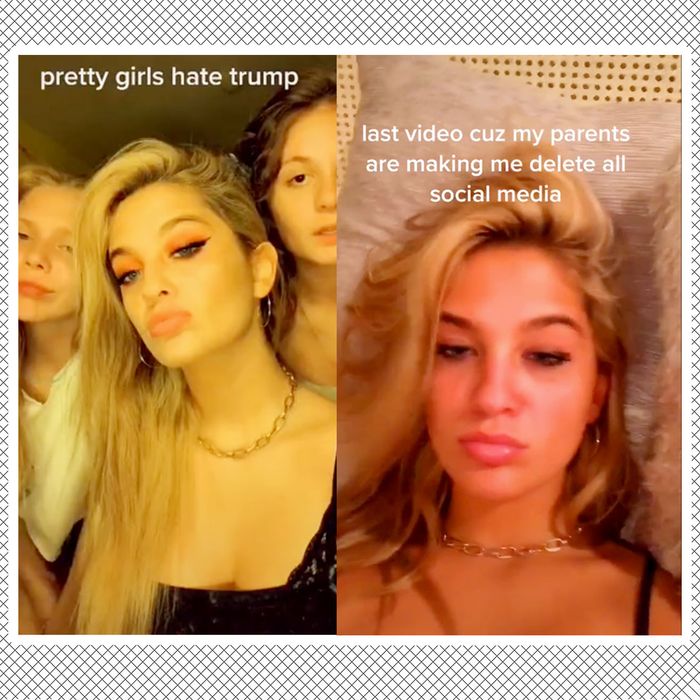 :(
Photo: @claudiamconway/TikTok
Oh no, it looks like Claudia Conway is grounded — assuming grounding these days means your parents have severed all your ties to social media? Admittedly, I don't really know how grounding works in 2020, but I do know that Claudia's parents — senior political advisor to Donald Trump Kellyanne Conway and vocal Trump critic George Conway — have kicked their daughter off the internet, seemingly because she refused to stop blasting her mom's boss (the president) online.
"My parents are forcing me to delete social media so this is my last tweet," the 15-year-old announced on Monday evening. "Apparently, I don't have a platform! it's fake! love you all so much. keep fighting."
Unlike her parents, both of whom are very conservative even if only one supports Trump, Claudia identifies as "100 percent leftist and liberal," as she told Insider. Since approximately April, she has been posting TikToks heavily critical of the president and his policies, one of which went viral in June. "I love trump," her caption read, "but replace 'love' with 'think we should extinguish.'"
Given that Claudia's mother proudly functions as Trump's mouthpiece, the video generated a lot of media attention. Speaking to Insider, Claudia said her dad "completely supports" her "speaking for herself," while her mom asked her to take down the content. (Claudia said she "respectfully declined.") But days later, George tweeted at reporters to drop any "communications" attempts with his daughter. In tweets that have now been deleted, Claudia reportedly responded, "you're just mad i'm finally getting my voice heard. sorry your marriage failed," and "@KellyannePolls @gtconway3d stop shutting my phone off lmao," among other choice barbs. But even as her parents tried to squash her teen rebellion, Claudia tweeted on, ostensibly unbothered.
Claudia contends that Mom and Dad purged all her political videos from TikTok, and since yesterday's farewell tweet, she has been posting clips of herself prancing around with a "Trump-Pence 2020" sign she allegedly found in her mom's closet and promising she has been "cured of her radical leftism." No way of knowing whether it'll be enough to convince her family, but fingers crossed. Along with Marianne Williamson, "we'll be waiting for you when you get back," Claudia. Maybe consider a Finsta?