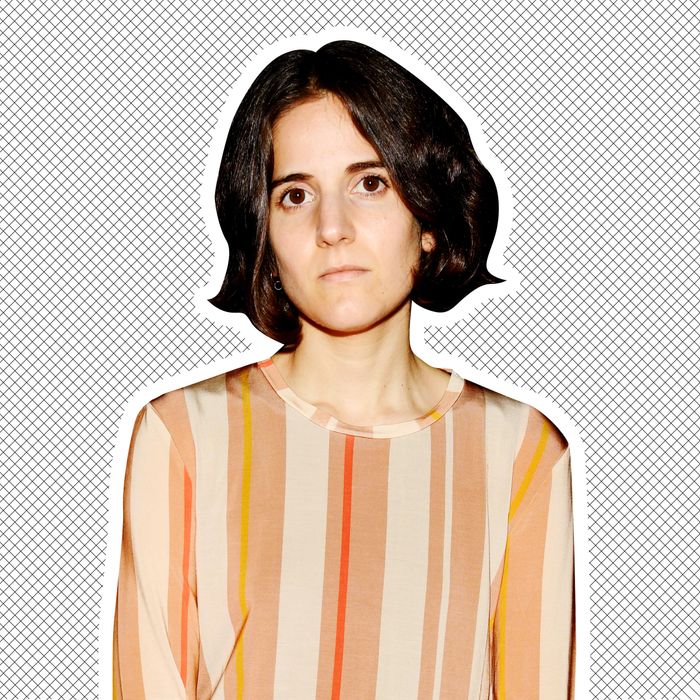 Pride Essentials asks our favorite LGBTQ+ artists to share the influences that have made them who they are today. 
Ana Fabrega has appeared as one of Vulture's 38 Comedians You Should and Will Know, landed on shows like Portlandia and At Home With Amy Sedaris, and was chosen for Just For Laughs' 2017 New Faces: Characters. Fabrega is known for working on the critically acclaimed HBO show Los Espookys, which she co-wrote with Saturday Night Live writer Julio Torres and Fred Armisen. Though Los Espookys undoubtedly solidified Fabrega's burgeoning career, the stand-up comic already had a wide following that she garnered over the years — namely on Twitter, where she does impressions and bits all in close-up. Below, Fabrega shares the movies, books, and TV shows that have influenced her.
Saw
When the first Saw movie came out, I thought it was the best movie I'd ever seen. I made everyone who came over watch it. I would be lying if I said it didn't have a big influence on me; it must have altered my psyche in profound ways. I consider Jigsaw a queer icon.
America's Next Top Model
I loved America's Next Top Model when I was in my early teens and had pictures of the girls on my wall. I loved how it objectified beautiful girls and made them compete against each other. I think that is very queer. Just kidding! But I was a big ANTM fan and realize now that I liked the show so much because I was attracted to some of the contestants.
Queer Influences
These are some of the books I read around the time I was realizing and accepting that I was queer: The Omnivore's Dilemma by Michael Pollan, Dark Money: The Hidden History of the Billionaires Behind the Rise of the Radical Right by Jane Mayer, Capital in the Twenty-First Century by Thomas Piketty, and The New Jim Crow: Mass Incarceration in the Age of Colorblindness by Michelle Alexander. They were instrumental in my transition from straight, meat-eating Republican to queer, vegan democratic socialist.
Electronic Music
I saw Me and You and Everyone We Know when I was 14 and the soundtrack blew me away. It was the first time I'd heard music like that made on synthesizers, and I loved it. It was my entry into electronic music. I listened almost exclusively to electronic music (ambient, drone, trance, dance, etc.) until I was like 22, at which point I began listening to people sing, which was shocking at first, but I gradually got used to it.
Google Maps
When I was in college, I would go on Google Maps, pick a state, zoom into areas of the state that were away from big cities, click on small towns and go to their municipality websites, school district websites, look up their restaurants, etc. I just wanted to see what it was like to live in a small town. If that's not queer, I don't know what is.
LGBTQ+ Friends
I came into my queerness in my early to mid-20s. Most of the media that shaped me when I was younger was created by straight people and was not explicitly about queer subject matter. I think that's common for a lot of queer people, especially if you grew up in a conservative place and/or didn't know any queer people. I think the biggest influence on my queerness as an adult is my friends — other queer people who help me learn and grow. I would not have come into my queerness without them … or my therapist.