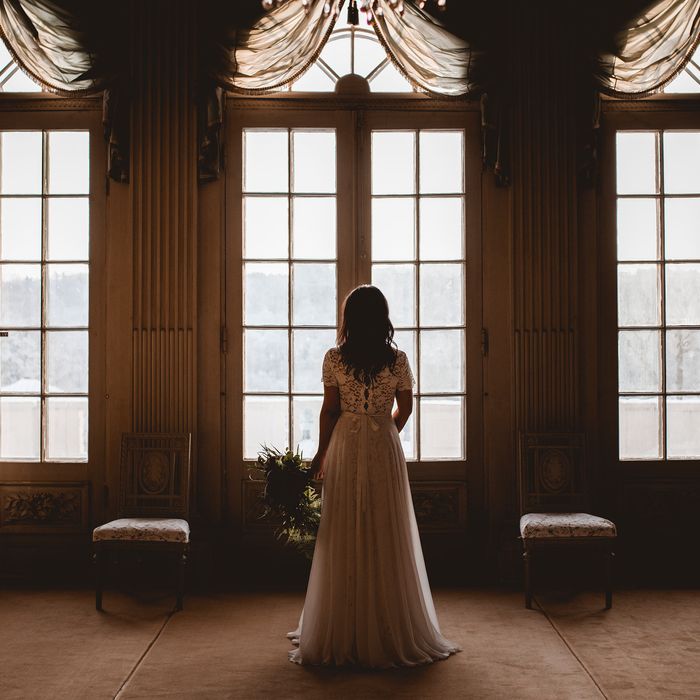 Photo: Johner Images/Getty Images/Johner RF
When Hannah Laack found out her wedding venue was operating at full capacity a few weeks ago, she breathed a sigh of relief. The 30-year-old nanny thought she might have to cancel the September shindig in her hometown of Sheboygan, Wisconsin. Cases have been rising in the state, recently reaching a two-week high after Wisconsin's Supreme Court struck down a stay-home order in May and businesses began to open up. But Laack felt delaying would be risky. Last year, her mom passed away, and she wanted to make sure that her dad would be able to walk her down the aisle.
While Wisconsin's health department advises against gatherings of more than ten people, the venue owner e-mailed Laack to say she could still invite all 170 of her guests in the fall. But though there are only 22 cases in Sheboygan, not everyone shared her enthusiasm.
Laack's mother-in-law simply texted "k" in response to the news. And although at first, Laack's fiancé was excited, a few days later, he brought up concerns. He has asthma and doesn't think he'll feel comfortable hugging people. Laack said touching others will be hard for her to resist. He wants to cut down their guest list to 100 people and make masks mandatory. Laack wants them to be optional so her wedding photos will be studded with smiles. "I spent $1,500 on a wedding dress, and I want to look a certain way," she said. "A mask is not included in that look."
A few months ago, it was almost inconceivable to throw a big wedding. Couples postponed until 2021, got married over Zoom, had drive-in weddings, or eloped. But now, as the country is opening up despite the fact that COVID-19 cases have hit record highs in some states, more couples are choosing to have a big 'ol gathering, virus be damned.
While some are taking precautionary measures, others want to celebrate as if there weren't an ongoing public-health crisis. In the least restrictive states, such as Alabama, Idaho, and Georgia, churches and venues either have no guest limits or can operate at a reduced capacity, which could still mean hundreds of people, depending on the size of the space. There are generally still some rules — self-serve buffets are a no-no, receiving lines should be nixed, tables are limited to six or ten people — but venue owners say they can't stop anyone from hugging or dancing. Meanwhile, in states like New York or California, where gatherings are still very limited, some couples are getting married on private properties, where they can skirt regulations.
Like everything wedding-related, the decision to go forth with nuptials amidst a pandemic has created drama between friends, family, and other brides on social media. The botched government response to COVID-19, at the federal and state levels, means that while the U.S. is setting records for new daily cases, couples are left to parse confusing information — are masks mandatory or suggested? Are wedding venues considered restaurants? Do out-of-state guests need to quarantine? — and weigh their own personal interests against a shared responsibility to stop the spread. And it's no surprise that a lot of those decisions are rooted in emotion rather than science.
There's no debate among doctors and scientists that the coronavirus is most contagious when a group spends long periods of time together indoors, which also happens to be an accurate description of many weddings. But in theory, small outdoor weddings where guests wear masks, stay six feet apart, and don't serve themselves food would be safe, or at least safer. But that's not the kind of celebration many couples have in mind.
Bridal Facebook groups are full of impassioned arguments about the morality of having a big wedding without masks or social distancing while the pandemic rages on. At its most extreme, the mudslinging involves the accusation that going forward with a summer celebration means you want guests to die and criticizing these gatherings makes you a vicious shamer who wants to drag other women down.
One bride, who is an ICU nurse, said she felt disheartened by people saying "HAHA SCREW IT" and going "full steam ahead for massive summer weddings." She talked about wearing the same PPE five days in a row and losing colleagues and patients to the virus. "Just because a state is open and allowing things does not mean it's necessarily safe … We like to pretend that our choices don't affect other people. But they do." The 436 Facebook responses became so heated that she turned off her comments and then deleted the post.
While there's no U.S. data on whether weddings are causing COVID-19 spikes, brides and vendors have shared anecdotal evidence on Facebook groups of guests becoming infected after events. (In Jordan, 76 people tested positive for the virus after a 350-person wedding.) But some couples have decided it's a risk they are willing to take.
Laack is a Pentecostal Christian and wants to be married before starting a family, a common reason cited by many couples forging ahead. Page Feller is Catholic, and her desire to have kids is one of the main reasons she got married in a friend's backyard on May 30. (Feller has epilepsy, which she worries could complicate a pregnancy.)
In Loveland, Colorado, where Feller lives, public gatherings of more than ten people are banned and most restaurants and churches can only have 50% of their capacity, up to a limit of 50 people.
Feller and her fiancé decided to swap the 200-person wedding they had planned in April with a 40-person ceremony on a friend's rural property, with plenty of room for guests to space out if they wanted to. They let everyone decide their own comfort levels and didn't enforce social distancing or mask wearing. Feller said she gave people a lot of "side hugs" throughout the night.
"We're all already together," she said. "Is there really that big of a difference between standing next to each other versus hugging?"(Everyone who attended is healthy — or asymptomatic, at least.) Yet the decision to have a wedding was controversial among some family members, who thought Feller and her husband were being selfish.
Other couples are forging ahead out of sheer frustration over the cost of it all. COVID-19 hit after Amanda Stafford, a 30-year-old former nurse (she's now getting her undergraduate degree in linguistics) had already spent two years planning her wedding. In the process, she's lost roughly $4,000 to her original venue, which shut down, and is involved in two lawsuits against the owner and her cake vendor. ("I cried all Friday night resorting to cancellation and losing 40k in deposits bc I'm so over it," wrote one bride on the Facebook group "2020 Brides NOT Changing Their Date.")
Stafford said she and her fiancé had "reached a point where we're doing it or it's never happening and we're just going to eat the $20,000" they had spent on planning two separate weddings. "I'd be willing to pay a fine just to violate the governor's orders."
Texas was one of the first states to reopen, but now that it has record-high infection rates, the governor recently reduced wedding venue capacity from 75% to 50% and outdoor gatherings from 500 to 100 people. Couples with planned events are panicking. One bride posted to a Facebook group that though her wedding is in three weeks, one of her bridesmaids doesn't want to come and her family members are yelling at her for moving forward.
"It's not my job to tell people how to live their lives," said Stafford. "If they feel comfortable staying in their chair and enjoying the music, by all means. If you'd rather take photos and be silly on the dance floor, by all means."
Many brides talked about how guests should be able to choose themselves whether to attend and what level of closeness they're comfortable with at the wedding. Casey June Hunt recently posted a photo to the Facebook group "COVID BRIDES" that showed three containers of rubber bracelets: green for "okay with hugs & high-fives," yellow for "okay with talking but not touching," and red for "Hi! I'm keeping my distance." Hunt, who recently had a 60-person wedding in Georgia, wrote: "I think this is a cool idea since from experience everyone will make their own choices at your wedding no matter what you plan!" Other Facebook groups debated the merits of asking guests to get tested before coming to the celebration or nixing "sing-along" songs like "Piano Man" or "Sweet Caroline" to avoid crowding on the dance floor.
But in some cases, couples' friends and family members didn't agree with the philosophy of personal choice. And their position on the great wedding debate had a lot to do with where they live, their race, and who they vote for.
Laack, who is half-Black and was adopted by a white family, said her relatives are much more relaxed about COVID-19 than her fiancé's family, who are all Black, since the virus disproportionately affects African-Americans.
Claire Kundinger, who lives in Ely, a small town in Northern Minnesota, says her guests from bigger cities tend to have way more anxiety about COVID-19 than those in her rural area, where there have hardly been any cases and the older people don't even socially distance. The 33-year-old has received at least 100 RSVPs so far to her August 8 wedding, and originally sent out 200 invitations.
Brett Luettel, 24, noticed the reactions to her upcoming wedding on July 18 fell neatly along political lines. The Democrats in her family want the economy to stay "locked down," like her grandma, who asked that the couple postpone until next summer. But she and her fiancé's parents live in Rock County, Minnesota, a very rural town, and side with Republicans who want businesses to open up.
The personal banker at Wells Fargo is planning on having a ceremony at a church in Minnesota with over 250 people, which falls within the state's guidelines for religious events, followed by an indoor reception at a hotel near the border in Brandon, South Dakota, a state which has even fewer restrictions and is a roughly 20-minute drive away from the church.
While Renee's sister-in-law and her husband are coming to the ceremony even though they've said the number of people makes them nervous, the couple is skipping the reception. They told Renee they were worried that if they wore masks, they would "get looks and whispers." "That's your guys' personal choice,'" Renee said she told them. "I'm kind of just over it."
But wedding vendors are one group of people who feel like they don't have much of a personal choice. They are in desperate need of business, and while they must strictly adhere to state and county guidelines, like taking temperature checks and wearing masks, they can't control how guests act.
Lisa, a Texas-based wedding photographer who asked to be identified by a pseudonym to protect her business, has shot three weddings since late May, each with over 100 people. She said that aside from one event, nobody wore masks, sanitized their hands, or distanced themselves from other guests. She watched people pick at a charcuterie platter with their bare hands and a coughing bride pop a decongestant.
Lisa wishes everyone would follow the CDC's guidelines so she could do her job safely. As someone with high blood pressure and heart issues, she's terrified that she'll get sick at work and end up in a hospital. But financially, she has to show up to events since she's not receiving enough government funding to help support her two kids. Already, she's spoken with a few vendors who had to get tested for COVID-19 after finding out they worked weddings where people caught the virus.
The photographer understands that when couples spend tens of thousands of dollars on a celebration, they want the night to be perfect. But she wishes they would "stop worrying about themselves for ten seconds and worry about the common good of those around them."
Brad Schrieber, the president of a company that owns multiple wedding venues in Texas, said that while he and his staff follow the state restrictions to a tee — they take regular temperature checks, seat no more than ten people at a table, and give out single-serve condiments — couples and their family members are not as rule-abiding. Some have cried and screamed when he's told them about limits on guest count, and one couple even threatened legal action.
Between the five venues he oversees, one of which is in Atlanta, Georgia, they've had 14 weddings since mid-March, with an average of 100 people. He says guests will dance in groups or pull up extra chairs to a table despite the restrictions. This puts Schrieber in an awkward position: While he tells couples to follow CDC guidelines, like making sure elderly family members stay home and that guests take their temperatures, his venue is not legally responsible for enforcing those rules. And while he's concerned about his staff's health, reprimanding brides and grooms mid-wedding for starting a conga line is difficult at a time when he needs the business.
Schrieber says at this point, telling guests to cover their faces or stand six feet apart would cross a professional line. But those conversations would be possible if the Texas governor made mask wearing mandatory, as some of the state's counties have done. "It'd be a lot easier to go to a guest or to a host and say 'Look, you know, it's a law,'" he said." Right now, it's not entirely enforceable, because it's such a gray area."
For now, despite quickly becoming the epicenter of America's COVID-19 outbreak, the state has not enforced mask wearing or social distancing. Instead, couples and their wedding guests are free to decide for themselves how to act during a global pandemic, and Schrieber and his staff must play the happy hosts.
"We're not the social-distancing police," he said. "We do everything we're supposed to do. And then it's up to you."