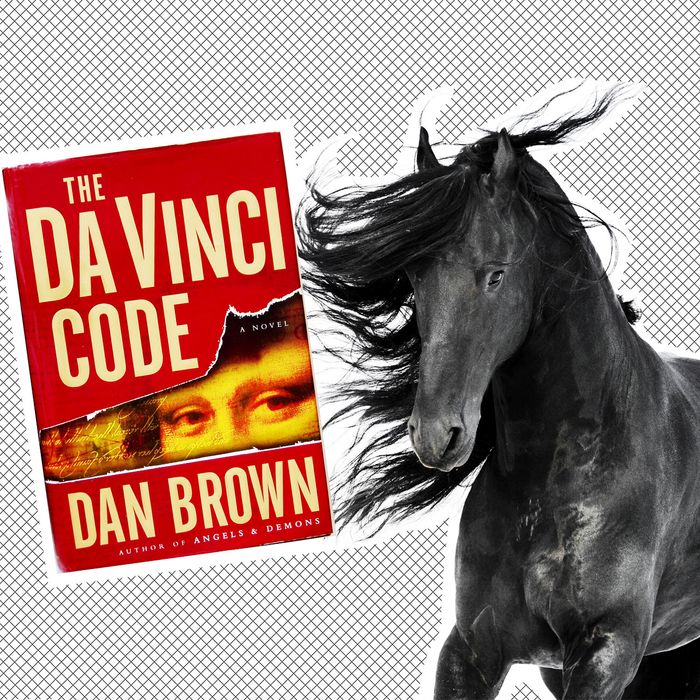 Photo: Getty Images, Amazon
Remember Dan Brown? Yes, with the books about old churches and spicy secrets. The Da Vinci Code guy. Harry Potter for parents. You've seen his name a lot at the airport? The movie had Tom Hanks in it? Well, something you, and I, did not know about Dan Brown is that his greatest work of intrigue and deception might actually be … his own divorce. Take a breath if you need one.
The world is ablaze with the titillating epic that is this Da Vinci Code of divorce drama, which stems from a lawsuit recently filed by Brown's ex-wife, Blythe, filled with salacious details about Brown's personal life. Blythe and Brown divorced last year after 21 years of marriage. Don't let the fact that the document was filed in New Hampshire fool you: Blythe's allegations are explosive, including that Brown allegedly engaged in "sordid" affairs, including with his wife's horse trainer, for whom he "siphoned" their money to buy presents including a fancy horse. "Dan has lived a proverbial life of lies for at least the past six years," the lawsuit reads, "seeming to be the epitome of a world-famous novelist leading a simple life in his home state of New Hampshire, while in reality he was something quite different."
Blythe is suing Brown for allegedly misrepresenting the couple's assets in the divorce and for inflicting emotional distress. Let us unpack her claims:
• In 2013, Blythe Brown brought over a Dutch horse trainer, identified only as "JP," from Holland to the U.S. to work with a Friesian horse owned by the couple. Blythe alleges that she discovered Dan Brown began an affair with JP the horse trainer in 2014, while she was recuperating from a shoulder injury at their house.
• Blythe says Dan Brown bought JP lavish gifts using their shared finances, including a $345,000 prize-winning Friesian named "LimiTed Edition," a car, a horse-transport truck, and renovations to her home in Holland.
• According to Blythe, Dan Brown also engaged in extramarital dalliances with a personal trainer, a "political official," and a "local hairdresser," in New Hampshire, Europe and the Caribbean.
• Dan Brown has publicly praised Blythe as a "front line" editor of his Da Vinci Code novels and as a crucial part of his creative process; she says she helped inspire him to give up his "songwriting career" to focus on writing. During divorce proceedings, Blythe claims that Brown told her he didn't have any new projects in the works. She subsequently discovered he is working on several, including a television series for NBC called Langdon, based on the novels the couple "created together." "Dan stands to make millions from these projects, which is undoubtedly why he hid them from Blythe," the lawsuit states.
• When she confronted Brown about the secret wire transfers to JP in January 2020, Blythe says he responded, "I've done bad things with a lot of people."
Through his attorney, Brown has denied hiding any assets from his wife. "I swore to the truthfulness of what was contained on that list, and I stand by that financial statement today," he said. "I am saddened that there is not enough goodwill from 21 years of marriage to temper her unfortunate actions." Blythe told the Boston Globe in a statement that she "trusted this man for decades as my life's love. We worked so hard together, struggling to build something meaningful … I don't recognize the man that Dan has become. It is time to reveal his deceit and betrayal."
In other words, don't judge an airport book by its cover. (And be wary if your horse trainer suddenly gets a new horse.)