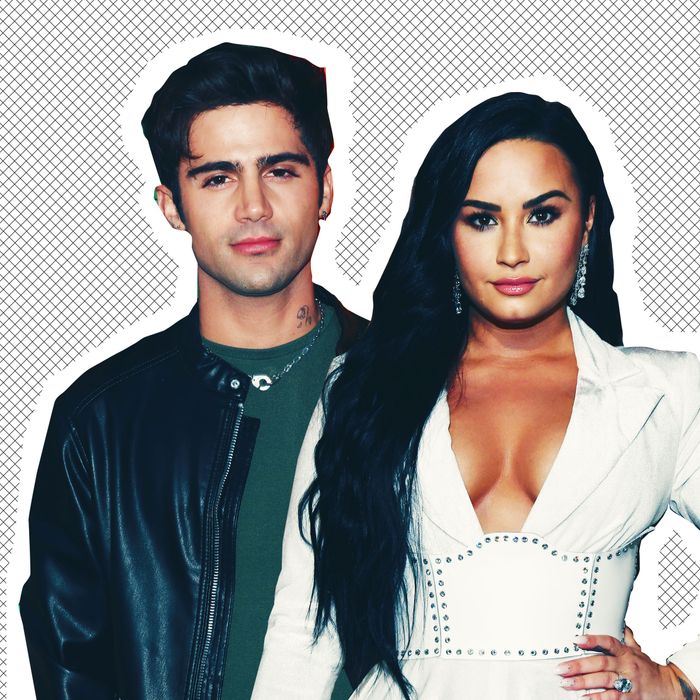 Photo: Kevin Mazur/Getty Images for The Recording Academy/Paul Archuleta/FilmMagic
Well, that was fast. After a mere four months of public dating, in isolation no less, singer Demi Lovato is engaged to Young and the Restless actor Max Ehrich. The stars are both in their late 20s.
Lovato announced her engagement on Instagram with pictures of the couple kissing and staring deep into one another's eyes on a beach (People reports that Ehrich proposed to the pop star in Malibu). Also pictured: a close-up of Lovato's diamond engagement ring and enviable manicure.
The post is accompanied by a proclamation of love. Lovato writes, "When I was a little girl, my birth dad always called me his 'little partner' — something that might've sounded strange without his southern cowboy–like accent. To me it made perfect sense. And today that word makes perfect sense again but today I'm officially going to be someone else's partner." Ehrich did a post with similar images a message that read in part, "Words cannot express how infinitely in love with you I am forever and always and then some. I cannot spend another second of my time here on Earth without the miracle of having you as my wife … I LOVE YOU SO MUCH … AND WILL FOREVER CHERISH YOUR PURE, BEAUTIFUL, INFINITE SOUL."
Fellow celebrities — like Paris Hilton and Jessie J — filled the comments sections with their well-wishes. The couple hasn't made many public appearances while dating because *gestures at everything* but they were notably featured in the music video for Ariana Grande and Justin Bieber's single "Stuck With U," which was released in May.
A source told People that while the two haven't been dating very long, they grew very close while social distancing together. In fact, according to the source, Ehrich wanted to propose sooner but was waiting for the custom setting of the "huge" stone in Lovato's engagement ring to be finished.