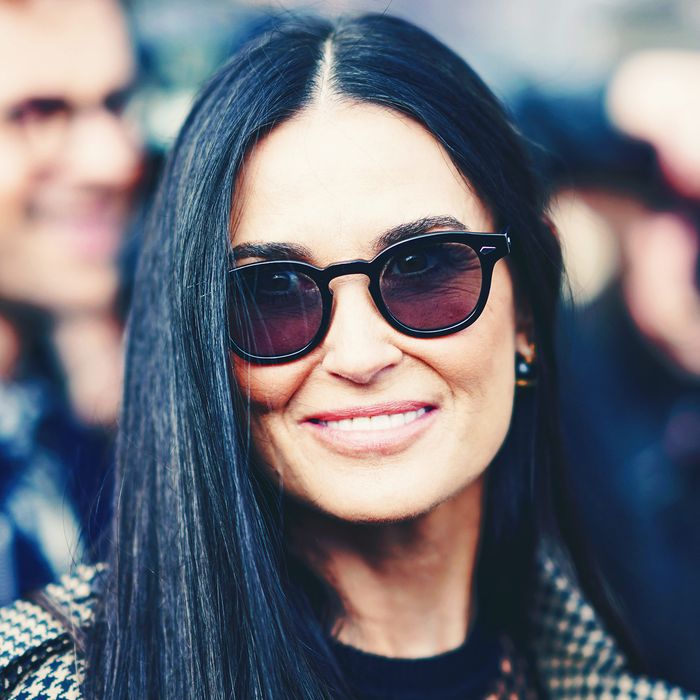 Demi Moore.
Photo: Edward Berthelot/Getty Images
It only takes approximately four minutes of scrolling through New York City real estate listings to fully lose your grasp on what constitutes an acceptable apartment layout. You'll stare in horror at shoebox-sized bedrooms that rent for $3,000 a month; kitchens that lack stoves but feature, for no discernible reason, clawfoot bathtubs; and so many errant fridges. And yet, despite the innumerable hours I've pored over such "living" spaces, I was not prepared for a glimpse of Demi Moore's bathroom in her Idaho home, which has left me disoriented, perturbed, and extremely concerned about mildew.
The unsettling footage surfaced yesterday, when Moore Instagrammed a photo of herself propped up on a floral couch, recording the forthcoming erotica podcast in which she stars, Dirty Diana. At first glance, nothing about the image particularly struck me — she looks happy, which is nice, I thought. It wasn't until I looked a little longer that my eyes started to dart back-and-forth, my synapses firing at rapid speed. Behind the sofa … is that a toilet … that is surrounded by carpet?
Is this … a bathroom???????
A few other questions that come to mind: Why on earth is her bathroom fully carpeted — and, out of all carpet options, with shag? Who wants to step out of the bathtub onto that? Or feel shag between their toes as they pee? Why would she choose to record here, of all rooms? Also, is that a suit of armor by the bathtub? And why is there a rock wall? At what point does a bathroom stop being a bathroom and become a living room?