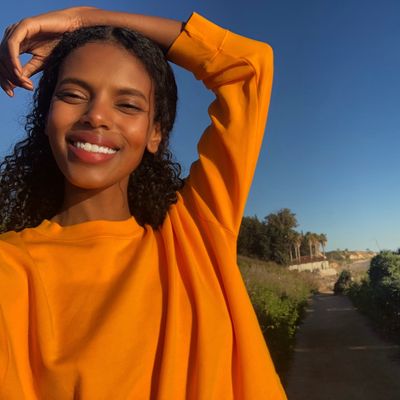 Activist, model, and sommelier Grace Mahary.
Photo: Courtesy of Dermstore
Do you fail to apply (and reapply, and re-reapply) sunscreen on a daily basis, despite the multiple months dedicated to sun safety and reminders from dermatologists that you really need to wear it, like even when you're sitting inside, looking out a window longingly? It's a common problem. One solution may be changing the way people think about sunscreen application — elevating it from a weirdly scented chore to a sacred act of self-care.
Dermstore's already encouraging the shift. For its new sun-care campaign, the beauty retailer found 12 women from around the world who have miraculously turned the task of slathering SPF everywhere into a moment of mindful relaxation. Supermodel Helena Christensen, model-activist-sommelier Grace Mahary, surfer Josie Prendergast, choreographer Mystic Davis, and Olympic hurdler Queen Claye are just a few who possess this aspirational skill.
There's a strong possibility it can be learned. Simply watch the soothing clips of cheek-swiping, face-massaging, and shoulder-rubbing interspersed with other calming activities like plant-watering, fruit-slicing, and floating. "Daydream" by Gunter Kallmann Choir will soon be lodged in your head and you'll get the sudden urge to massage SPF onto your limbs as a treat. Allow us to recommend one that doesn't leave you greasy or chalky, like the highly rated formulas from Supergoop!, EltaMD, Coola, and iS Clinical, which make cameos throughout.
The full campaign includes expert advice and individual sun-care routines and will continue to roll out on Dermstore's website and social accounts through the rest of July (UV Safety Awareness Month) and the first weeks of August (Summer Sun Safety Month), so you still have some time to hone your practice. After you're done singing "Happy Birthday" to wash your hands, put on "Daydream" to cue the SPF. Don't forget to invite the backs of your hands, your ears, your neck, and your precious feet.
Top-Rated Sunscreens to Shop