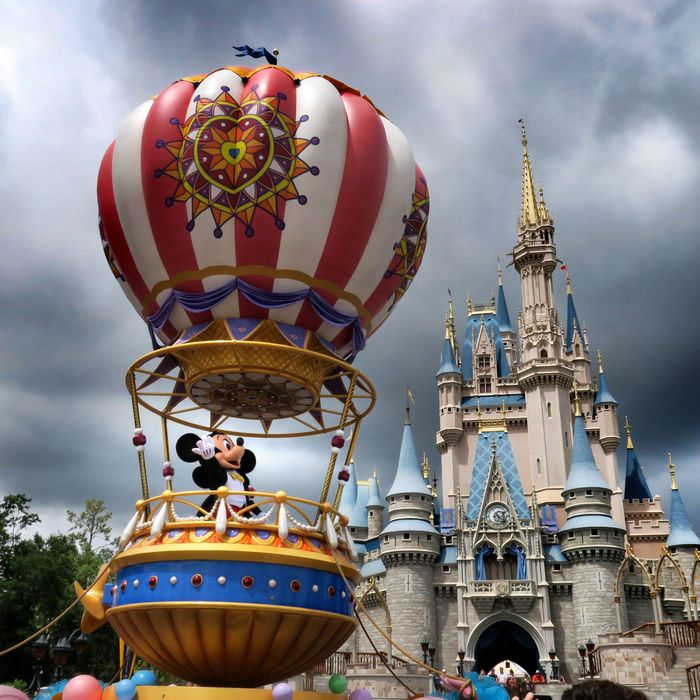 Photo: Orlando Sentinel/TNS via Getty Images
Amid reopening, Florida has become an epicenter of COVID-19's dramatic reemergence in the United States. The Washington Post reports that 1 of every 100 residents is infected, with 7,347 cases reported by the Florida Department of Health on Tuesday alone. Fifty-two intensive-care units had reached capacity as of Tuesday, according to data from Florida's Agency for Health Care Administration. This catastrophe is only likely to get worse given that the state's Republican governor Ron DeSantis continues to blame rising infection rates on more testing, claiming that it's leading to more positive results.
Given all of this, one might argue that there couldn't be a more inappropriate and dangerous time to reopen Orlando's Disney World. Nonetheless, on Saturday, this is precisely what Disney plans to do, with the governor's explicit blessing. The reopening will be staggered: The two most popular areas of the park (Magic Kingdom and the Animal Kingdom) will open Saturday, and the other major parks (Hollywood Studios and Epcot) will open next Wednesday, while the water parks will remain closed for the time being.
The plan is going forward despite many other facets of Disney's business remaining shut down due to the pandemic, including its park in California. It's also no secret that the company is in dire financial straits and that its workers have been experiencing the worst effects of that downturn. In May, the New York Times reported that Disney furloughed an estimated 100,000 employees, while executives only received pay cuts of up to 50 percent.
Disney's will not be the first theme park in Florida to resume operations: Universal already opened its three Orlando-based theme parks on June 5. The Times reports that Disney's theme-park chairman, Josh D'Amaro, said in a recent interview, "The world is changing around us, but we strongly believe that we can open safely and responsibly," adding that Disney's four theme parks in Asia reopened "without incident," and that when critics see the "aggressive protocols" the corporation has implemented in Florida, "they will understand." D'Amaro declined to tell the Times how many people would be allowed into the park at once.
Disney says its safety protocols will be stringent. They include requiring all employees and visitors over the age of 2 to wear face masks, temperature checks, loudspeaker announcements urging people to wash their hands (the park now has 4,000 hand-sanitizing stations), and leaving some seats empty on rides.
The reopening plan does not, however, include any kind of company-organized testing protocol, the Times reports. The Actors' Equity union, which represents 750 Disney World employees, has said its members won't return to work unless Disney offers them regular COVID testing. On Tuesday, a Disney spokesperson announced in an email that rather than implement testing for any of the park's 75,000 employees, Actors' Equity members will remain on furlough through the park's reopening.
Earlier this month, the Orlando Sentinel reported that the Orlando metro area's unemployment rate has risen to 22.6 percent, the highest in the state. Meanwhile, loads of unemployment claims in the state are being rejected and many payments have reportedly been slow. As the union struggle raged on last week, the Walt Disney World Cast and Community posted a promotional video on Facebook featuring several Disney employees exclaiming how excited they are to get back to work. A steward of Adventureland says, "My heart, seriously, is beating. I love Adventureland"; a cop in a face mask says, "I feel safe because Disney has gone above and beyond what they needed to do."
I mean, are you kidding? People are dying, your glorified log flume can wait.