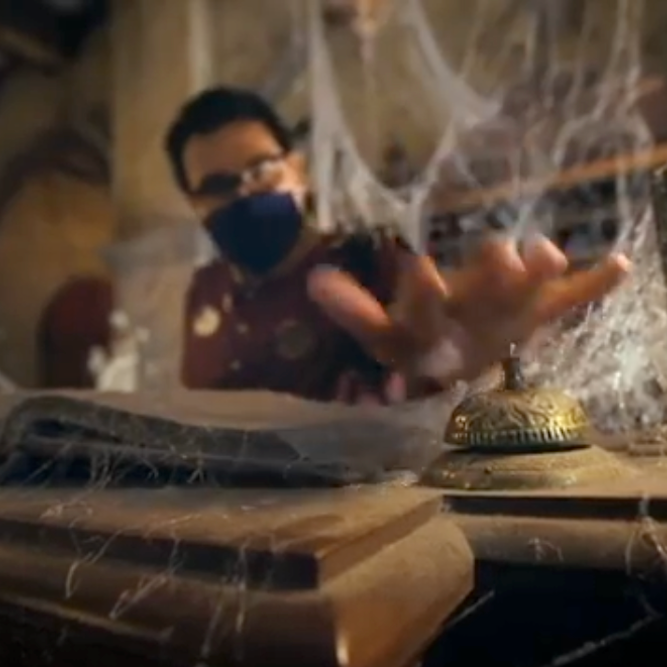 Spooky, scary.
Photo: @DisneyParksJobs/Instagram
Over the weekend, Florida smashed its single-day record for new coronavirus cases, reporting 15,299 infections on Sunday. Concurrently, Walt Disney World in Orlando reopened the gates to its Magic Kingdom, releasing a chilling video to "welcome" guests "home." In the footage, various park employees stare into the camera and repeat that line, their voices muffled by face masks for an overwhelmingly dystopian vibe. Slate reports that the Disney Parks Jobs account tweeted, and subsequently deleted, the video on Saturday. But as you can see from the Instagram post, which Disney has not removed, the paranormal energy here is strong. Very strong.
So, naturally, Twitter users made edits to enhance the haunted ambiance, replacing the cheerful Disney theme with more suitably spooky music. The score to Jordan Peele's Us, for example.
And/or, a more urgent plea for potential parkgoers to "stay home."
Ahead of reopening, Disney put in place a mask mandate and other guidelines to help mitigate coronavirus risk: Guests must now make reservations ahead of time, NPR reports, and everyone will have to undergo a temperature check at entry. Social distancing will be "encouraged and enforced" with markers on the ground, barriers, and empty rows left on rides to space out visitors. But nonetheless, it's extremely worth remembering that Disney workers have expressed concerns over going back to work — particularly amid a surge in the COVID-19 case count. The Actors' Equity union, which represents park performers, has noted that Disney did not comply with its request to regularly test its members.
Meanwhile, according to the Orlando Sentinel, there are reportedly 269,811 known coronavirus infections in Florida right now. Orange County — where Walt Disney World is located — houses the majority of Central Florida's 43,989 cases, having recorded 1,371 new infections on July 12, bringing the total up to 18,001. With all of that in mind, Twitter's ominous soundtrack suggestions do feel eerily on point.
As for the aforementioned social-distancing protocols, enforcement on opening day seems to have been spotty. Carlye Wisel, a journalist who covers theme parks, reported "densely packed line[s] for guest services" leading to the gate. "There were also TWO MORE lanes of pedestrian traffic in the SAME walkway," Wisel added. "It's not a fluke, either — we were directed straight into the bottleneck." While "some protocols are working well" in certain parts of the Magic Kingdom, Wisel clarified, "others, like what I experienced, were clearly not."
Other photos allegedly taken inside the park paint a grim picture of intense crowding. So, in conclusion, here's one last video remix, for the road: