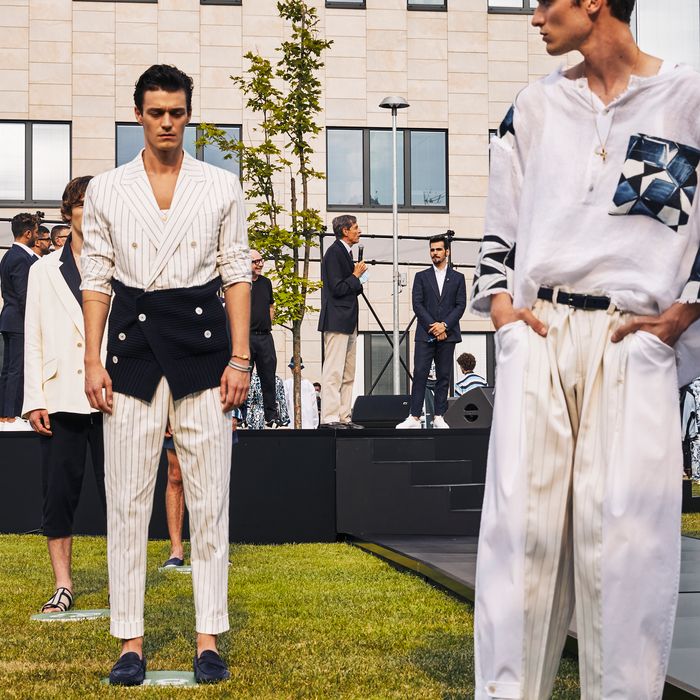 Professor Alberto Mantovani speaks onstage behind models at the men's Dolce & Gabbana spring/summer 2021 runway show.
Photo: Courtesy of Dolce & Gabbana
Fashion shows often build up to a grand finale. Some designers send a show-stopping look down the runway, while others have a surprise performance. For their men's spring/summer 2021 show, Dolce & Gabbana had a virologist.
The Italian brand was the first to have a physical show since the easing of lockdown restrictions in Europe, with an audience of around 200 Italian and foreign guests. Air-kisses were in short supply; instead, attendees wore masks and sat spaced apart in a single row. Above them, installed on a nearby building, was a huge neon sign that read, "Everything is going to be alright." The group had come to see the new collection, which was inspired by Parco dei Principi Hotel's white-and-blue design motif, but the runway's location was notably unconventional — Humanitas University.
A private medical university, Humanitas shares a campus with the Humanitas Hospital. Dolce & Gabbana's relationship to Humanitas first began last year through scholarships for students. This year, the brand has supported the school's ongoing research into the immune system's coronavirus response and eventual aim of finding a vaccine.
In a statement to Harper's Bazaar, the design duo explained what made them get involved: "We felt we had to do something to fight this devastating virus, which started from China but is threatening all mankind." (Quite a choice of words, given the brand's recent history.)
Despite the breezy inspiration for the clothes, the show ended on a serious note with a speech from Professor Alberto Mantovani, scientific director of the Humanitas Clinical and Research Center. Standing onstage next to Domenico Dolce, Stefano Gabbana, and opera singing trio Il Volo, Mantovani closed the show by saying, "The message I would like to leave you with is that the quest for biomedical innovation and the quest for creativity and beauty should fly together hand in hand in the service of heath, education, and humanity."