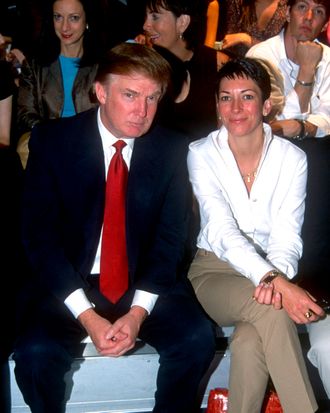 Donald Trump and Ghislaine Maxwell seated together at a New York City — not Palm Beach — fashion show.
Photo: Patrick McMullan/Patrick McMullan via Getty Image
President Donald Trump took a moment out of today's coronavirus briefing (his first in months) to send well wishes to an old party pal: Ghislaine Maxwell. As in, the British socialite recently arrested and charged for her alleged role procuring underage girls for Trump's former friend, Jeffrey Epstein. As in, the Epstein associate who could potentially name some pretty big names in her conversations with federal authorities. Asked on Tuesday if he thinks Maxwell will "turn in powerful men," the president told a reporter that he "hasn't been following it too much," really. But when it comes to Maxwell, he said, "I just wish her well, frankly."
"I've met her numerous times over the years, especially since I lived in Palm Beach and I guess they lived in Palm Beach," Trump added. "But I wish her well, whatever it is."
What "it" is: a federal investigation into a sex-trafficking operation that Maxwell allegedly helped orchestrate. According to the indictment, she would "recruit, groom, and ultimately abuse" girls as young as 14, luring them to Epstein's various homes and coercing them into sex. Investigators charge that Maxwell procured girls not just for Epstein, but also for some of his big-shot buddies.
How well Trump and Maxwell really knew one another remains somewhat unclear, although the two were photographed together on numerous occasions in the late '90s and early aughts. She also appears to show up in the background of footage featuring Trump and Epstein partying together at Mar-a-Lago in 1992. Epstein and Trump were friends for years, with the latter flying the president on his private plane — nicknamed the "Lolita Express" — and Trump once telling New York Magazine he considered Epstein a "terrific guy." They allegedly fell out in 2004 — before federal investigators started looking into Epstein the first time — over a real-estate purchase. Trump has since clarified that he was "not a fan" of Epstein's, but Maxwell? He continues to wish her well.