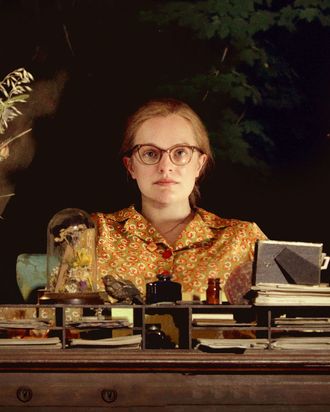 One of 2020's best films involves the following: an agoraphobic writer, thousands of cigarettes, lesbian love affairs, and some petty vindictive drama between a married couple. Josephine Decker's Shirley, starring Elisabeth Moss, is a fictional account of Jackson in her later years, centering on her work and a love triangle involving her husband, Stanley (Michael Stuhlbarg) and their tenant, Rose (Odessa Young). Decker's constant switch of tone from thriller to love story to art film makes Shirley both richer and infinitely more interesting than any sort of standard biopic.
Moss portrays a snarly Jackson who oscillates from crippling depression to brilliant mania and in general is "thrillingly horrible," the same description that Rose describes the feeling one of Jackson's stories gave her. The Cut talked to Moss about playing Shirley Jackson, creating the love story with Odessa Young, and admiring Jackson's petty grievances.
What made you want to play Shirley Jackson? 
I read this beautiful, incredible script written by Sarah Gubbins. I had worked with one of the producers, Sue Naegel, and was friends with her. She sent me this script, and I was just completely blown away by it. It was one of the best scripts that I've ever read, honestly. I just really, really wanted the part, and I didn't know if I was going to get it, and I was a little young for it. I'll never forget the moment that I got that email. And then we brought Michael Stuhlbarg onboard, and he's just one of the most brilliant actors ever to have lived and made my job very easy in a way.
I don't usually do a lot of research, partly out of laziness, quite frankly. He [Stuhlbarg] was very good at that because he does so much preparation and he worked so hard on that part of it. And it was really interesting, 'cause we talked about the fact that we're very different in the way that we approach the work, but he had respect for my process and I have respect for his. We read all the letters between Stanley and Shirley and read all of her stories and read some of Stanley's work and started this email exchange where we would just go back and forth and talk about them.
Did that help getting into Shirley's psyche? You get so many different versions and shades of her and her personality. What was it like mining all of that? 
It was interesting because it's a hugely sort of fictional account of Shirley. We really fudged a lot, and it's based on this book. At a certain point, I remember saying to Michael, we've done all the research. We know them as well as we can know them. And we have to let it go now and we have to play the Shirley and Stanley that is ours, and not feel the pressure of the real people. It was really important to us to capture the love and the passion that was there in an incredibly complicated relationship, but they really loved each other. And we felt like if we could honor that, we could honor their memories.
Shirley has such vastly different relationships with Stanley and then with Rose, whom she obviously had very loving feelings towards. What was it like exploring your chemistry with both actors? 
We were trying to show that she was this incredibly modern woman. This particular part of the story is fictionalized, but we wanted to show that they were very ahead of their time. She feels something for Rose that she's not feeling for Stanley right now. And it gets all mixed up in the writing of this book and trying to solve this mystery. I think she sees in Rose somebody who can avoid the mistakes that perhaps she has made, and not be ruled by a husband. And she sees a younger version of herself in Rose, and she falls in love with that, too.
Was that something like you talked about with Josephine Decker, the director, and Sarah Gubbins, the screenwriter? As a queer person, it's nice to see Shirley and Rose's relationship not just as like subtext but actual text in the film. 
It was all in this beautiful script that Sarah had written. That porch scene was so sexy, and in the mushroom scene, that sexual tension between the two of them is very real. And we didn't want to shy away from that. Odessa was just such a dream to work with. We both just threw ourselves into this part of their relationship and had a lot of fun with it. You're never quite sure how much is in Shirley's imagination and how much is real. We wanted to play it like Shirley and Rose are definitely going to get it on and they definitely both want that. I love the idea of she meets this girl who just completely captures her physically and emotionally. And she's a very modern woman, and she's like, fuck it.
This movie is so interesting because it's exploring women making art and artists making art. And I feel like that's a genre that's relegated for male artists. There's always a prestigious actor playing a famous painter and how shitty he is for his art, and I don't think you see that so much with women artists. 
I loved that part of it, and I loved that part of Shirley Jackson. I think about a lot, and deal with a lot, the concept of what it means to be a woman in this business, that concept of being quote-unquote "difficult," that concept of being a strong personality, these things that are applied to women that are not applied to men. It's one of my favorite subjects, frankly. At some point, I have been considered quote-unquote "difficult." I think that Shirley, although she definitely isn't very nice sometimes, but I love that she's like, "I love my work more than anything. The only thing I love, maybe just as much as my work, is Stanley." She's incredibly passionate about it. She protects it. I think a lot of women, including myself, are more similar to Shirley than we are allowed to let on, you know? I feel like we've all had those moments that Shirley has in this movie, where she's like, just get the fuck away from me and let me do the job, you know?
Do you see threads between a lot of the characters that you've played, from Peggy on Mad Men to your recent role in Invisible Man?
The older I get, the more I'm seeing those threads, and it's not intentional. I didn't, like, 15 years ago say I'm only going to play strong women or something. But I do think what I'm attracted to are women who are characters that are representative of who we are. I try to focus on characters that are human, and I think women are pretty fucking strong a lot of the time. But I think they're also vulnerable and have weak moments and make huge mistakes because of the nature of them being human. I've gotten myself into this hole, and I'm happy to not get out of it.
Watching this, I was just like, oh my God, I'm so glad to see a woman like this onscreen. 
Honestly, if I could just play Shirley Jackson for the rest of my life, I would be super-happy. It's very liberating to play somebody like that. It's really liberating to look at somebody in the way that she looks at people and to be manipulative and to be that strong and that outspoken.
And she can just be shitty to people. The scene when they are at Stanley's mistress's party. I wish I could be a total disaster like that all the time. 
Totally. I mean, who hasn't fantasized about having that moment? Shirley has this wonderful quality, which I really admire, which is, she does exactly what she wants to do. And I think that sometimes it's too far, she does get a little bit manipulative, and she can be a little cruel, which isn't very nice. But I do think that she also, if she wants to fuck with her husband's mistress and pour wine on her favorite couch, she's going to do it. And I love that.