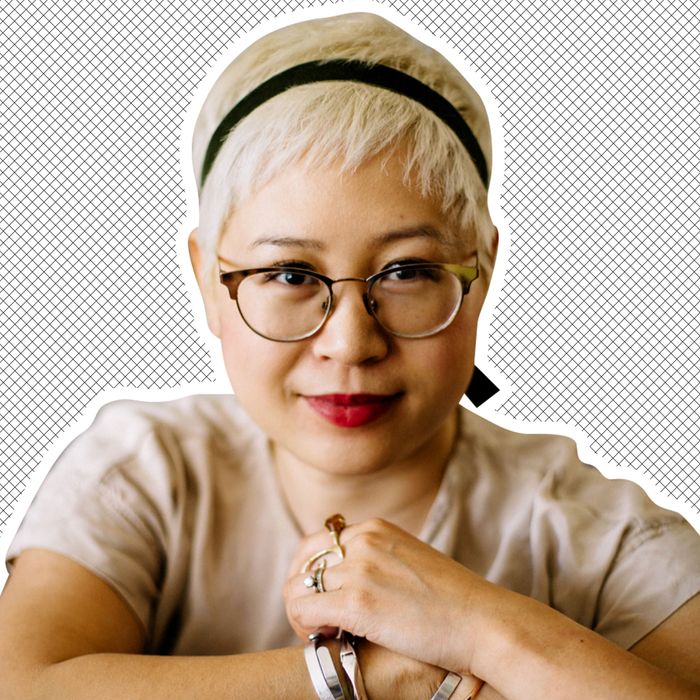 Photo: Courtesy of Esmé Weijun Wang
In both her fiction and nonfiction, the writer Esmé Weijun Wang dives deep within herself to share personal truths and insights. This is perhaps best seen in her 2019 book The Collected Schizophrenias, an essay collection that explores multiple diagnoses — including schizoaffective disorder, PTSD, and Lyme disease — through her own lived experience and detailed research. What results is an intimate look at mental illness.
This Pride month, Wang has been donating to organizations like The Okra Project, which provides meals for Black trans people, and The Trevor Project, which focuses on suicide prevention for LGBTQ+ youth. Below, Wang discusses the books, movies, and zines that helped shape her queer identity.
All Over Me
I was growing up in a very white town, but also media was really white growing up. And so a lot of the things that were my touchstones … were incredibly inflected with whiteness. For example, one of the first things I thought of was this movie called All Over Me [about the friendship between two young women, one of whom starts to fall for the other].
I was obsessed with that movie. It had such an impact on me, in part because I had many incredibly intense friendships that were confusing, much like the one in the movie. I'm sure many queer women can relate to that story also. It had a young Leisha Hailey with [hot-pink] hair and I absolutely crushed so hard on her. There was a big theme in the movies I was obsessed with. They were all about these tortured romances with mostly straight women.
Riot Grrrl and Zines
I was so deeply involved in riot grrrl and zines when I was in my teens. And I had my own zine and it was through zines that I discovered so many things. And it was also through zines that I was exposed to so many bands. Sleater-Kinney was a band that I saw so many times. Zines exposed me not only to other young queers but also introduced me to the trans community, because I feel like it was not something that I would have been exposed to openly in my high school.
Alice Wu
When I was in college, Alice Wu's Saving Face [about a Chinese-American surgeon struggling to come out to her family] came out and I saw it with my mom in the theater. It was this very incredibly emotional moment. I wasn't really out to my mom at the time and it was unspoken. And then she was like, Okay, then we went and watched it. I think just watching Saving Face was really important to me, and especially watching it with my mom. And more recently watching The Half of It [Wu's new Netflix film], even though I'm a grown-ass lady. It speaks to me as an almost 40-year-old, but it also speaks to teenage me who also lived in a very small, mostly white town. It's kind of corny to say the inner child, but Ellie Chu [the main character] does speak to the inner child in me. Some things are the same, like feeling really out of place and having immigrant parents whose English wasn't very good or making dumplings at home. All of that is what made me cry so hard I gave myself a headache.
Recent Queer Books
Some books that have come out lately that have really brought life to me are T. Kira Madden's Long Live the Tribe of Fatherless Girls, Mostly Dead Things by Kristen Arnett, Freshwater by Akwaeke Emezi, and In the Dream House by Carmen Maria Machado. I think [the latter] was so important because it portrays an abusive relationship between women. The book Real Life by Brandon Taylor is one of the best debuts I've read in the last decade. I'm constantly excited by new things that are coming out. My media diet is always being fed because I am lucky to be living in a time where there are brilliant things coming out all the time.